Most funerals, memorials, and life celebration events will include some sort of memorial service guest book. The purpose of these guest books is to allow the deceased's family to see and remember how many people have been touched and affected by their life.
There are many ways to do this: You can go with the simple, traditional lined guest book (#12, below, shows a lovely rustic leather style), or you can do something completely unique like a thumbprint tree collage (#1), cloth scraps for a memorial quilt (#4), a celebration of world travel (#7). and so much more.
Here are 18 totally unique memorial service guest book ideas to inspire your life celebration event.
18 Unique Memorial Service Guest Books
Our website is supported by our users. We sometimes earn a commission when you click through the affiliate links on our website. Learn more here.
1. Thumbprint Memorial Service Guest Book
Collect thumbprints in your memorial guestbook to include in your loved one's scrapbook. Each attendee will write their name or initials in or by their colorful thumbprint, creating a celebratory memorial tree as a visual of how many lives their life touched.
2. Memorial Service Guest Book Stones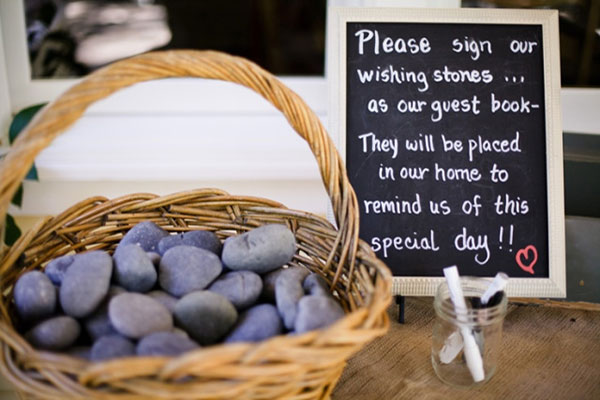 Instead of a literal book, supply a basket filled with smooth river stones for guest to sign. These can be placed in a large glass jar by the cremation urn or memorial space at home, in a garden or natural fountain, or scattered out in the wild.
3. Wine Connoisseur Cork Guest Book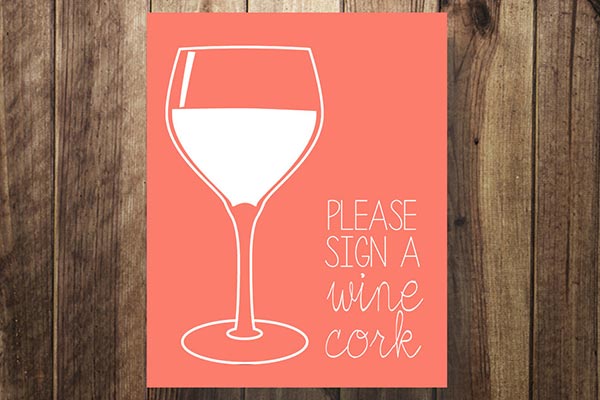 The perfect alternative memorial service guest book idea for a wine connoisseur's memorial at a vineyard or winery. Have each guest sign a wine cork and collect them in a cork catcher display to hang in your home in honor of their love for wine.
4. Memorial Quilt Guest Book Cloth Squares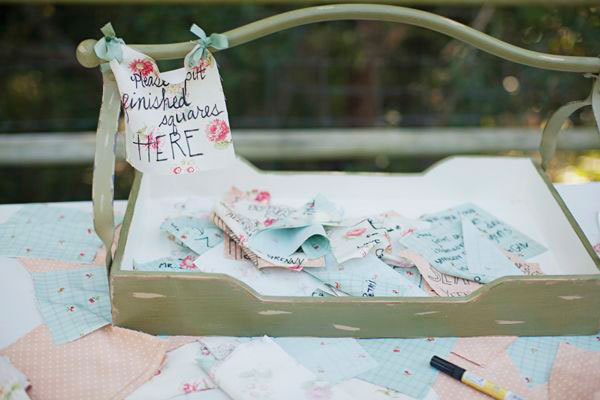 If you're planning on making a memorial quilt, you can use your 'guest book' to gets tons of memorial cloth pieces for the quilt. Set out quilt squares and permanent markers, and have guests sign the squares and/or write a goodbye note, memory, or note of comfort for the family.
5. Personalized Photo Guest Book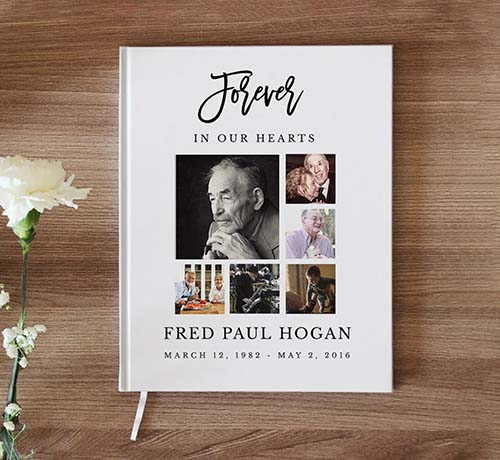 A photo makes a touching addition to a funeral guest book. To add your loved one's photos to this book, simply upload it through an Etsy conversation with the seller. Each book has a matte finish and comes with a white grosgrain ribbon.
6. Memorial Service Signature Picture Frame
Another guestbook alternative that will look great in your home: Use a photo frame with a spacious matte, such as this Black Frame with Matte, to collect signatures of friends & family. After the service, this memorial service guest book idea will live on as a beautiful memorial photo to hang in your home.
7. Globe Memorial Service Guest Book
To celebrate the life of a world traveler, use a globe and have guests sign places they've traveled together or places they'd like to go someday inspired by the departed loved one.
8. Hanging Birch Tags Memorial Guest Book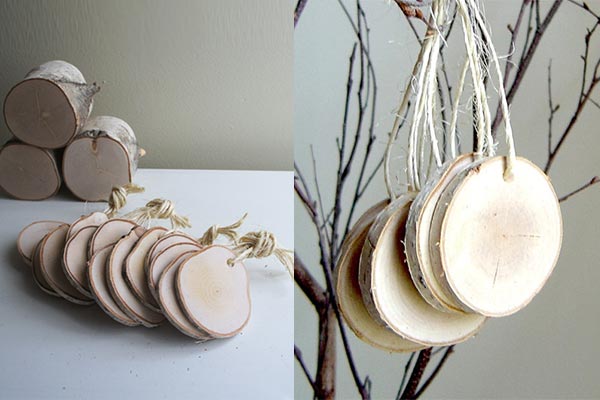 Use natural white birch wood tags for memorial service guests to sign and place onto a simple memorial tree.
9. Laser Engraved Wood Album Guest Book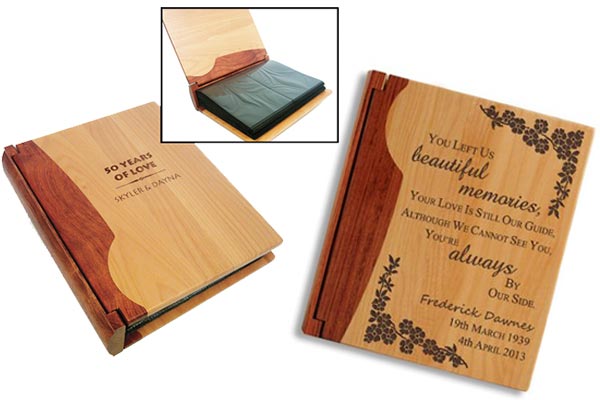 Use an engraved wood photo album instead of the traditional guestbook. You can include photos for guests to flip through, and also add in some paper inserts for guests to sign. The end result will be an heirloom memorial album complete with notes and signatures from everyone who attended the memorial service. Show above in rosewood, also available in walnut.
10. A Life Remembered Guest Book
This is a poignant take on the traditional memorial service guest book. A Life Remembered features simple and elegant designs, places not only for guest to sign but also leave notes if they choose, and lovely quotes and sayings throughout. Available here.
11. Memorial Chalkboard Guest Book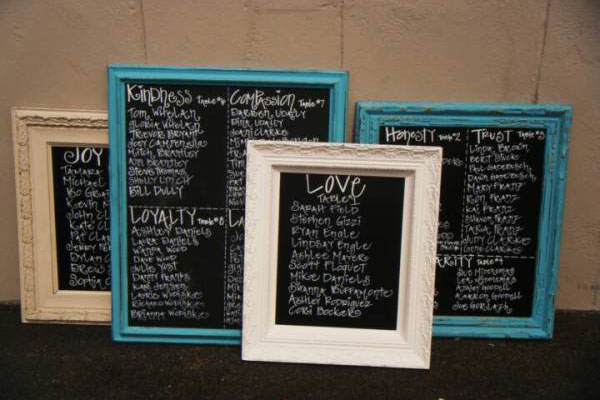 As an unique alternative to the boring old guest book, use chalkboard plaques to have guests sign and write a goodbye note, quote, or memory. Be sure to take photos of the chalkboards to preserve the memories.
12. Old Fashioned Rustic Leather Memorial Guest Book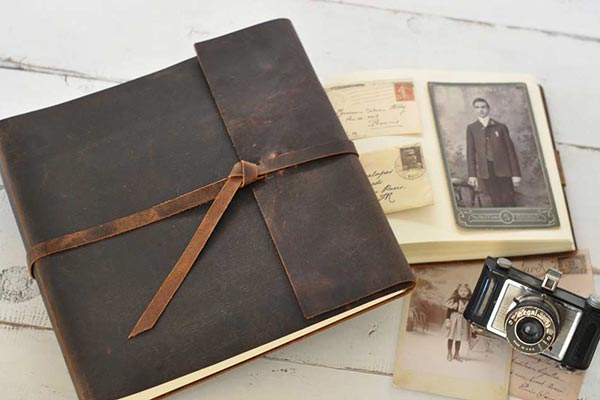 A beautiful take on tradition, this Old Fashioned Rustic Leather Memorial Guest Book will look gorgeous on the memorial table.
13. "In Loving Memory" Memorial Guest Book
This contemporary "In Loving Memory" guestbook is designed for a memorial service or funeral. The cover has a black flocked design over silver, features a silk trimmed black accents and is finished with a silver foiled center overlay. The black ribbon/tie creates the closure. Each page includes a verse of Scripture at the bottom, and encourages the writing of personal memories, thoughts and prayers. Available here.
14. Vintage Style Funeral Guest Book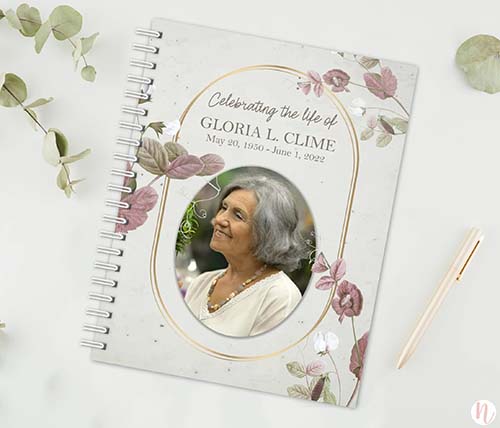 A beautiful funeral guest book for someone who was both an old soul and young at heart. Each book is printed with your beloved's personal information followed by their photo in a golden frame.
15. Social Media Memorial Service Guest Book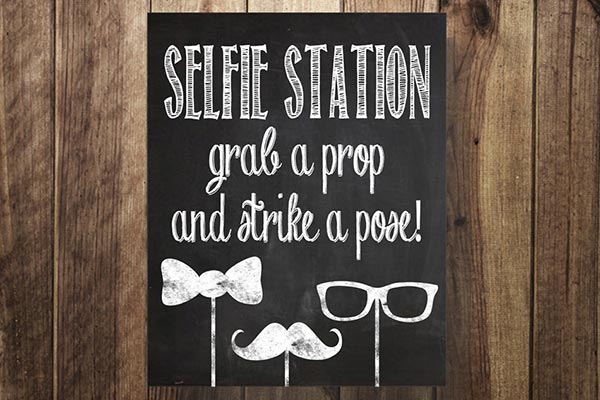 If you want the guestbook done in cycberspace, create a hashtag for the service and set up a selfie station. For many funerals and memorial services this will come off as tacky, but if your loved one was the life of the party, and you're going all out in "Celebrate Life" mode with an actual party or maybe an Irish Wake, the lighthearted and fun selfie station might be the right idea for your crowd.
16. Barrel Head Signature Guest Book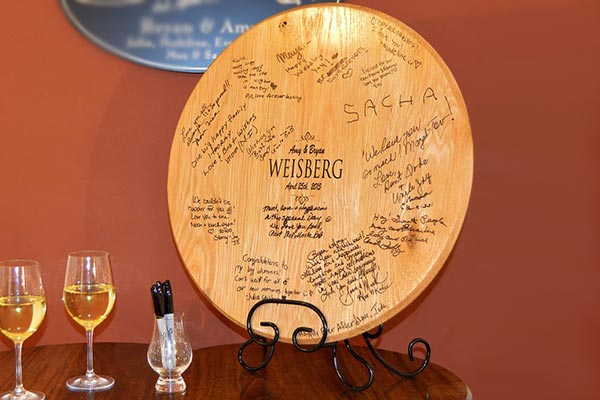 Commonly used in weddings, the Signature Barrel Head Guest Book is made from a real oak barrel head and can also serve as a  personalized heirloom memorial for guests to sign. A lovely way to honor someone who enjoyed wine, whiskey, etc. After the memorial service, hang it up in the kitchen, wine bar, or home bar area to see a daily reminder of how many lives were touched by your loved one.
17. Build Memories: Jenga Blocks Guest Book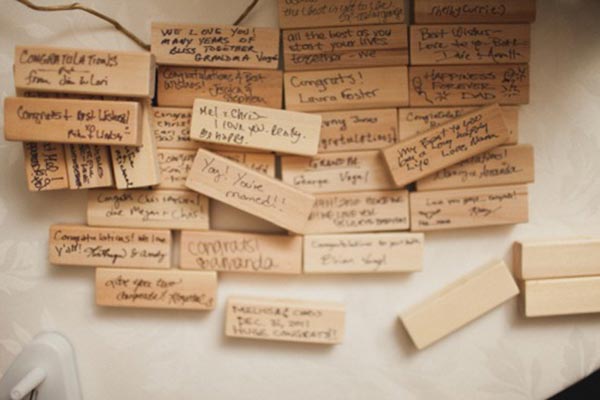 Have each memorial service attendee sign a Jenga block to build a tower of memories in honor of your loved one.
18. Literary Memorial Service Guestbook Idea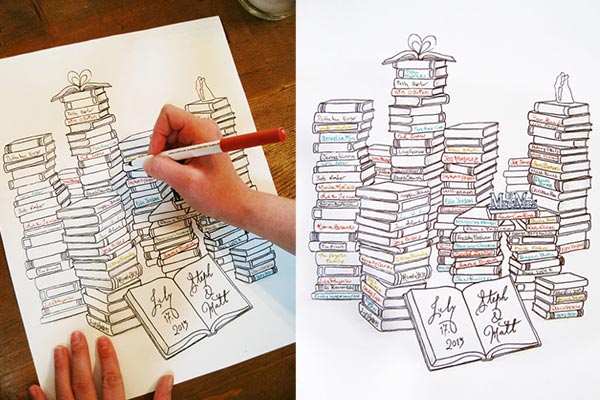 This adorable guestbook idea is perfect for book lovers. Have each attendee sign their name on the binding of one of the book illustrations, and frame the print as a "library" of friends and family.
More Funeral Guest Book Ideas
19. Custom Engraved Wood Guest Book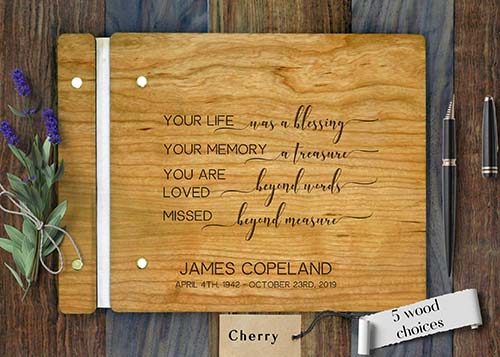 This guest book is made from sturdy wood and can be custom-engraved with your loved one's name and dates. Available in your choice of mahogany, hickory, cherry, maple, or walnut wood.
20. Military Funeral Guest Book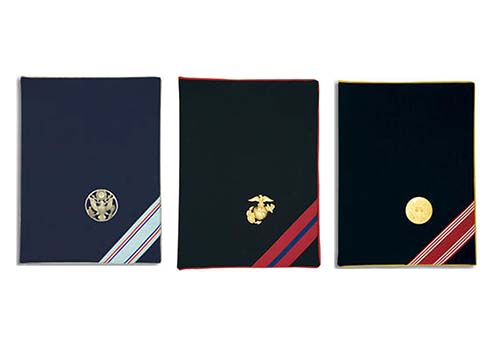 A fabric funeral guest book befitting the humble servant who served his or her country or community with honor. Patriotic readings including Taps, as well as Bible verses, are found within.
This is the perfect memorial book for a military veteran, police officer, or firefighter. You choose the appropriate insignia.
If you like this military funeral guest book, here is another beautiful option for you to consider.
21. Embossed Funeral Book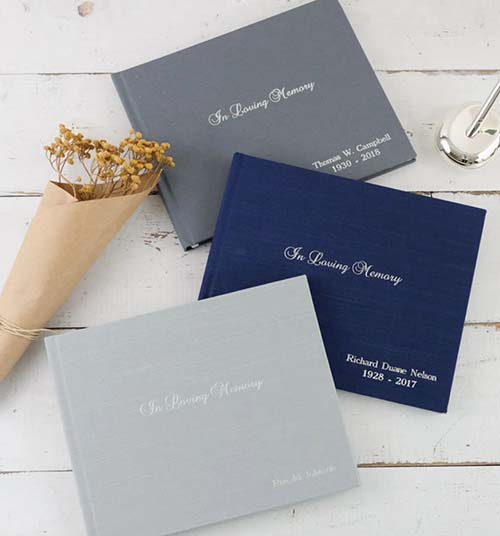 A simple yet elegant funeral guest book embossed with your loved one's name and dates. Available here in a variety of colors.
22. DIY Funeral Guest Book
There's absolutely no rule that says you much purchase a guest book in order for it to be beautiful or worthy of a funeral service. If you're feeling creative, you can make your own funeral guest book with relative ease. To begin, all you will need is:
A notebook with high-quality paper, either lined or unlined. A scrapbook with a frame makes for a lovely guest book.
Some photos of your loved one, or one photo you'd like to use as the "main" picture for the funeral/guest book.
A collection of your favorite Bible verses, song lyrics, poems, quotes, or any other comforting sayings you'd like to include in the pages.
Here are some more ideas to help get you started with your book's layout and design.
23. Custom Birch Wood Guest Book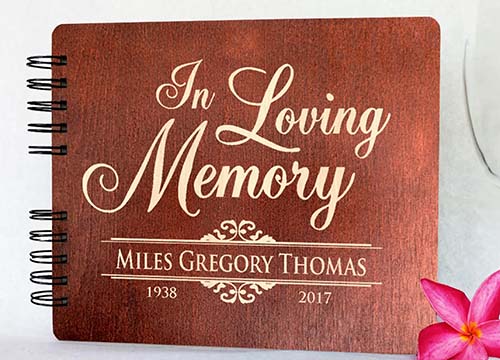 A charming guest book in your choice of wood finishes: mahogany, burnt cocoa, black, or caramel oak. Choose between lined or unlined. Personalized included.
24. Memory Table Setup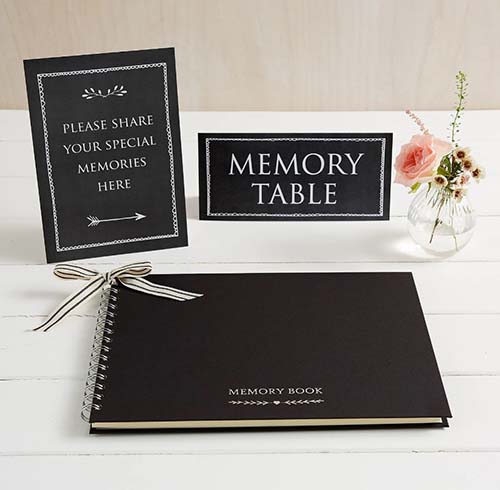 Going to be setting up a memory table for your loved one's photo display? It's the perfect place to include the condolence book setup, as well. This set comes with two memory table signs as well as a condolence book for guests to sign.
25. A Celebration of Life Guest Book
Another great option if you want to keep things simple. This imitation leather funeral book simply states, "A Celebration of Life" and comes in your choice of a variety of colors.
26. A Life Remembered Guest Book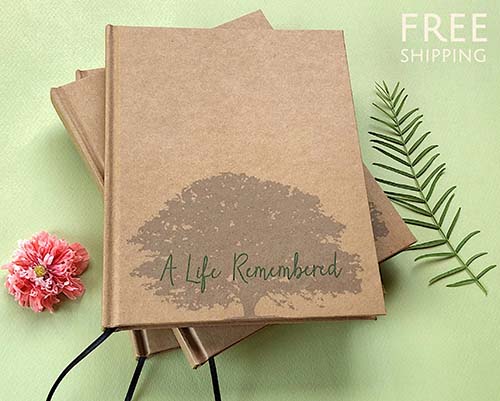 This handmade guest book is perfect for either a modern celebration of life or a traditional funeral service. Includes unlined acid-free paper as well as a green ribbon bookmark.
27. Digital Funeral Guest Book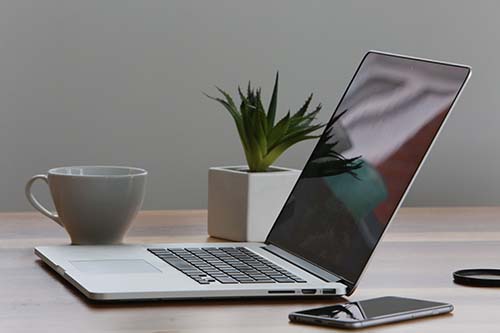 If your family isn't able to gather together for your loved one's funeral, it doesn't mean that you are have to miss out on the time-honored, comforting tradition of a funeral guest book.
You can set up your loved one's guest book online. While many funeral homes already do this when they publish the obituary on their website, you can also set one up yourself if you desire. You can create a memorial website on a platform like Ever Loved, share the link on social media to ensure that everyone who wants to sign it can, and then look back on it whenever and wherever you have an internet connection.
If you're interested in creating a digital funeral guest book, here are 10 websites that may be of interest to you.
28. Foil-Printed Personalized Memorial Book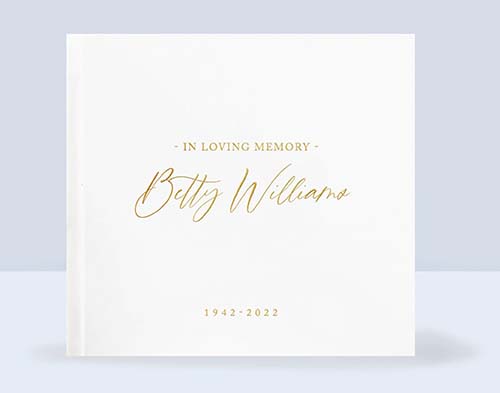 The simplicity of the stunning white and gold colors make this guest book a true keeper. Of course, you can also get it in a wide range of colors and sizes, along with your choice of white or black paper inserts.
29. Elegant Funeral Book
A lovely traditional funeral guestbook. Understated yet elegant, this gold embossed leather guestbook can also hold a photo of your beloved on the front. A beautiful memorial to be kept and treasured for many years.
30. Linen Stamped "In Loving Memory" Guest Book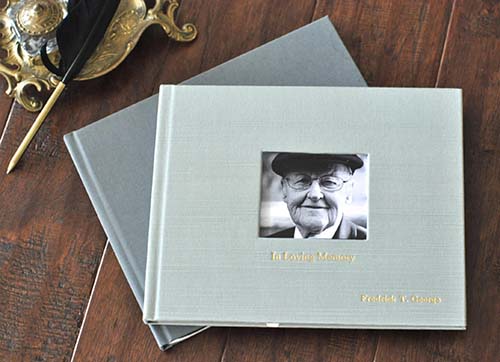 A wonderful, personalized photo guestbook. The simple linen cover is lovely, but can also be changed to accommodate many colors, themes and tastes. A lasting memorial.
31. American Flag Celebration of Life Guest Book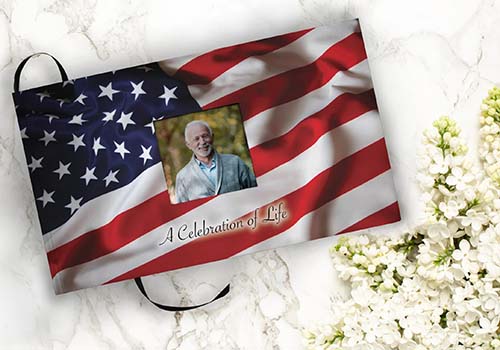 A bit more than a traditional guestbook, this themed Celebration of Life book has a beautiful dedication page, as well as a place for guests to document special remembrances and condolences.
32. Personalized In Loving Memory Guest Journal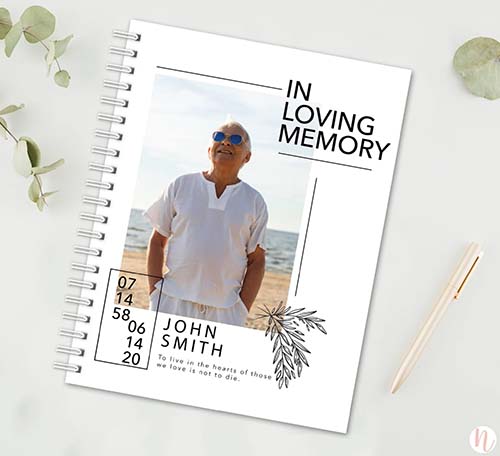 This wire-bound memorial book is extra nice because it lays flat, making it easy for guests to sign. Personalize with photo, name, dates, and more on the front, all covered and protected by a clear laminate page.
33. Personalized Velvet Condolence Book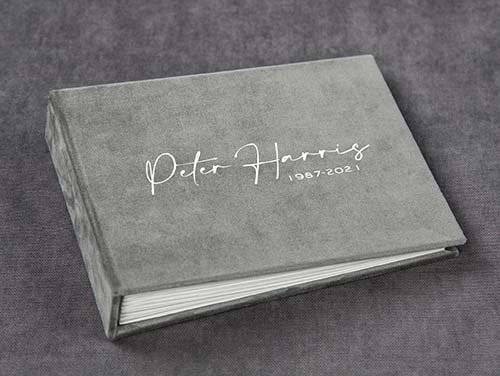 Understated with a very quiet appeal, this velvet guestbook can be fitted with photo pockets on each page. Place those precious pictures to be surrounded by sentiments of love and remembrance for a cherished keepsake.
34. Fishing Funeral Guest Book
Perfect for remembering that special someone who loved to be on the lake or by the stream. Each guest book is crafted with care as it's pages include images of fishing lures or thoughtful fishing quotes.
35. Our Memories Memorial Guest Book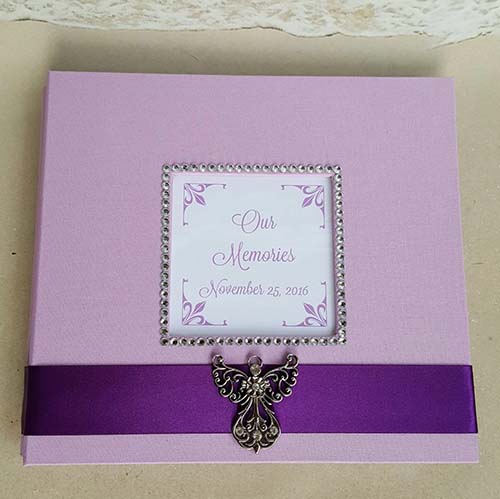 A beautiful, custom Celebration of Life book. Each guest book is made-to-order, can be personalized to fit the color and theme of the event, and includes a matching pen.
What is a Funeral Guest Book?
You've just seen just amazing funeral guest book options. But just what is the purpose of this traditional element of a funeral or memorial service?
The funeral guest book, or condolence or memory book, allows family and friends of the person who's died to share that they attended the funeral, and perhaps also a favorite memory or two that they have of the deceased.
After the funeral, the family of the deceased will have the guest book as a sort of keepsake, for them to look through and remember everyone who was present to support and comfort them on that sad day.
Should I Have a Guest Book at the Funeral?
The real question is, why not? Even if you anticipate only a few attendees at the funeral, it's still a good idea to have one, to look back on in the years to come.
If you're too sad to contemplate a guest book right now, it's still a good idea to set one out at the funeral. While you aren't right now, you may be ready to look at it some time later after the funeral, and don't want to regret not having one.
What Do You Write in a Funeral Guest Book?
Some funeral guest books offer only enough writing space for a name or family name. But others have enough room for people to write entire paragraphs full of memories of times shared with the deceased.
In general, a guest book will have room for names only, but this is not a rule. Condolence or memory books should have more than enough space for guests to write condolences or share memories. If there is enough space for this, and you aren't sure what to write, here are some tried-and-true (and completely thoughtful) quips you can use:
"I'm so very sorry for your loss. ______ was a wonderful person whose memory I will always cherish. Love, ______."
"So many wonderful memories and never enough time. All my love, ______."
"Fly high, ______. Love, ______."
Your name along with a comforting Bible verse the family can look up later.
One of these 101 Condolence Messages
Will the Funeral Home Provide a Guest Book?
It's not uncommon for the funeral home hosting the service to provide a guest book as part of a package, or even as an "a la carte" item.
But it's definitely not a given; if you're interested or concerned, be sure to ask your funeral director if one is available for purchase through the funeral home or a third party.
Read Next: Creative Funeral Ideas