Symbolizing both the fragility and the strength of life, butterflies remind us of transformation and flight through struggles.
Spirituality, the butterfly is a metaphor of hope. The slow, colorless caterpillar is shrouded in death only to emerge beautiful, graceful, and with wings that cause it to soar. 
Those are just a few reasons why a butterfly-themed memorial is such a thoughtful gift for someone who is grieving. They need comfort and support. Here are 21 pretty gifts that feature our favorite winged friend: the butterfly. 
Best Butterfly Memorial Gifts
Our website is supported by our users. We sometimes earn a commission when you click through the affiliate links on our website. Learn more here.
1. Now She Flies With Butterflies Personalized Memorial Tumbler
This vacuum sealed tumbler with the sweetest of quotes is a perfect way to show you care. You can pick out the color and size of your insulated travel mug. A sweet and thoughtful little gift that will make the recipient smile at all the memories each time he or she takes a sip from it.
2. Floral Butterfly Remembrance Suncatcher
Such a wonderful gift to give someone that isn't your typical bouquet of flowers! Instead, the flowers are dried and inserted inside this lovely suncatcher.
The addition of "In Loving Memory" along with the cross hanging in the middle makes this the perfect token for your Christian friend. It will bring a soothing burst of sunshine into the house and make them remember their loved one fondly. 
"How does one become a butterfly? You have to want to learn to fly so much that you Are willing to give up being a caterpillar." – Unknown author
3. Now She Flies with Butterflies Silver Earrings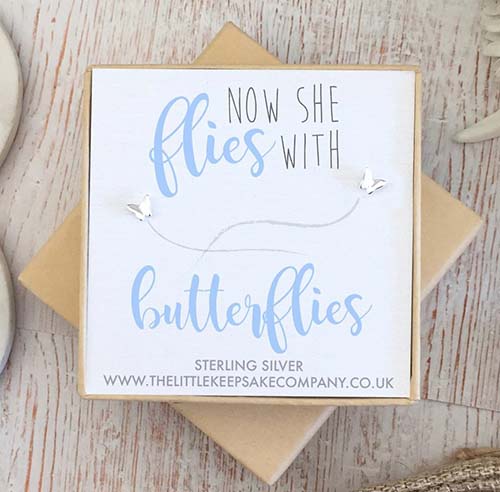 These charming little silver studs are nestled in the cutest of boxes with a card that reads Now She Flies with Butterflies.
Your grieving friend will definitely want to keep the card, and wear the earrings every day! They are handmade of sterling silver, and so light-weight, making them easy to wear for even sensitive ears.
Ideal for anyone, young or old, who has a dainty, delicate sensibility.
4. Blue Butterfly Memorial Frame
Pretty blue butterflies adorn this darling frame. The only hard part is finding which photograph of your loved one you'd like to see inside! It holds your favorite 4×6 photo, and has an easel back, perfect for propping up.
Great for memorializing a lost loved one during a wedding or graduation (so it will be like they are there with you), or as a simple gift for a friend. The simple blue and white make it appropriate for anyone. 
"Happiness is a butterfly, which when pursued, is always just beyond your grasp, but which, if you will sit down quietly, may alight upon you." – Nathaniel Hawthorne
5. Willow Tree Angel & Butterfly Remembrance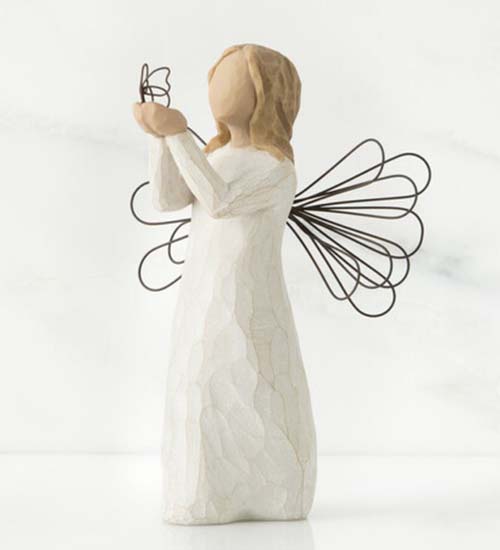 Hand-painted resin holds the tiniest of darling wire butterflies, making this figurine perfect for remembering the symbolism of the winged insect we all love: transformation, freedom, courage, and nature. A wonderful gift for all ages, this work of art is sure to be treasured for years and years to come. 
6. Personalized Sympathy Ring Dish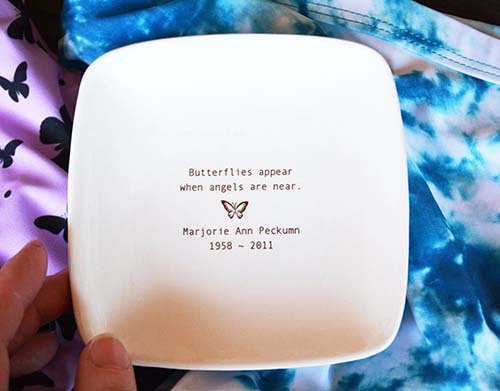 Some believe when butterflies appear, you're in the presence of angels! Isn't that a comforting thought to have through our bereavement? This little sympathy ring dish is such a pleasant reminder in times of grief.
Practical, yet sweet too. The recipient can use it to keep their rings (or keys, make-up, cotton balls, decorative soaps, etc) safe in this pretty dish. 
"Without change, there would be no butterflies… I could learn a thing or two from the butterfly's relationship with change. We delight in the beauty of the butterfly, but rarely admit the changes it has gone through to achieve that beauty." – Maya Angelou
7. Butterfly Memorial Bird Feeder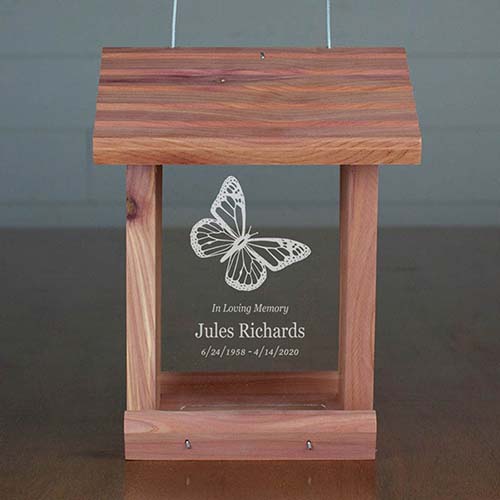 With its generous size and shiny cedar wood, this butterfly memorial bird feeder will bring new life to your backyard! A wonderful way to remember someone for so much longer than a bouquet of flowers would. The customization really makes this unique and special.
When you want to give a gift that gives back, this is the perfect choice. 
Related: Memorial Gifts in Memory of a Loved One
8. Butterfly Memorial Garden Bench
As if this charming little bench wasn't sweet enough, it is solar powered as well. How special is that? Adorned with butterflies and flowers, this makes such a pretty addition to your personal garden, front porch, or walkway.
This gift is definitely a wonderful way to remember someone who adored nature and the outdoors as much as you do. Made of faux stone resin, and comes with AA batteries. 
"He said that we belonged together because he was born with a flower and I was born with a butterfly and that flowers and butterflies need each other for survival." – Gemma Malley
9. As I Sit in Heaven Butterfly Memorial Photo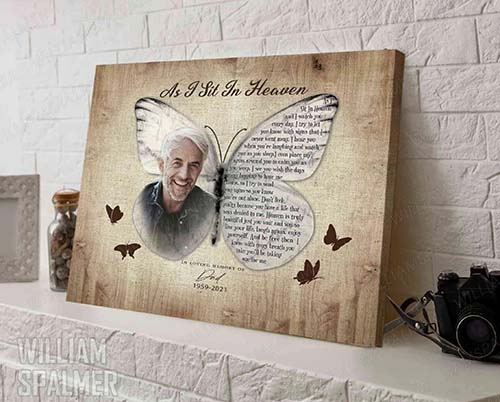 This beautiful canvas has the gentlest of poems and includes a photo of your loved one, making this extra special to give as a gift. Especially good for the loss of a father. This canvas is printed on demand and is given great care to turn out perfectly.
There are lots of sizes and variations available, from just a simple and inexpensive poster, to a fully framed canvas. 
10. With Deepest Sympathy Butterfly Condolence Card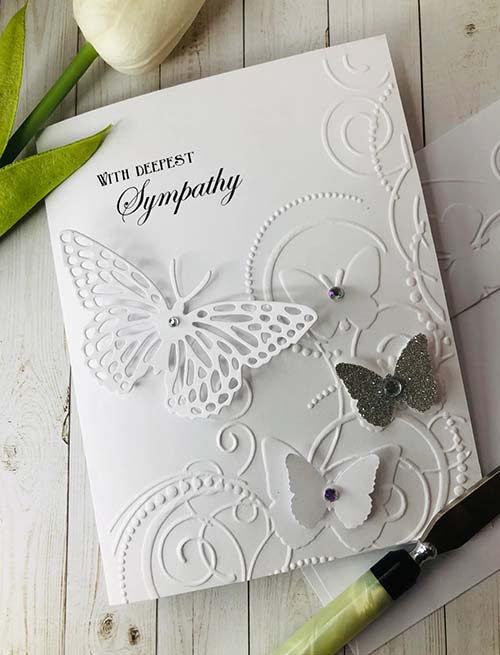 There's nothing that says you care like handcrafted elegance. That's why we love this beautiful sympathy card!
Even grocery store cards clock in at around five dollars – this one is so much more special and unique; all for a similar price.
With its 3D image of butterflies (one clean white one, and two sparkling ones) the card really is the gift itself. Even the envelope is embossed with a butterfly. 
'Just living is not enough', said the butterfly, 'one must have sunshine, freedom and a little flower.' – Hans Christian Andersen
Related: 101 Best Condolence Messages for Your Sympathy Card
11. Personalized Memorial Butterfly Painting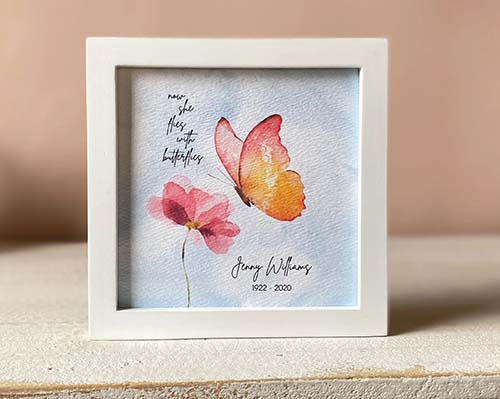 This watercolor butterfly painting can be fine-tuned to your wishes, starting with your own message. It even comes with a custom watercolor card!
You can add onto this charming painting with other extras as well, like a jingle bell to remind you of your loved one, and the name and date of your special person. 
12. Butterflies Appear When Angels Are Near Personalized Shirt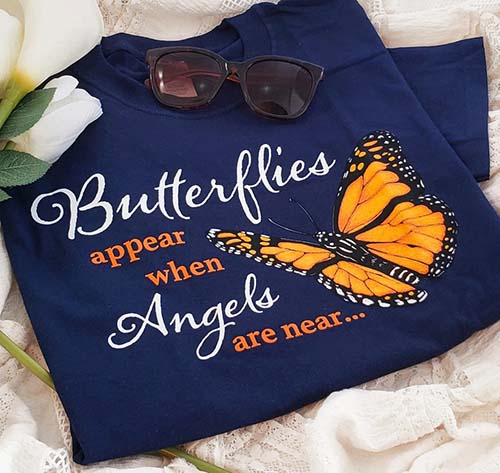 This unisex tee is made of soft 100% pre-shrunk cotton and has the addition of your name and date right on front. You could order a few and wear them together as a group, remembering your loved one! Great for a celebration of life.
In sizes ranging from Extra Small to 3XL, this shirt is perfect for everyone. 
"If you smile when you see a butterfly, you have happiness in your soul." – Diana Cooper
13. Your Wings Were Ready Memorial Garden Stake
This sweet garden stake has the loveliest of charms with your loved one's title (Mom, Dad, Son, many options available). It will instantly transform your garden or yard into a place you want to be to fondly remember your special person.
It will remind all who see it to look up to the heavens and know that your loved one is flying high, even though it was so hard to let them go. 
14. You Are My Most Beautiful Memory Wooden Butterfly Plaque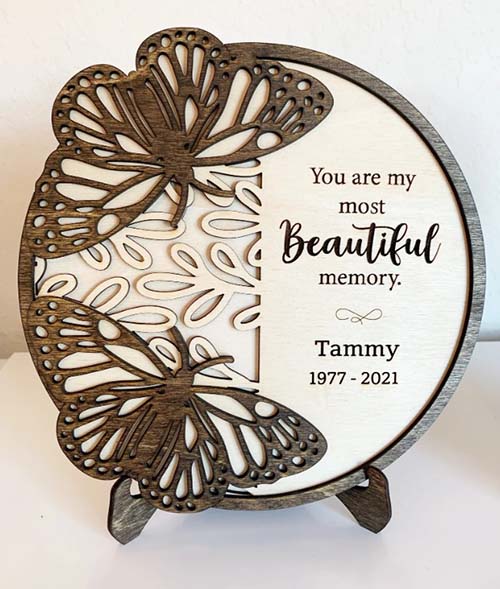 This detailed laser cut-out boasts a stunning 3D effect and is so lovely to give as a memorial gift! It's homemade of birch wood and hand-stained, making it a stand-out on your bookshelf or desk. You can change the wording for someone more personal, or leave it as is.
This USA-made plaque also comes with its own stand that would be perfect for propping up as an artistic tribute at the funeral or celebration of life. 
"Butterflies are nature's angels. They remind us what a gift it is to be alive." – Robyn Nola
15. Personalized Sympathy Butterfly Jar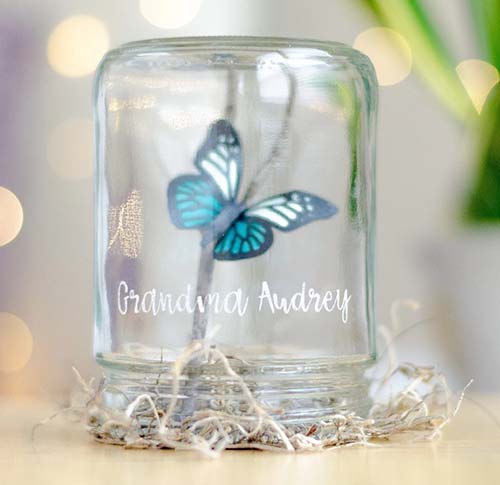 A handcrafted paper butterfly flies inside this personalized jar! The butterfly in ancient Greece symbolized a person's soul – one that flies away in freedom at the end of life. What a pretty and thoughtful piece for the loss of a loved one. Made with glass, paper, Spanish moss, and twigs. 
Related: 50 Best Sympathy Gifts
16. Custom Memorial Butterfly Blanket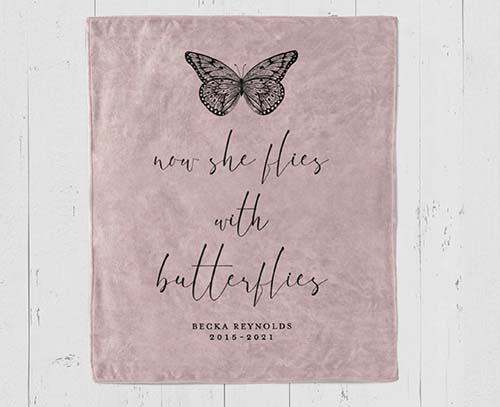 This fully personalized throw blanket comes in soooo many colors – how will you ever choose? Well, if you know your loved one's favorite, it's easy enough. The blanket is handmade and oh-so soft. You will love curling up inside this, remembering fondly your special someone. 
"Beautiful and graceful, varied and enchanting, small but approachable, butterflies lead you to the sunny side of life. And everyone deserves a little sunshine." – Jeffrey Glassberg
17. In Loving Memory Butterfly Memorial Ornament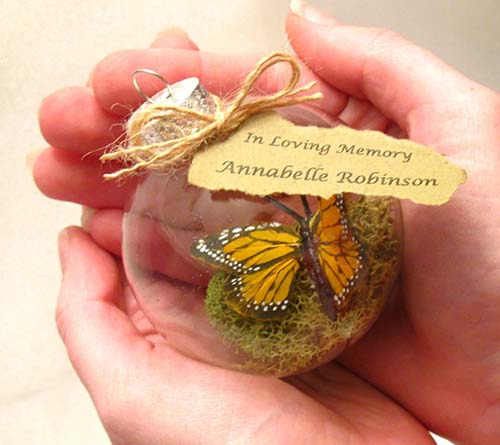 This beautiful monarch butterfly memorial ornament will find a place of honor each Christmas in your tree. Or keep it out year around by hanging it from a window or from your car dashboard. It's colorful, yet not at all loud or trendy.
A lovely little tribute for the loss of a friend. 
18. Glass Butterfly Tea Light Candle Holder
This memorial candle will never burn out! Each side is more perfect than the last, with its photograph of your precious loved one, the inscription, and the customization.
Wonderful for the home, or even as a centerpiece during a memorial service. You can even take out the custom paper inserts to use other photos if you like.
"May the wings of the butterfly kiss the sun and find your shoulder to light on. To bring you luck, happiness, and riches. Today, tomorrow and beyond." – Irish Blessing
19. Wooden Butterfly Feeder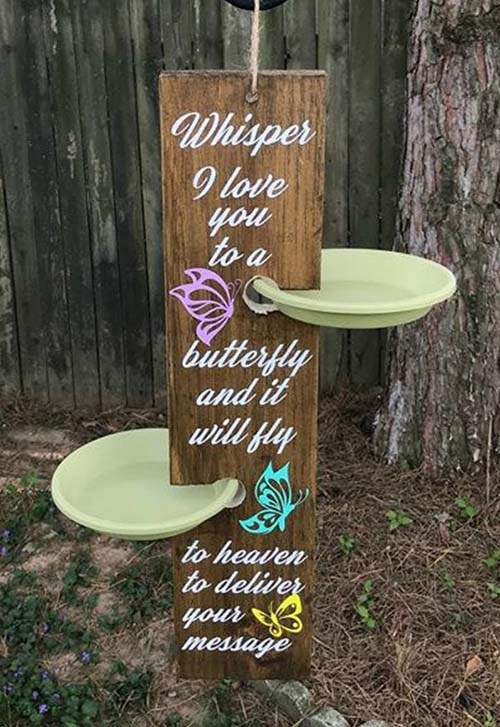 Don't just admire the butterflies – feed them! They'll keep coming back for more and you'll get to enjoy their beauty and presence a little bit longer.
This rustic and charming butterfly feeder is so unique with its design and sweet, sweet words that promise to take your love and affection all the way up to heaven on butterfly wings. 
20. Small Remembrance Butterfly Stone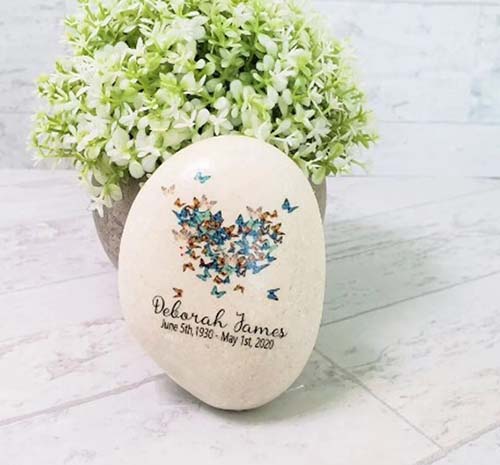 This memorial stone is just right. The pretty painting, the delicate size, the most charming of additions to your garden path or nestled among your plants, it makes a lovely gift that won't wilt or fade.
It's weather resistant, so you don't have to worry about bringing it indoors during a storm, and you can even include the add-on of a card and gift box. 
"In mythology throughout the world, the butterfly represents the soul and its journey in this life and the next." – Tom Frost
21. Silk Butterfly Memorial Photo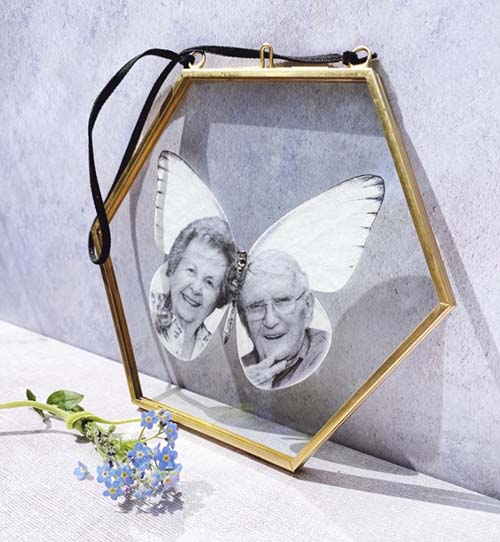 Made from silk, this pretty memorial photo is nothing like all the others out there! This one is special and unique – just like your special someone. You can choose to have your butterfly photo framed or magnetized for your fridge. It even has sparkling crystals included.
The artist makes these lovely gifts for a myriad of reasons, but she says a popular option is to include this butterfly into a wedding bouquet so the loved one can be a part of the ceremony. 
"Perhaps the butterfly is proof that you can go through a great deal of darkness and still become something beautiful." – Author unknown
Related: 25 Most Beautiful Butterfly Cremation Urns
Pin It