Let's talk about fishing memorial gifts and tributes that actually mean something.
The one good thing about fishermen and women and their one-track obsession – um, we mean hobby – is that they are easy to shop for! Everything and anything with a fish on it just calls their name. 
But when someone you care about has lost a loved one who loved nature and all things rods and reels, you want to think outside the tackle box. The season of grief is a time for thoughtful, meaningful tributes, so any old fishing-themed gift won't do.
You want to find something of substance, something that will last. And you want it to be something that conveys love and support to the grieving person while paying tribute to their beloved's passion for fishing.
With over a decade of experience in both the funeral and gift-giving industries, our team knows a lot about what warms the heart during this difficult time. So come and see what we've curated to help you find a wonderful fishing memorial gift.
Whether it's for yourself as a tribute to your beloved or as a sympathy gift for a bereaved loved one, you'll find the best ideas right here.
Fishing Memorial Gifts
Our website is supported by our users. We sometimes earn a commission when you click through the affiliate links on our website. Learn more here.
1. Fisherman Bird Feeder Memorial
A wonderful hand-crafted memorial bird feeder will transform your backyard with the way it draws in and sustains all things feathered. Not to mention the beauty of its design, generous sizing, and the lovely memorial message etched on the front panel.
Laser engraved with a casting fisherman and the name and date of your special someone, this is a fishing memorial gift that will last forever. 
Made in the USA of solid cedar wood, this is our top choice because it's not some knickknack that takes up shelf space or will end up in a drawer or attic box. The new bird feeder is sure to be the centerpiece of your friend or family member's backyard or garden, and will celebrate life in a meaningful way by feeding the birds.
2. Wooden Fish Memorial Plaque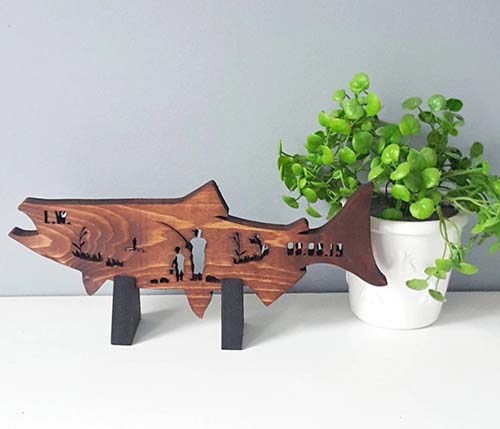 Are you looking for a gift that illustrates just how beautiful your loved one's passion for fish can be? This gorgeous plaque does just that, and is made even more special and unique by the wood burnt addition of a name/initials and date.
The memorial will look wonderful centered on a family wall of photographs, or at the office above a desk. It's sure to make you smile with fond memories each time you look at it! 
3. Until We Fish Again Stamped Lure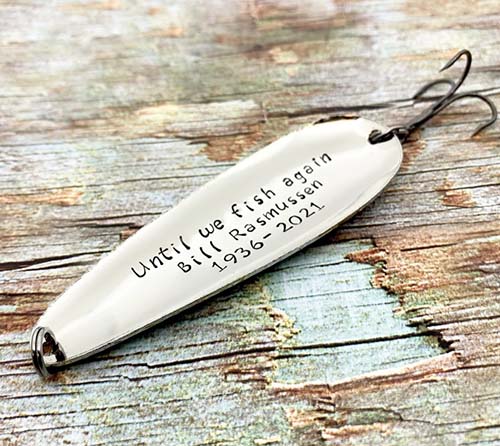 This sweet lure is made from your choice of hammered brass or silver. We love the etching of your fisherman's name and date, but especially the heartfelt sentiment: "Until we fish again."
For the couple who enjoyed fishing together, this is such a lovely addition to the tackle box. It will also perfectly serve as a Christmas tree ornament, rearview mirror tribute, or you can leave it out as a decorative piece for all to see. 
Hand stamped, polished and packaged with care, this tribute is made in the USA. 
4. Fishing Memorial Stone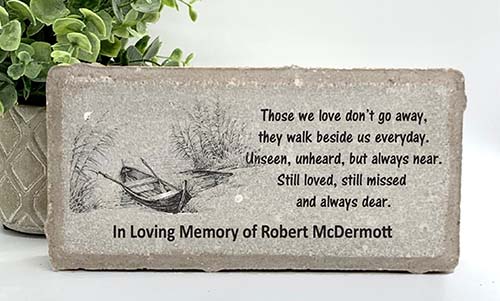 Custom made just for you, this sweet personalized stone is going to look lovely inside or out. Whether you keep it or give it away, this is a lovely and heartfelt tribute that lasts so much longer than a bouquet of flowers.
Choose marble, concrete, or slate as your options, and find the perfect spot for this stone to nestle where everyone can admire it and remember your special someone. For outdoor or garden use, go with concrete.
5. Gone Fishing Bottle Opener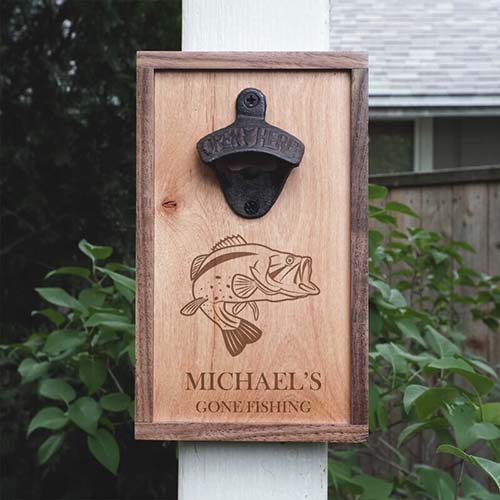 This bottle opener is so fabulous, isn't it? With sturdy construction and a rustic design, it almost looks vintage – but you'll never think that when it flawlessly opens the hundredth bottle with ease! You can have it customized with your fisherman's name and date, as a great tribute to your favorite fishing (and drinking) buddy. 
6. Wooden Fish Memorial Sign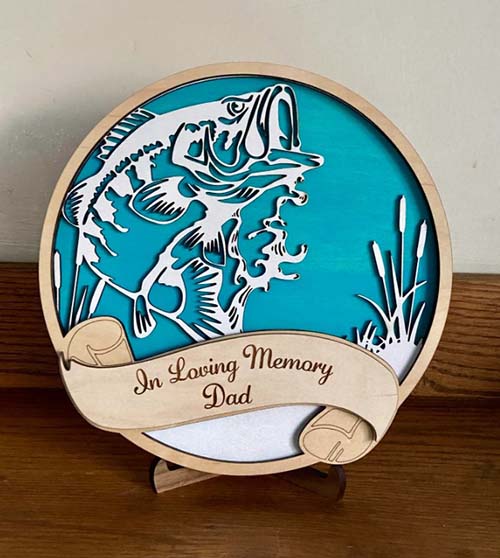 This great sign is handmade of maple with blue-stained background and custom engraved however you like it. It will look so wonderful perched on a shelf, or hung on a wall. A touching tribute for a special person, whether you choose to keep it or give it away. 
7. Fishing in Memory Wind Chimes
This beautiful wind chime has such a soothing tone that sings in the wind. Everytime the breeze wafts by, you'll think of your special person whose name is added to the chime. "Fishing in heaven." What a wonderful thought!
This chime is truly special, and comes perfectly wrapped, with a custom magnet added at no charge, as well as a gift card from you. Made in Wisconsin by a family-owned company. 
8. Gone Fishing Sympathy Photo Blanket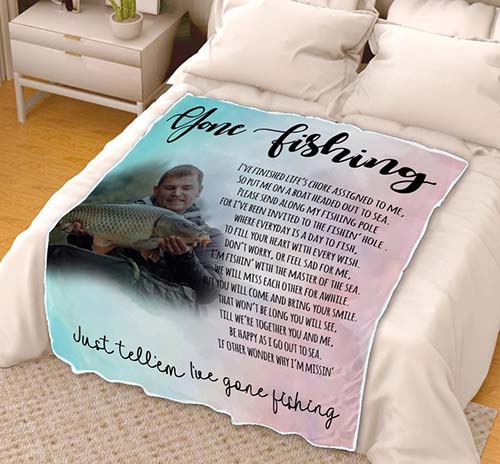 How many times did you hear your special someone say, "I'm going fishing"? They would have adored this soft and inspirational blanket. Not only does it have the sweetest little poem, but also a photo of them with their best catch of all (whether that's you or a fish, we'll let you decide).
You'll love snuggling up under this soft and cozy throw, or spreading it out on the back of his favorite chair. 
9. Fishing in Heaven Personalized Memorial Tumbler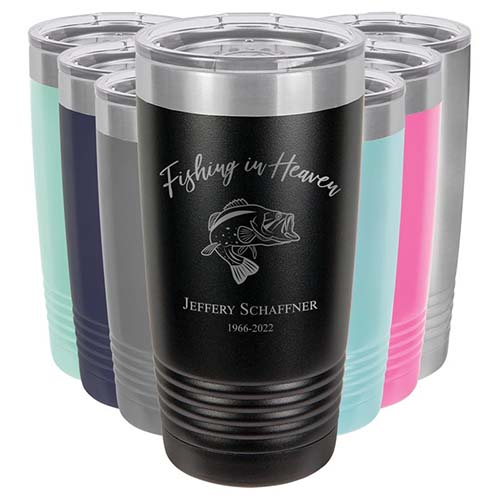 The perfect tumbler to take, well, fishing, of course! These wonderful beverage holders are vacuum sealed, meaning they'll keep your cold drinks frosty on a hot day, and your warm liquids piping hot even in a blizzard. You can choose your favorite color, and you can even change the words if you like. Just don't forget to add your loved one's name on as well! 
10. Memories are Treasures Garden Memorial Sign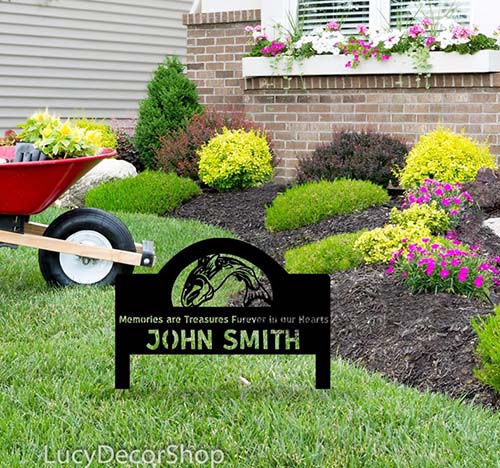 This garden memorial sign really IS a treasure! As are your memories of your beloved fisherperson. They'll love seeing this sweet sign from their spot on Heaven's river, and you'll love having this memorial tribute to their favorite pastime in your garden. 
11. Fishing Memorial Lantern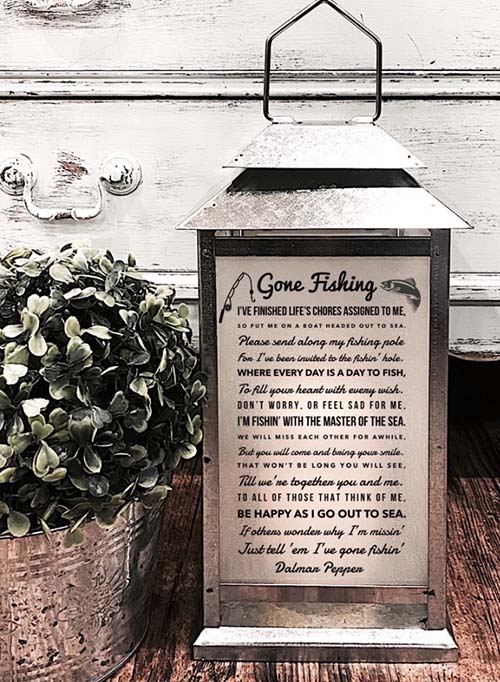 This fishing memorial lantern is going to look so charming on your patio table, or even inside! The words are so gentle and true, and the addition of a photograph makes this one-of-a-kind and unforgettable (kind of like they were).
It even comes with an LED candle, so there will be no accidental wax-spilling or unintentional fire! Just a soft, gentle glow in their memory.
12. Personalized Glass Fishing Memorial Ornament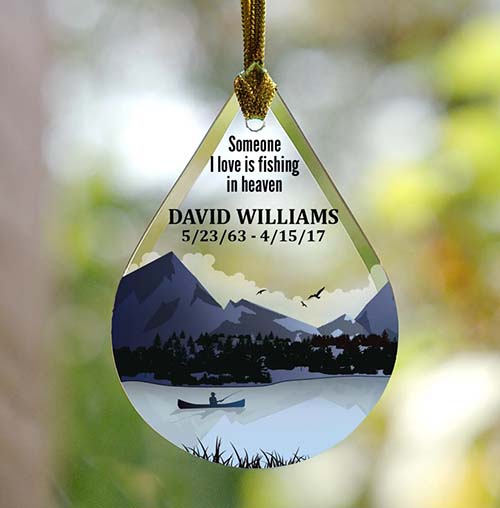 This beveled glass fishing ornament will really shine each year on your Christmas tree, don't you think? In fact, it might be too special to pack away the rest of the year! Why not hang it from your car dashboard, or a sunny kitchen window?
However you choose to display it, everyone will love the personalization and the tribute for such a special person.
13. Fishing Memorial Car Decal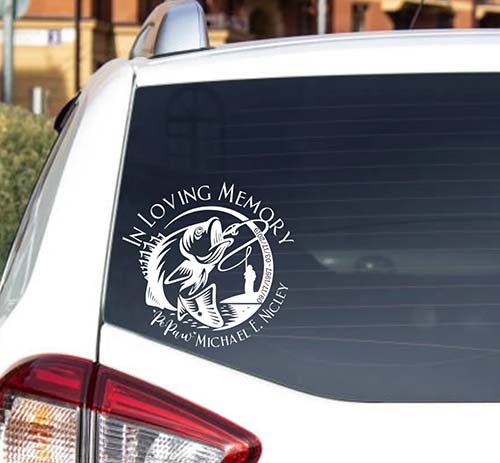 A simple way to pay tribute everywhere you go! This fishing memorial car decal will make you smile every time you see it: when you're buckling in the little ones, putting away the groceries, or packing up the car for a trip.
They're inexpensive enough to even give away to all the family members. Consider that as a way to keep your person's memories alive in many different cities and states.
14. Now Fishing in Heaven Garden Flag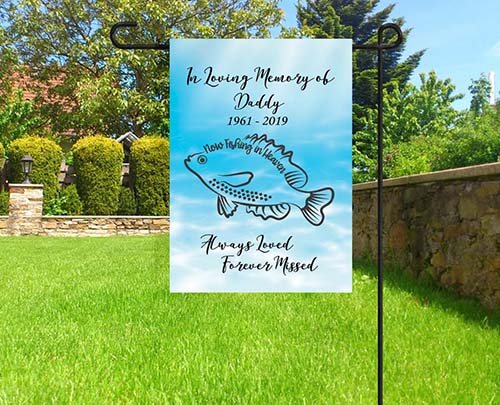 You can customize this great garden flag however you like. Make it unique and special – just like your fishing enthusiast was in life!
This fishing memorial gift is made from sturdy polyester, so it can withstand the elements and will wave cheerily with each breeze. You can display it in your own garden, fly it off your porch, decorate a memorial table, or accent the cemetery marker with it.
Any way you go, it will turn heads and transform tears into smiles. 
15. Until We Fish Again Picture Frame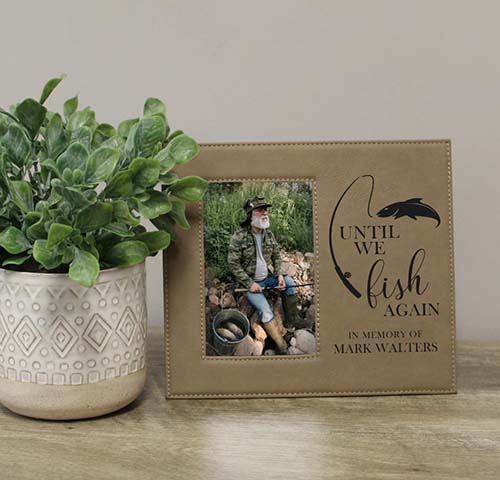 This rugged picture frame is handmade of vegan leather! Simply choose your favorite photograph of your fisherperson (complete with fish, naturally) and supply his or her name for custom engraving.
It will be the perfect addition to the table at a memorial or celebration of life, and afterwards it will deserve a spot of honor on your bookshelf. Available in gray, caramel, blue, black, or tan.
16. Fishing in Heaven Memorial Necklace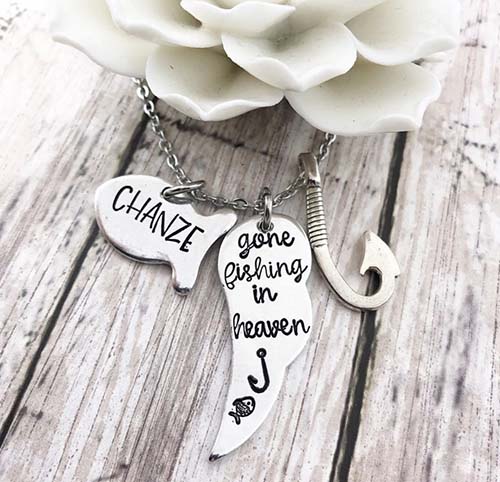 This stainless steel necklace is hand-stamped and comes with the cutest of charms: a hook, and a fishy with their name stamped on.
She'll love wearing this adorable necklace that makes her think of her dad, grandpa, or fish-obsessed husband every time she takes the boat out, or casts a line.  
17. Someone We Love Is Fishing in Heaven Personalized Painting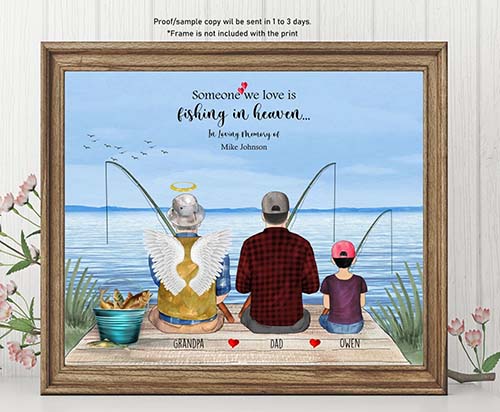 By adding in your people and even your pets, this painting is absolutely one-of-a-kind! Completely unique, it will inspire a lot of oohs and ahhs from all who see it.
There are different sizes available so you can really order exactly what you want, as well as two options for your art: a digital and inexpensive edition, or a fine art representation. 
18. Gone Fishing Memorial Plaque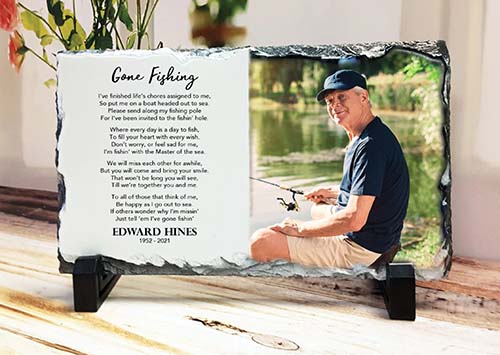 This Gone Fishing Memorial Sign is handmade and customized from slate, part plaque and part photo frame! With your favorite shot of your person on one side, the other is engraved with a lovely poem or expression of your choice, and their name and date. This is one that will be an instant family heirloom for sure! 
19. Celebration of Life Fisherman Seed Packs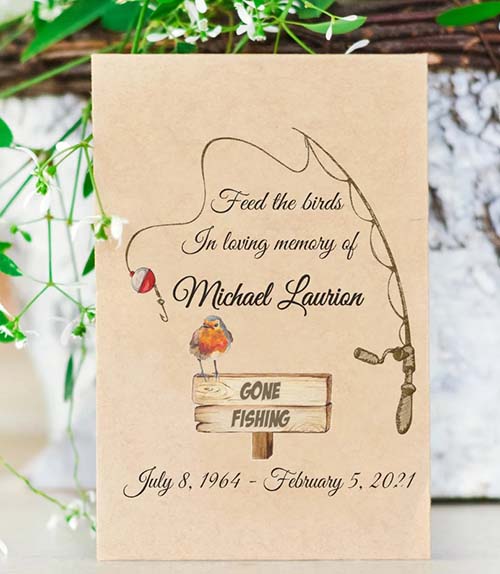 These customized packets of seeds are so special. You'll want to purchase as many as possible (easily done, as they're priced so inexpensively) and give them out at the memorial or anniversary. The addition of your loved one's name and date make them even more darling. And once the flowers bloom, you'll have reason to celebrate and remember them all over again!
Related: 11 Living Memorial Ideas to Honor A Loved One
20. Fishing in Heaven Keychain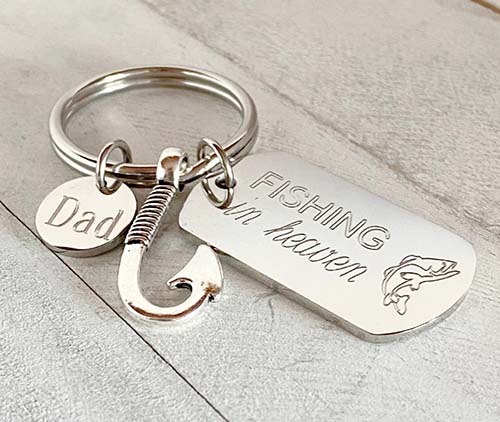 This great handmade key chain will put all of your favorite memories right at your fingertips, every time you reach for your keys! Personalized with their name, it hits all the right notes: it's simple and charming, functional and sentimental. A lovely gift to give as well, to a grieving son or daughter, brother or sister, or friend. 
21. Fishing Memorial Plaque & Cremation Urn with Choice of Fish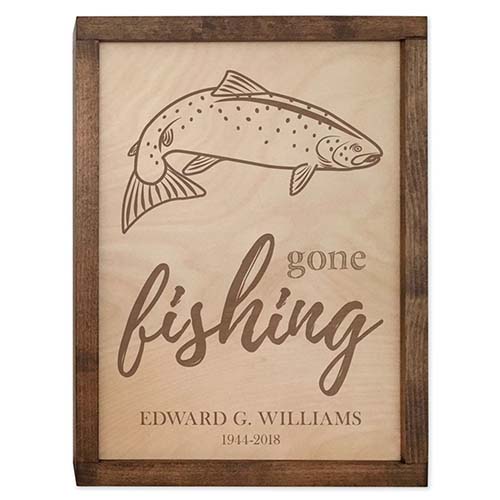 Here's a piece of art that does double duty: not only is it a good-looking memorial plaque on its own, but it's also a discreet cremation urn. A lovely spot to keep their ashes nearby, while you keep their memories in your heart. You even get to pick from nine different fish!
Your beloved fisherman would adore being immortalized like this. Individually handmade in Oregon and personalized to order.
Related: The 21 Best Fishing Cremation Urns
More Memorials & Sympathy Gift Ideas
Plant a Tree in Memory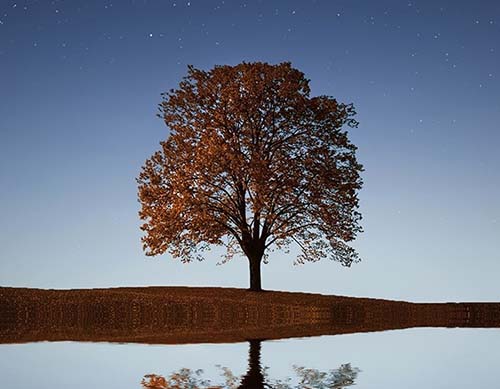 You know they loved the outdoors, so why not give a remembrance gift that reflects that side of their wonderful personality? They would have loved knowing that their ascent into heaven brought a new tree to life on earth. 
Hug in a Mug Sympathy Gift Box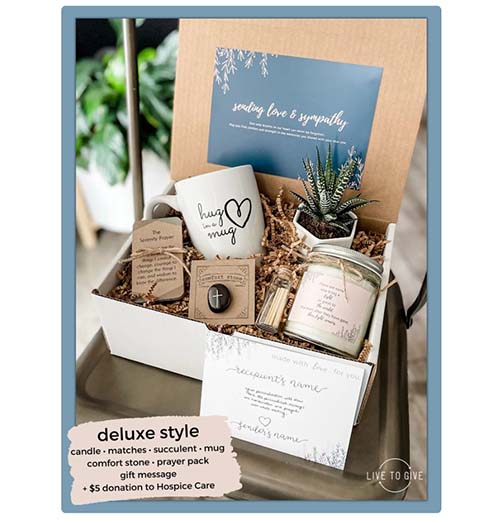 This comforting box of special and unique items is even prayed over before being shipped to you! We think that is so, so sweet.
The box comes with a candle that reads "There are some who bring a light so great to the world, that even after they have gone their light remains." Additional goodies include live succulent, a mug, a ceramic pot, a prayer rock and prayer cards, and you can even select one more to add if you desire (like tea). 
Comfort Bowl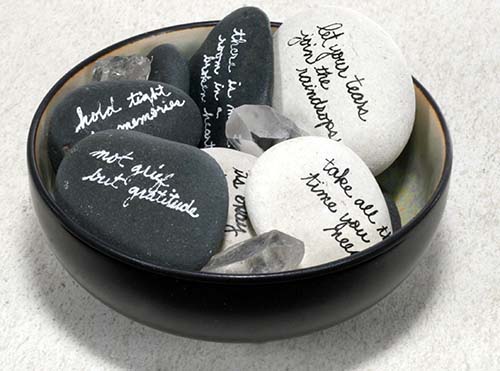 How about some comfort in a bowl! Simply reach for a rock when you're feeling overwhelmed and sad, and let the words fill you with a calming sense of peace.
All the pebbles in this Japanese bowl have been combed straight from the beach, meaning that each one is unique and special, and the quotes and words are chosen with great care. 
Compassion Package Filled with Practical Care Items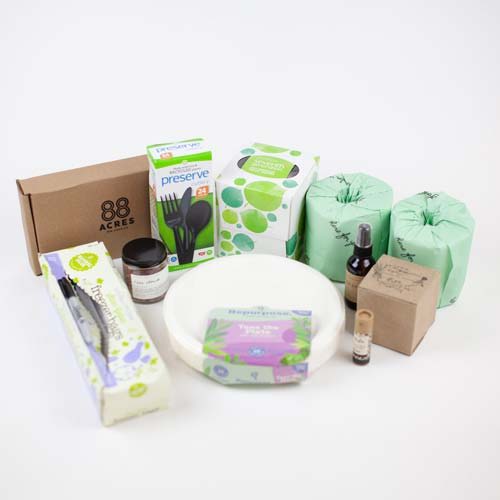 A practical gift that is worth its weight in gold, this compassion package is filled to the brim with all sorts of homegoods that the bereaved are too busy and overwhelmed to shop for, but still need! They'll love your thoughtfulness and practicality that will outlast delivery flowers. 
Comforting Blanket Gift Box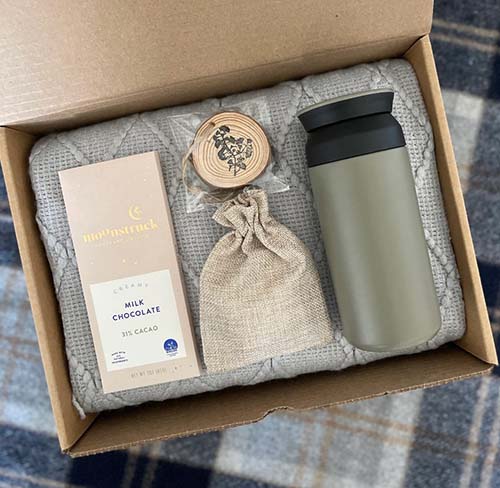 A soft fleece blanket is such a comforting gift. Especially when it comes with a premium tumbler, the beverage of your choice, and a piece of delicious chocolate. Plus, a handwritten note by you!
Your grieving friend definitely feel how much you care for them as they wrap themselves in a soft, warm hug and cradle a mug of yummy hot cocoa, tea, or chai. 
"Raise a Glass in Memory" Bottle Opener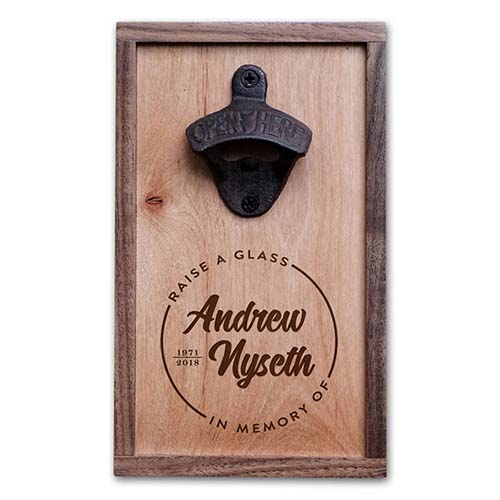 The perfect addition to your kitchen, especially if you're the one hosting the memorial celebration or after-funeral brunch! Guests will love the wooden bottle opener as much as you do, with its personalized engraving and fun sentiment. It is sturdily made to last a lifetime. 
Read Next: 50 Best Memorial Gifts In Remembrance of a Loved One
Pin It