Sometimes a card just isn't enough, and a well thought-out gift is a must. But when someone you know and love is struggling with grief, it can be hard to know what to reach for.  Flowers? Seems too obvious and generic. A gift card? Not very personal. That's precisely why we've compiled this list of gifts for someone who lost a parent.
The proper gifts are out there, but sometimes starting your search is the hardest part. To help you out, here are 30 gift ideas to spark your creativity and help your friend know how much you care. 
Best Loss of Parent Gifts
Our website is supported by our users. We sometimes earn a commission when you click through the affiliate links on our website. Learn more here.
1. Plant With Love Memorial Tree
This sweet little tree won't take up a ton of space in your friend's yard and will bloom forever. A symbol of their connection and a visual reminder of the love between the two of them, it will blossom all year round and make them smile. 
2. Memorial Projection Bracelet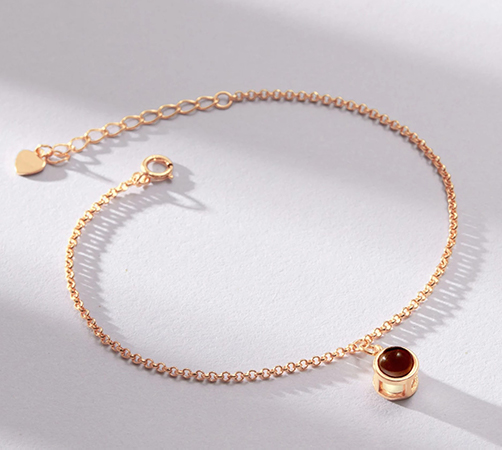 This clever little bracelet holds a secret: a cherished photograph. A wonderful way to keep a loved one with you all the time! It's dainty and pretty, but casual enough to wear each and every day (which we're sure they will want to do).
3. On Angel's Wings Memorial Stone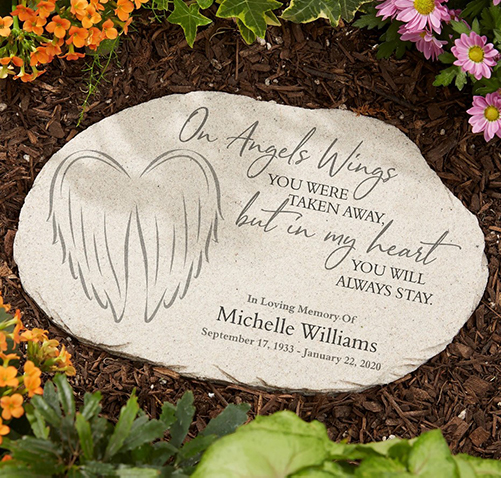 Whether they place this beautiful memorial stone in the garden, on the porch, or even inside, all the guests will admire it for years to come. The lovely sentiment is a nice reminder that memories last forever, and the added touch of personalization makes it extra special.
4. A Life so Beautifully Lived Candle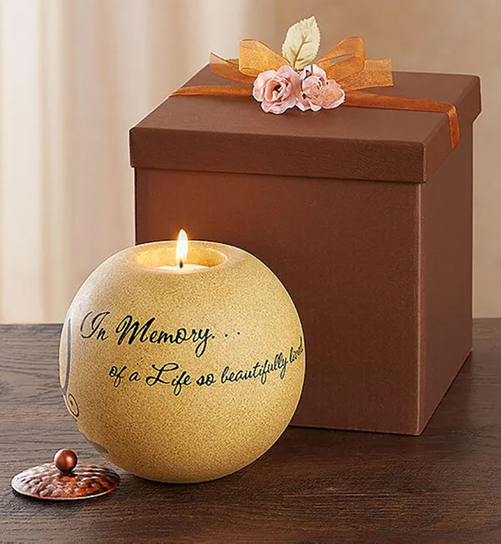 This beautiful candle is almost too pretty to burn. With such a lovely inscription, it will bring your friend some light and happiness in their dark time. And it will last much longer than fresh flowers! These make wonderfully sentimental gifts for someone who lost a parent.
5. Memorial Photo Book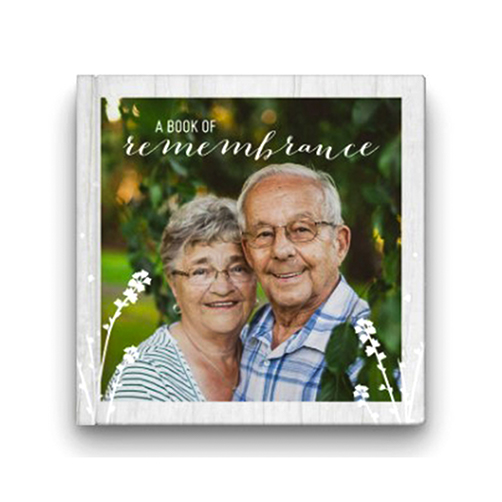 This pretty memorial photo book is a perfect gift for someone who needs the healing touch of photographs and memories! You can fill the book up yourself for your loved one who is grieving, or let them pick out the photos. Either way, it will be a treasured family heirloom in no time!
6. Here for You Care Package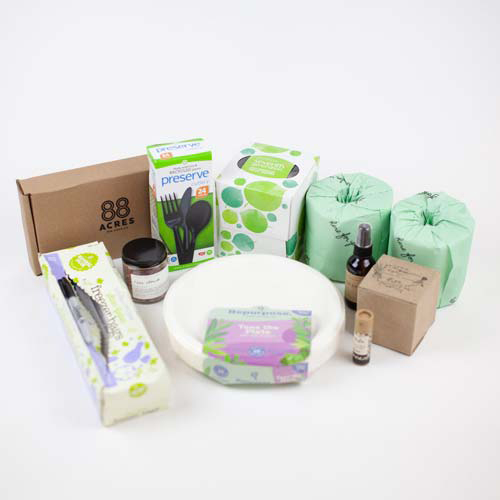 Show how much you care and how much you're thinking of them during this difficult time with a wonderful care package! They'll love the thought that went into each and every item, and everything is so personal and useful too.
Slip a hand-written card in the box and you have a perfect gift for your friend. Care packages are among some of our favorite gifts for someone who lost a parent.
7. Parent in Heaven Christmas Ornament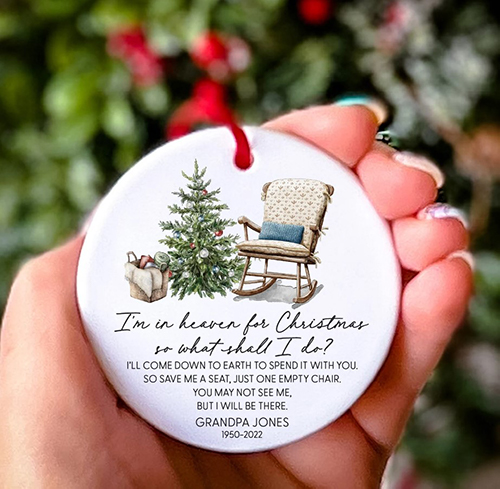 Holidays can be so difficult when you are missing a special someone, especially someone like a parent. Bring happy tears to the surface with a beautiful Parent in Heaven Christmas ornament.
It is bound to hang front and center each and every Christmas season, and will bring a sense of healing and calm to everyone as well. 
8. Voice Memorial with QR Code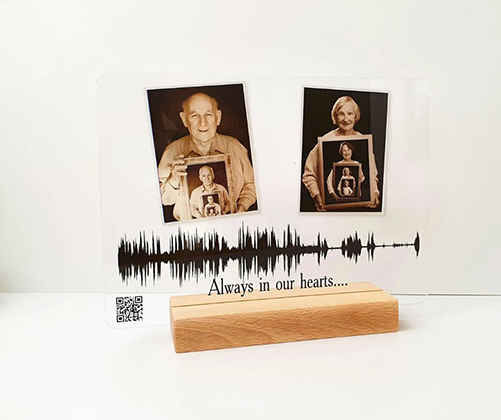 One of our most personal gifts for someone who lost a parent. Simply provide a voice message of your loved one (or a song that reminds you of them) and the artists and geniuses at ArtsFeelingsHall via Etsy will do the rest!
They'll even add an acrylic photograph to go along with the image of the sound wave(s). What an unusual and delightful gift!
9. 3D Memorial Photo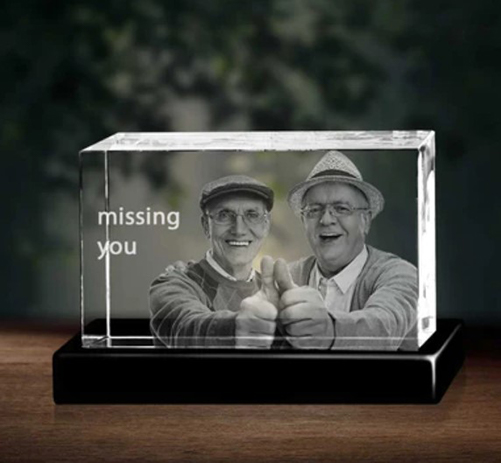 A cherished photograph is always a wonderful gift idea for someone who lost a dear parent, and this 3D version is extra special. It really captures the eye and will stand out wonderfully either on a coffee table, at the memorial as a centerpiece, or simply on a bookshelf. 
10. Healing After Loss
Help your friend in a more practical way with this wonderful self-help book about the grieving process. He or she will turn to it again and again as they weather their grief and learn to heal.
Books on grieving make very thoughtful gifts for someone who lost a parent. Write a little inscription inside the front cover to make it even more special. 
Loss of Father Sympathy Gifts
11. Letters to My Dad in Heaven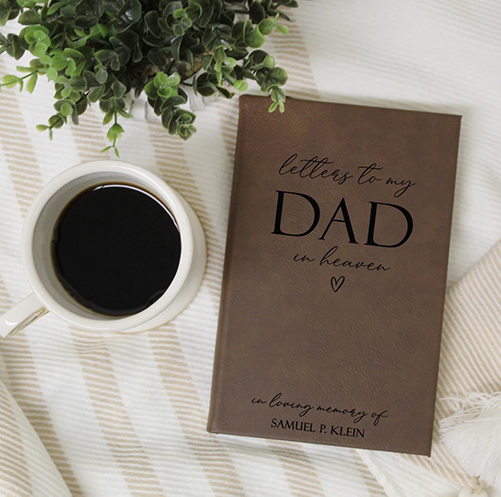 Keeping memories alive and fresh is so important. This gorgeous vegan leather journal is just the thing to have nearby each and every time your friend recalls something wonderful about their father that needs to be recorded. Pair with a lovely writing pen or pencil set for an extra special gift.
12. Raise a Glass Memorial Bottle Opener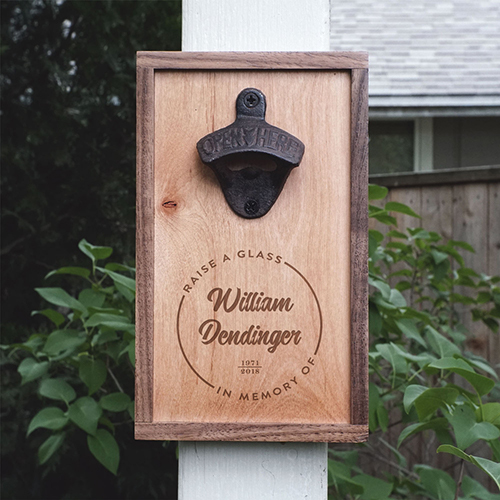 Toast to their dad each and every time there's a bottle that begs to be opened! Your friend will love the thoughtfulness that went behind this personalized bottle opener.
It's sturdy and strong enough to last a lifetime, and will make them smile every time they use it. Cheers to Dad and raise a glass!
Related: Sympathy Messages for Loss of Father
13. Personalized Memorial Wind Chime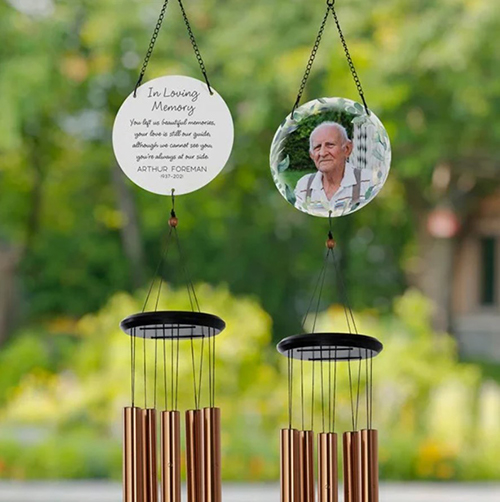 These wind chimes are so wonderful! Completely unique and one-of-a-kind thanks to the personalization and photo, your friend will love the tinkling chime sound that they make when a soft breeze goes by.  
14. Memorial Photo Bookmark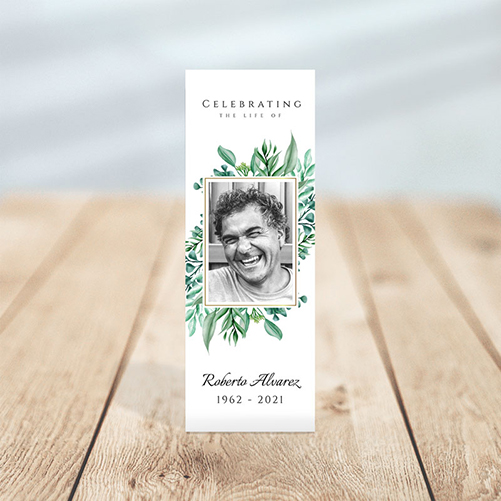 Wonderful to order in large quantities for all the friends and family, this sweet bookmark is a no-brainer. Pick out your favorite photograph of your friend's father and you're halfway there already. Such a nice gift that will be treasured every time they sit down to read a book!
Click here for more designs to choose from.
15. Memorial Fingerprint Necklace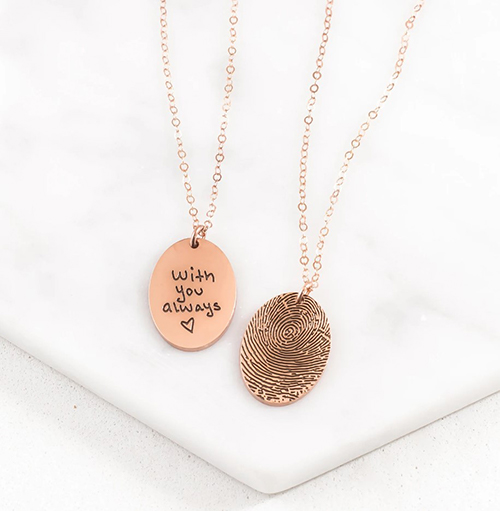 You can choose from rose gold or sterling silver with this pretty necklace. It will pair nicely with any outfit and we think she'll never want to take it off — it's that special! Choose your wording as well, to make it even more unique and personal. Such a sweet custom gift!
16. Star Registered in His Name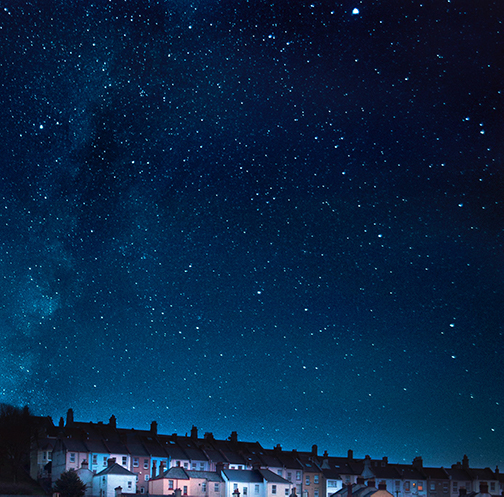 Register a star in his name and watch his friends and family melt with the news! They'll love looking for his own special star, and you'll love knowing you came up with a totally unique and one-of-a-kind present. What a way to honor someone who meant so much to so many.
17. Your Life Was a Blessing Memorial Frame
This memorial frame is a lovely and sweet way to honor your friend's father. They'll love having it to treasure forever, and the kind words make it even sweeter.
Some people honestly leave a legacy of love behind them when they go. If that describes him, this is the perfect gift. 
18. Memory Shirt Pillow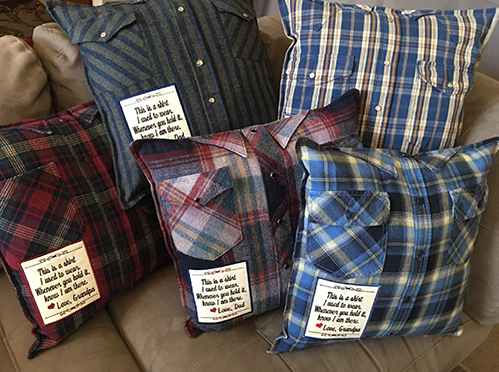 Take a beloved shirt from the one who has passed and create something completely unique and wonderful out of it — a one-of-a-kind pillow! Such a sweet and loving way to help keep their memory alive, this pillow is sure to evoke all kinds of oohs and ahhs and happy tears. 
19. Until We Fish Again Stamped Lure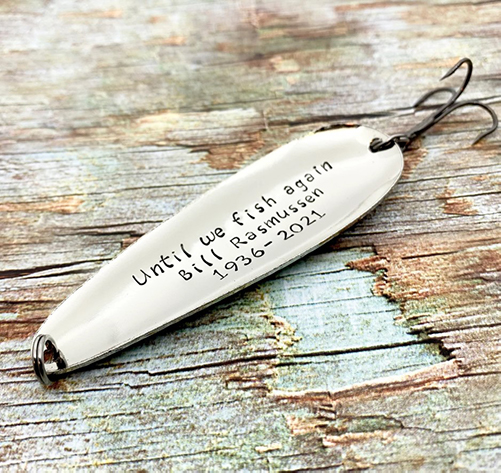 This clever little lure is a tribute to your favorite fisherman. A keepsake that will be treasured forever and passed down to the next generation, it's a sweet little way to show how much you care. 
While not everyone agrees on religion and the afterlife, it seems like we all agree on one thing: there is definitely fishing in heaven!
20. I Miss You Dad Tealight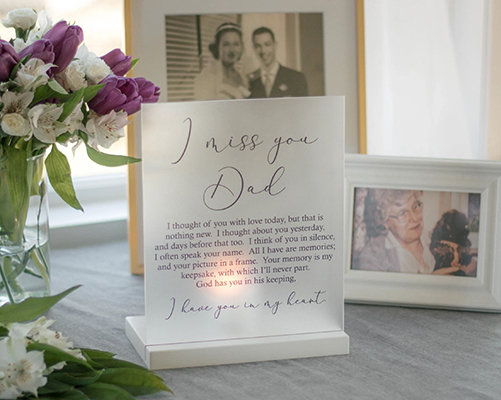 This gentle little tea light is a wonderful gift that the recipient will be thrilled to light right away. A soft glow will remind them of their dad, while the sweet sentiment and inscription is a welcome respite from the grief they've been experiencing. 
Loss of Mother Sympathy Gifts
21. Letters to My Mom in Heaven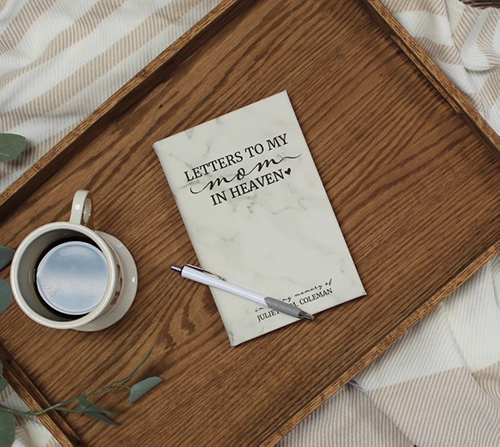 This beautiful journal is a wonderful gift that will keep on giving for years and years (and more years) to come! Memories and photos, reminiscing, recipes, quotes, poems, doodles — they all are welcome to be jotted down here as they are recalled.
Related: Best Sympathy Messages for Loss of Mother
22. Angel Wings Wind Chime & Painting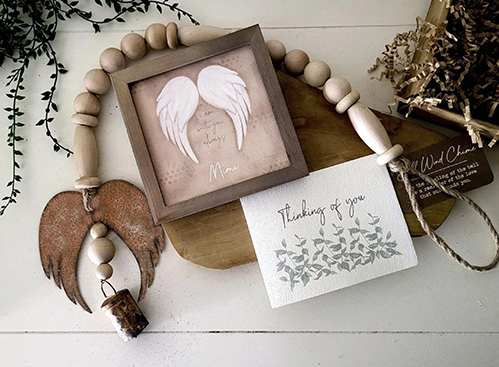 This pretty little work of art comes with a beautiful card as well. The angel wings are so apropos and the painting itself is such a delight.
If your friend's mother was truly an angel on earth, this gift takes the cake! 
23. Photo Memorial Garden Flag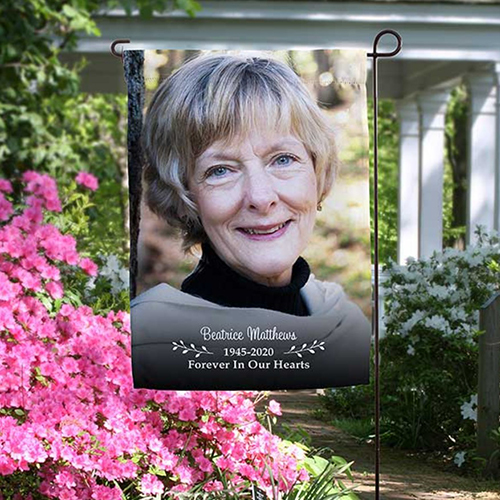 Perfect for a gardener or nature lover, this great photo memorial flag is a wonderful gift for someone who is grieving the loss of their mother. Such a nice tribute to a lovely lady, it can be admired by anyone who walks by. Also wonderful for an outdoor memorial service!
24. Personalized Memorial Necklace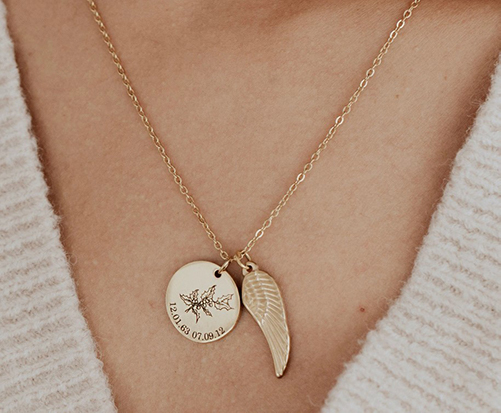 You can choose from silver, gold, or rose gold for this beautiful charm necklace. It's personalized with their birth flower so it's totally unique and like no other. Plus, the addition of the angel wings makes it even more darling. A sweet way to carry your mother's memory with you everywhere you go. 
25. Loving My Mother Willow Tree Figurine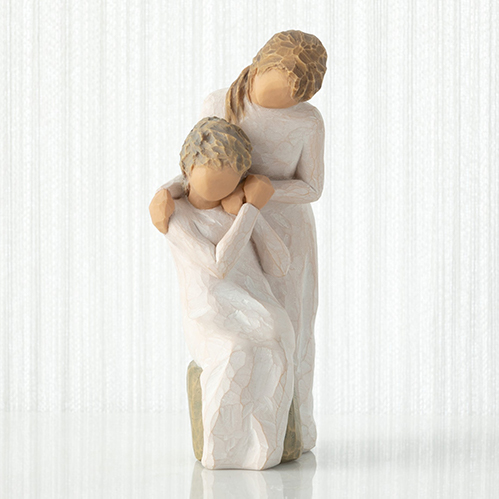 This figurine from Willow Tree is just everything, isn't it? Whether it finds a home nestled on a bookshelf, placed beside other mementos, or as the star of the show as a centerpiece, this is truly a work of art. It will be so appreciated and treasured for many generations to come. 
26. Engraved Angel Snow Globe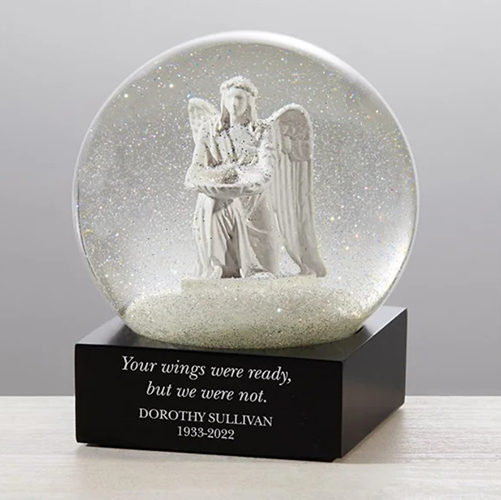 If their dear mother was an angel in disguise, your friend will appreciate and treasure this engraved angel snow globe! Bringing with it a calming presence and a sense of whimsy, this little piece of art will brighten up any room. 
27. Grief Affirmation Cards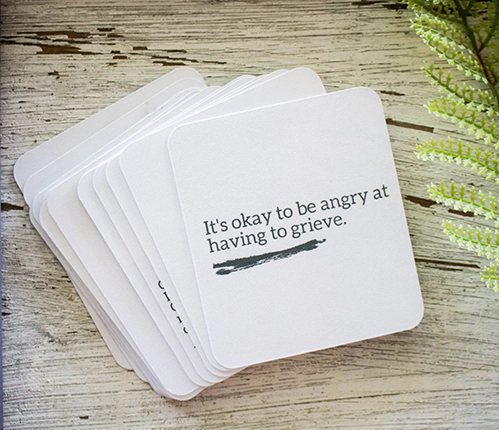 Let's get practical for a moment. These affirmation cards are so needed in times of grief. Grief is a sneaky thing and can ambush you when you least expect it. These wonderful cards can be a Godsend for times like those.
Learn some coping skills and give yourself permission to work through all of those feelings. 
28. I Am Always With You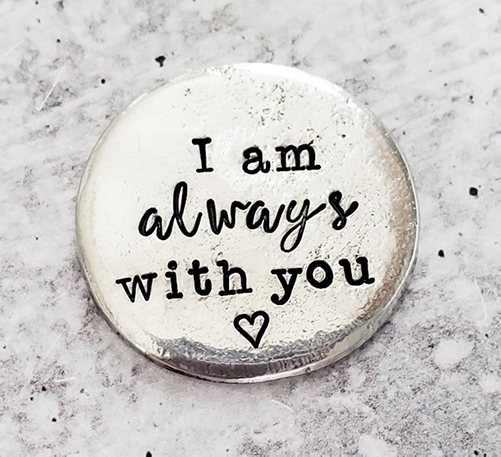 This little pocket stone can go with you or your friend wherever life takes you. It's a gentle reminder of their mother and will be treasured.
Stick this simple stone in a pocket, in a wallet, in a purse, or set it out on a shelf to be admired daily. These make such sweet gifts for someone who lost a parent.
29. A Life so Beautiful Dish Garden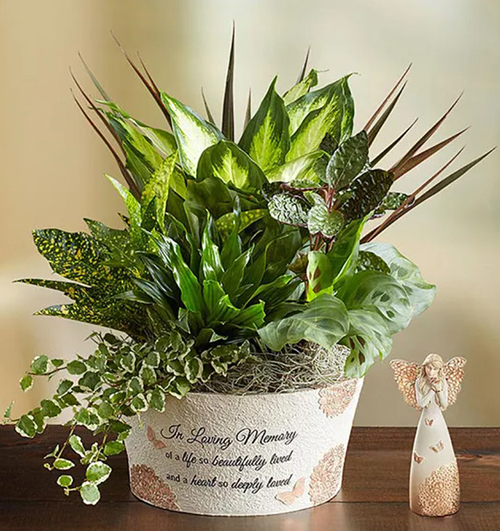 An elegant tribute to a life well lived, this dish garden is a lovely alternative to the normal bouquet of flowers. With its pretty, rustic pot and its darling plants (not to mention such a beautiful inscription), this gift is a real keeper and we think they'll love it dearly. 
30. Hummingbird Memorial Bird Feeder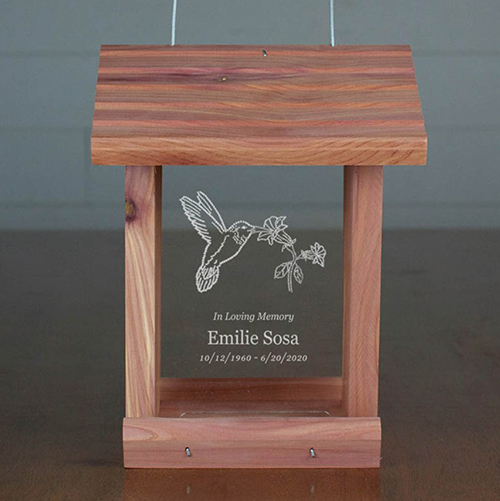 This hummingbird feeder will be a huge winner for the birds, but also for whomever you gift it to! It's very high quality, totally personalized however you like best, and will brighten up a backyard or garden space.
If your dear one was a nature and bird lover, this gift will be the most touching one of all! For more hummingbird themed sympathy gifts, check this list out.
Read Next: Sympathy Gifts for Someone Grieving a Loss