There is nothing more painful than losing someone you love. The bond shared with a grandmother is pure and unbreakable, and her memory will live on in the hearts of those she left behind.
When someone you know loses their grandparent, the grief can feel unbearable. So as a friend or a family member of the grieving person, one way to show your support is to offer condolences through a sympathy card, text message, or a small gift dropped off at their home.
But what do you say?
What do I say to someone who lost their grandmother?
The first thing you should do is contact the person suffering the loss. This could be through a text, phone call, or even a video call. It's important to let them know you are there for them and want to help them through this awful experience.
They may not want to talk straight away, and this should be respected. You certainly don't want to force someone to talk about such an emotional topic, but at the same time you do want them to know that when they are ready, they can come to you for a listening ear and encouraging words.
It can be difficult to know what to say, so we've created a huge list of messages you can send to show your support.
10 Short Sympathy Messages
Here are some of the best short messages to send to someone who has lost their grandmother.
1. My deepest condolences to you and your family.
2. My thoughts and prayers are with you.
3. I'm so sorry for your tragic loss.
4. Your grandmother was one of a kind, and we will miss her.
5. I pray you can find comfort during this difficult time.
6. Your grandmother can rest now, and she will never be forgotten.
7. I am thinking of you and I'm praying for your healing.
8. Please know that you are loved and supported. We are praying you find peace.  
9. I am devastated to hear about your loss. I will be by your side through this.
10. You and your family are in my thoughts. I'm so sorry for your loss.
Words of Comfort Upon the Loss of a Grandmother
Here are some longer messages that offer comfort.
11. Remember you are not alone, even in this season of grief. I'm here for you in anything and everything. Please let me know if I can do anything to help you and your family.
12. I believe people live on through the memories of their loved ones. You are blessed to share so many happy memories with your grandmother.
13. You will make it through this, and as you do so you will learn to treasure your grandmother's memory in a truly special way. We are all here to support and help you in any way you need.
14. Your grandmother was a bright light in our lives, and we are lucky to have known her. Please accept our condolences.
15. A grandmother's love is special and magical. Her love will never leave you, because it was even more special and magical than any other.
16. The pain you feel now only goes to show how deeply you cared for your grandmother. You had a special bond that can never be broken.
17. I know you're struggling, so I'm sending all my love to you, and I hope to see you soon so that I can help you in any way you need.
18. I'm deeply sorry for your loss. You'll be even more in my heart and in my prayers. Don't hesitate to reach out for anything at all.
19. Even though your grandmother has passed, the time you shared will always be in your soul.
20. We can all look up to your grandmother for her kindness and love, she will be sorely missed.
21. I will always be here to support you, and I do not want you to ever feel that you are struggling with this alone. Text me anytime!
22. The loss of your grandmother will be felt by everyone, because she touched so many lives with her one-of-a-kind blend of love, passion, joy, and strength.
23. Your grandmother was a brilliant woman who we are blessed to have known. Please accept our condolences during this difficult time.
24. Your grandmother loved you very much, and your companionship will never be forgotten.
25. I'm sorry to hear about your terrible news. Your grandmother was a very special lady who loved you endlessly.
Encouraging Sympathy Messages
26. I will miss your lovely grandmother and all the laughter we shared. I hope that you can find peace in the memories you share with her.
27. Your grandmother was a special woman and I'm so glad to have met her.
28. You were so fortunate to be loved after by such a caring woman. Her spirit is instilled within you and that can never be taken from you.
29. Your grandmother will be deeply missed. I know how close you were, and I hope you can find peace during this difficult time. You will make it through this, I promise.
30. I hope that you can find comfort with your loved ones during this time. There is always strength in numbers, and I pray you can all heal together.
31. It doesn't matter how old you are, losing a grandparent is tough. Take all the time you need to heal, and I promise it gets easier. Treasure the memories you shared!
32. Please tell me if there is anything I can do to comfort you during this time. Don't ever feel like it's too much to ask, I just want you to be okay.
33. I know this is a hard time for you, but in time you will heal. This pain is not permanent, it is a reflection of your love for your grandmother. It will fade as you cherish her memory. She will never be forgotten!
34. I was lucky enough to meet your grandmother, and I know how proud of you she was. It's hard to lose the ones we love, but you never lose the memories.
35. This is one of the hardest things you will ever have to go through, and I know you can overcome it. I will be here with you every step of the way.
36. I know the pain of grief, so I know that it does not always hurt this much. All healing takes time, and one day I promise you will not feel so broken.
37. There are so many people who love you. We will get you through this.
38. I will help you to find the strength to heal, and if you ever need to talk, I'm always here for you.
39. Your grandmother always made everything better, and she would want you to celebrate the joy you shared even as you mourn her loss. You have my every thought, prayer, and tender affection during this difficult time.
40. As your friend, I will be your shoulder to lean on throughout all of this. You will never be alone.
Loss of Grandmother Quotes
Here are some famous quotes that can be used to honor the memory of a grandmother:
41. "There was magic in grandmother's touch and sunshine in her smile. There was love in everything she did to make our lives worthwhile." – Unknown Author
42. "Nobody can do for little children what grandparents do. Grandparents sort of sprinkle stardust over the lives of little children." – Alex Haley
43. "Between the earth and sky above, nothing can match a grandmother's love." – Unknown Author
44. "Our dead are never dead to us until we have forgotten them." – George Eliot
45. "To live in hearts we leave behind is not to die." – Thomas Campbell
46. "A grandma is warm hugs and sweet memories. She remembers all of your accomplishments and forgets all of your mistakes." – Barbara Cage
47. "No eye has seen, no ear has heard, and no mind has imagined what God has prepared for those who love him." – 1 Corinthians 2:9b
48. "Unable are loved ones to die, for love is immortality." – Emily Dickinson
49. "Never the spirit was born, the spirit shall cease to be never." – From the Bhagavad Gita
50. "Wherever a beautiful soul has been there is a trail of beautiful memories." – Unknown Author
Ways to Show Love & Support
When someone is grieving, even the smallest gesture of kindness can lift their spirits. Here are some easy tasks that will help them out:
Send a Gift – This could be something like flowers or a care package filled with their favorite snacks. Giving a gift is an easy way to cheer someone up, and the more personal the gift, the more meaningful. Here are some of our favorite sympathy gifts.
Cook for Them – Perhaps you could make a meal (such as lasagna) at home and drop it off at their house. Or you could go the extra mile and invite them over for a home-cooked meal. Even the little tasks like cooking can become overwhelming to the bereaved, so this gesture will go a long way.
Offer to Look after Kids – Offering to babysit or even pick their kids up from school will help ease their stress. It's also beneficial for the children to be distracted from a painful situation and have a change of scenery.
Regularly Check In – There is no set timeline for healing from the loss of a loved one. They will need support for a long time, and it's important to keep checking in even after time has passed since the loss. The pain of grief never truly leaves us, so be there for your friend as much as you can.
Create a Memory Gift – A memory gift could be a scrapbook of memories with the person who has passed or a framed photograph. When someone experiences loss, it can be helpful to have a physical reminder of the one they are grieving.
Here are even more ways to help a grieving friend.
Quotes to Share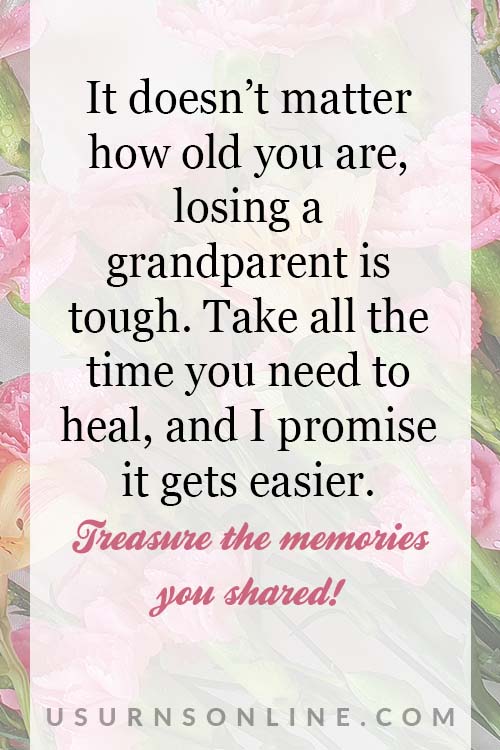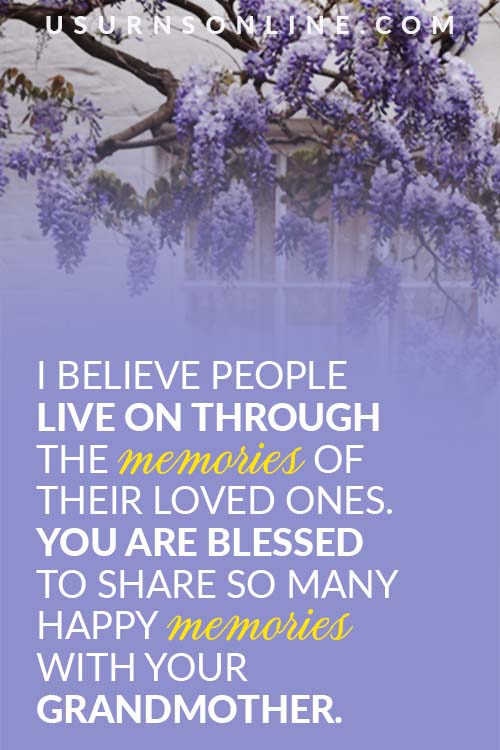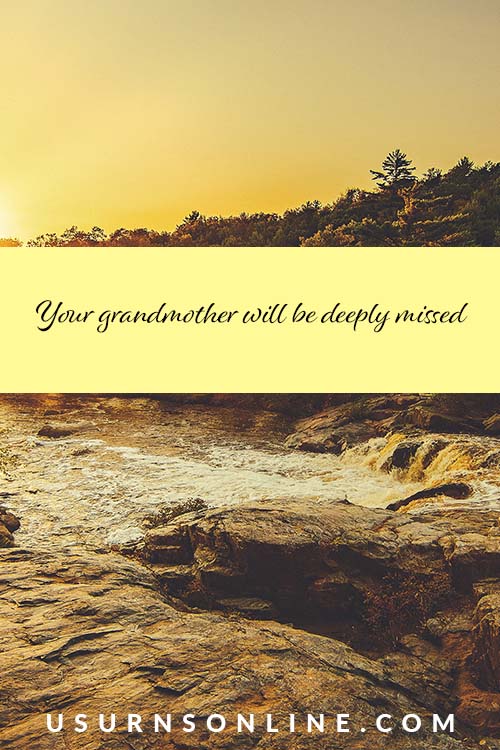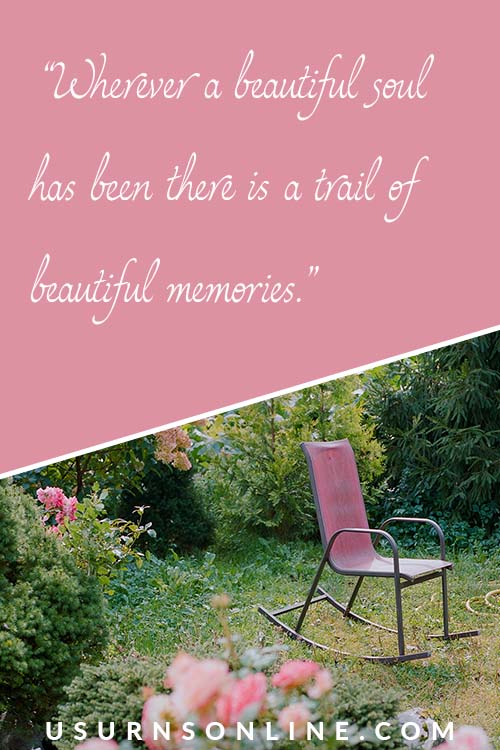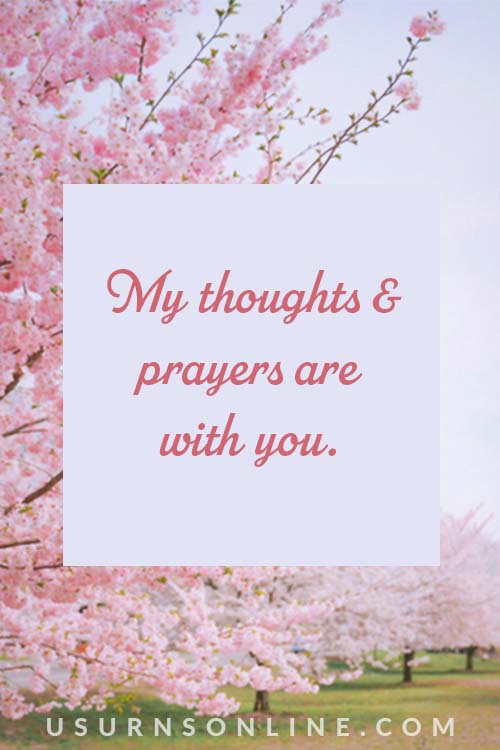 Read next: Words to Comfort Someone Who Lost a Loved One
Pin It