What food is appropriate for a funeral? If you're tasked with planning the funeral food menu, or if you're going to a funeral with a potluck reception afterwards and aren't sure what to bring, we've got you covered.
Below you'll learn everything you need to know about serving food at a funeral. From planning to etiquette to specific recipes (easy funeral food ideas that will travel well and hold throughout the service, tasting great several hours later), we have the best and most comforting recipes for funeral foods.
First, we're going to dive right in to recipes. All of these ideas are great if you're going to prepare the funeral food yourself, or if you have been invited to a potluck reception.
Further down we'll get into topics like catering, food delivery, menu planning, etiquette, and more.
Funeral Potluck Recipes
This first batch of funeral food includes classic, easy, and filling dishes that travel well and feed a crowd. Think traditional casseroles for funerals, which is exactly what everyone wants anyways.
1. Easy Slow Cooker Chicken Enchilada Casserole
A long, slow cooking time means the flavors will blend and intensify in this slow cooker chicken enchilada. It is so easy to make with chicken breasts and kitchen-staple ingredients. Plus it re-heats in a snap (if there's any left after the potluck!).
2. Creamy Chicken Florentine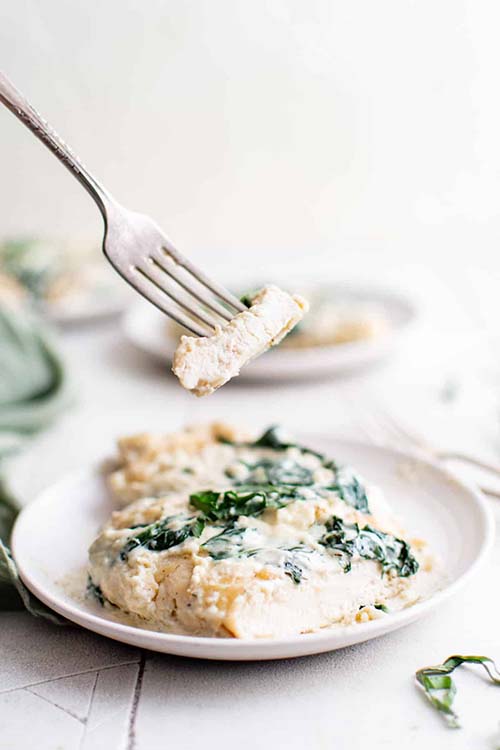 Whip up this comforting, crowd-pleasing, one-pot Creamy Chicken Florentine with only a few minutes of prep and and less than 30 minutes of cooking time.
3. Instant Pot Haluski (Eastern European Funeral Reception Food)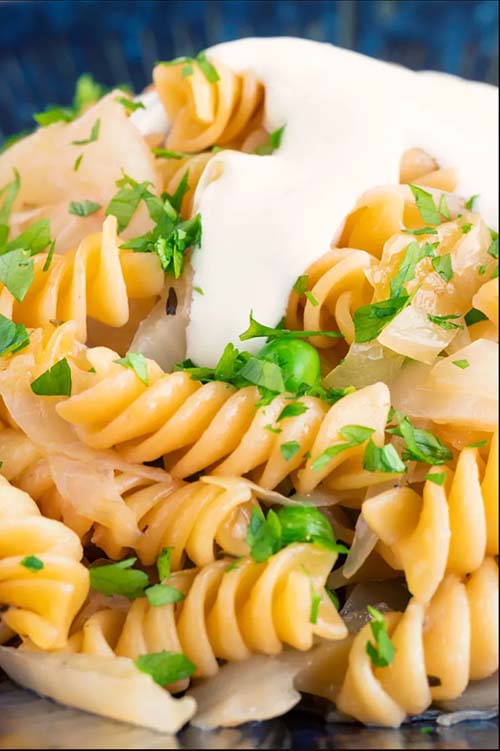 Haluski, an easy cabbage and noodle dish, is a traditional Eastern European comfort food which will provide a fresh, new flair to your funeral potluck. Noodles and veggies cooked in butter results in an unforgettable 30-minute dish that will get even your picky eaters excited about eating cabbage.
4. Barbacoa Beef Tacos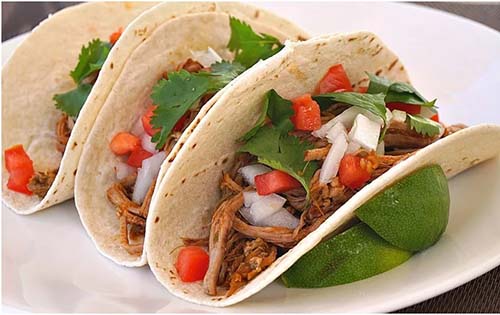 Barbacoa beef is a perfect recipe for feeding a crowd. The shredded beef is full of flavor and freezes well for future recipes, like beef enchiladas, chili or taco salads. It's easy food for the funeral reception or life celebration event.
5. Lasagna with Swiss & Cottage Cheese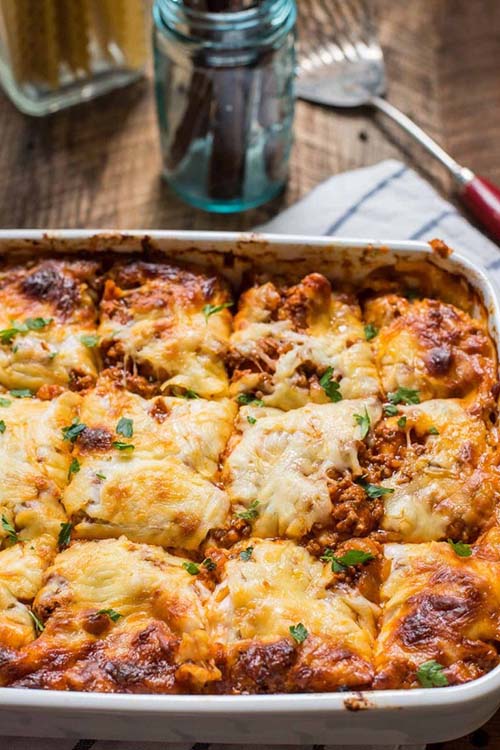 There's nothing like the layered saucy goodness of lasagna. This home-style version of the Italian classic uses cottage-cheese and delivers a flawlessly baked cheesy tray of lasagna with a crisp, golden-brown top.
It's the perfect solution when you're brainstorming food to take to a funeral reception.
Related: Funeral Repast: How to Celebrate Your Loved One with Food
6. Wendy's Copycat Chili Recipe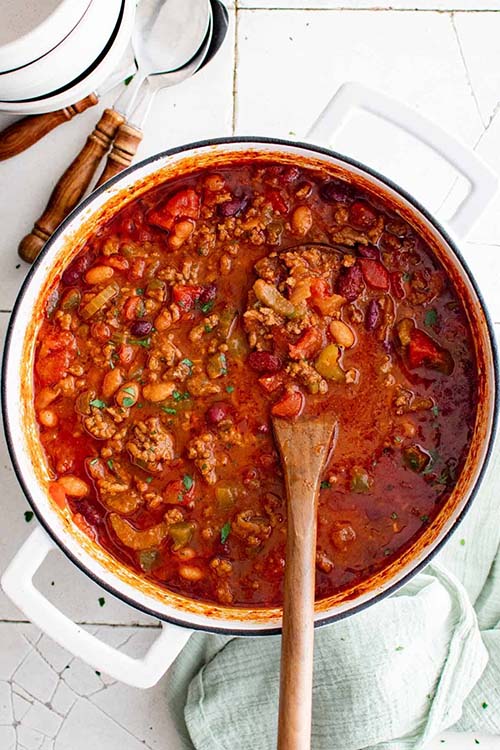 Made entirely from pantry staples, this easy Wendy's Copycat Chili recipe is always a crowd pleaser, and freezer friendly too.
One of our favorite celebration of life food ideas, you can make this as a comforting dish to bring to the funeral or as a sympathy meal (hot, frozen, or one of each) to take to the grieving family.
7. Stuffed Shells with Spinach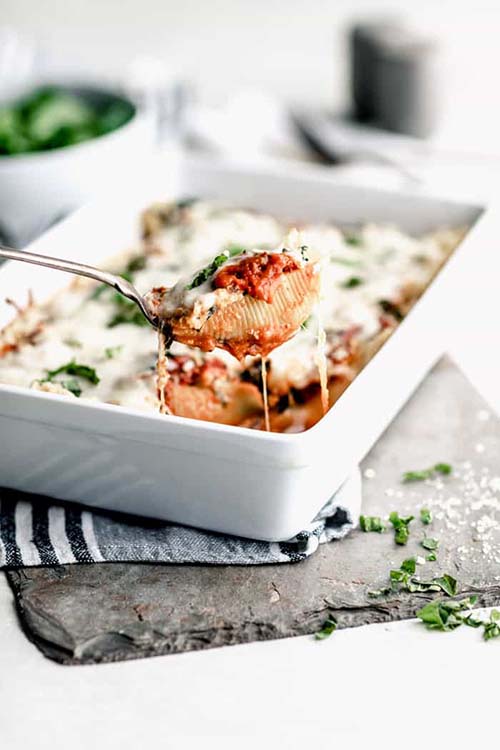 These Stuffed Shells with Spinach can be made ahead, frozen and reheated so they make the perfect addition for serving on a pot-luck event or to give as a meal train dinner.
8. Lasagna Soup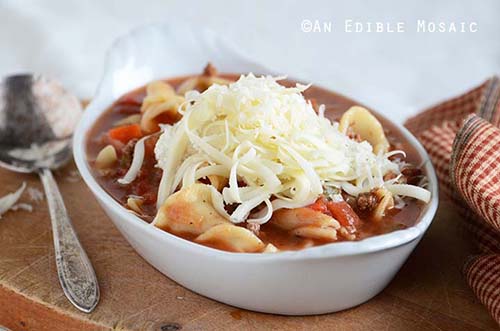 Lasagna Soup tastes just like the comfort food classic, but in soup form! It's hearty, delicious, much easier to make, and perfect for feeding a crowd at a funeral potluck reception.
9. Minnesota Hotdish (aka Chow Mein Casserole)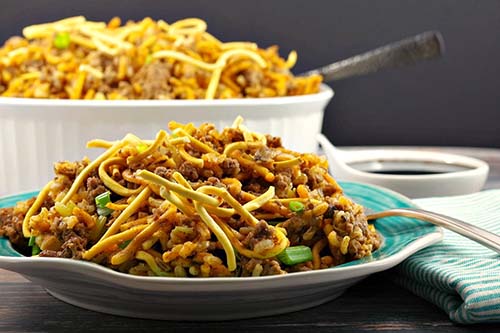 This funeral recipe is a classic midwestern comfort food, served at potlucks and gatherings across the Midwest United States and Northwestern Canada.
Also known as Chow Mein Casserole or Minnesota Hotdish, it's an easy-to-prepare ground beef and rice casserole, with cream soup and chow mein noodles. Ideal for making ahead and freezing.
10. Poor Man's Stew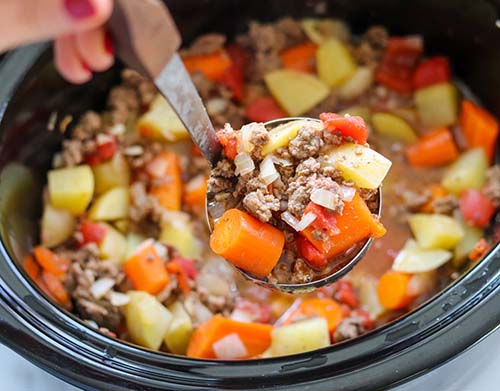 This recipe for Poor Man's Stew (a.k.a., Hamburger Stew) is super easy to make, budget friendly, and transports easily. Whip up a batch today in your slow cooker or Instant Pot and bring it to the memorial potluck.
Easy Funeral Food
Check out these recipes if you need something quick and simple.
11. Funeral Potatoes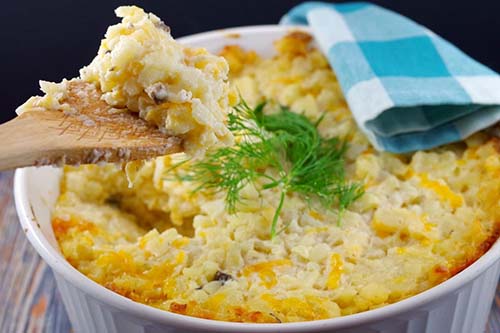 Funeral Potatoes got the name because, well, the recipe is a staple at funerals. Also known as hash brown casserole and potatoes Romanoff, this is a simple yet decadent side dish for any potluck gathering.
Using frozen hash browns, it's easy to make, can be prepped ahead, frozen and cooked in the oven or in a slow cooker. It's the mother of all funeral casserole ideas.
More: 10 Best Funeral Potatoes Recipes for the Ultimate Comfort Dish
12. Easy Dump-&-Start Slow Cooker Chicken Pot Pie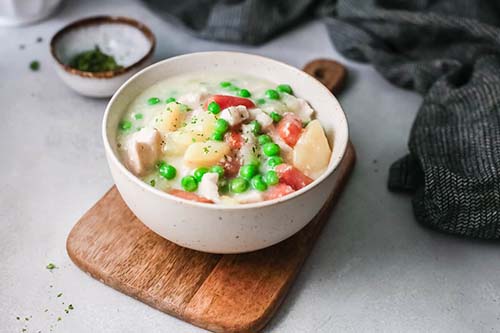 This easy and creamy dump and start crockpot chicken pot pie recipe is so simple to prep and cook using common pantry ingredients that you probably already own. It's great to scale up and feed a large crowd after the funeral service. And like most slow cooker meals it travels well and will stay warm for a long time.
13. 1-Hour Easy Baked Ziti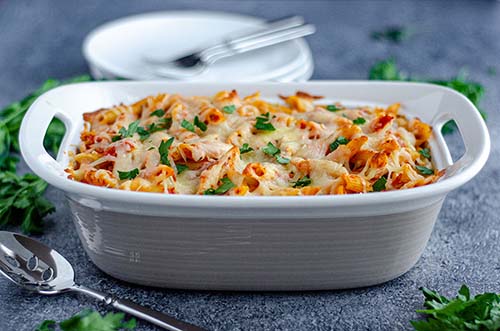 This simple pasta casserole goes from start to eating in under an hour. It's a quick funeral dinner idea that travels well for potlucks.
If you're visiting with family or delivering a sympathy meal, you can make it ahead and bake on-site. Plus there's plenty of room for meat, if you want to make it heartier.
14. Spinach Orzo Pasta Salad
This easy pasta salad is made with orzo, dressed in a lemon and basil olive oil, then served with roasted cherry tomatoes. Quick to make with eight simple ingredients, it's perfect to make ahead because it keeps well and tastes great.
15. Sausage & Pepper Pasta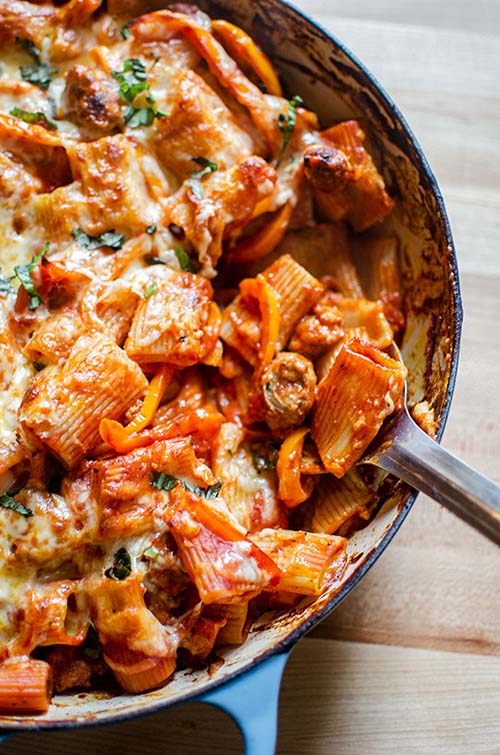 Sausage and pepper pasta made with Italian sausages is one of the easiest comfort foods, and is sure to be a hit at the funeral reception.
16. Funeral Sandwiches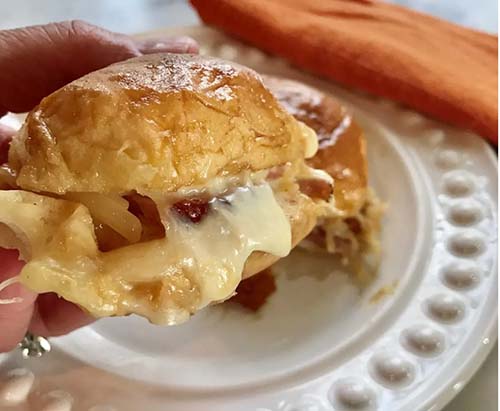 We'll cover more funeral sandwich ideas below, but here's the classic, easy recipe that will never disappoint. These "Hammy Sammies" are always the talk of the potluck!
17. Creamy One-Pot Spaghetti with Meatballs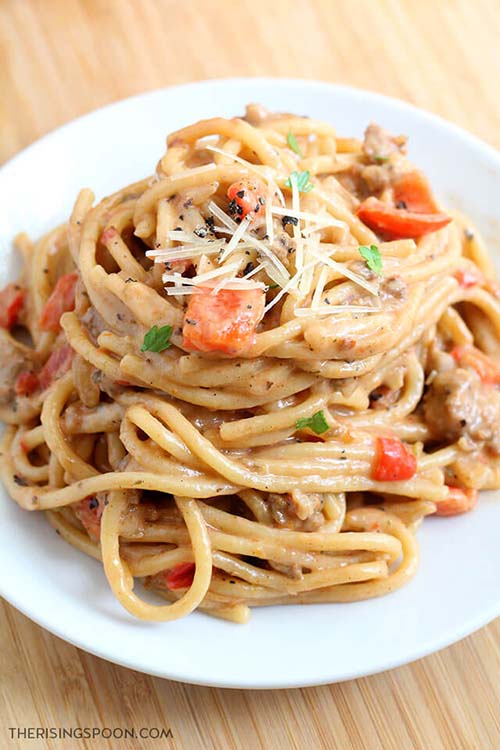 Need a big pot of spaghetti that's super comforting and re-heats well? Fix this one-pot spaghetti with Italian sausage in about 45 minutes. Easy to double (or triple) if needed, this potluck recipe is kid-friendly and packed with tons of flavor – even though it's made with simple ingredients you probably have in your cupboard.
18. Healthy Crockpot Chicken Chili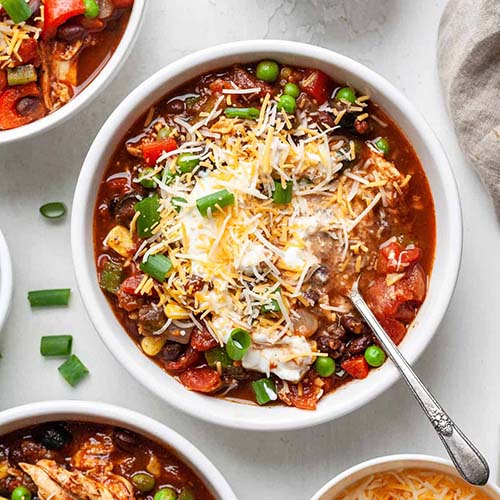 The recipe's author shared this with us:
"I make this chicken chili recipe every time I bring a meal to a friend. It's easy to make in the crockpot and a healthier option for a meal train (instead of the same old casseroles).
I often make it the day before and deliver it the next day so I can drop it off early and the recipient can warm it up whenever they'd like or freeze for later if they find themselves with too many meals."
19. Easy Slow Cooker Chicken Cacciatore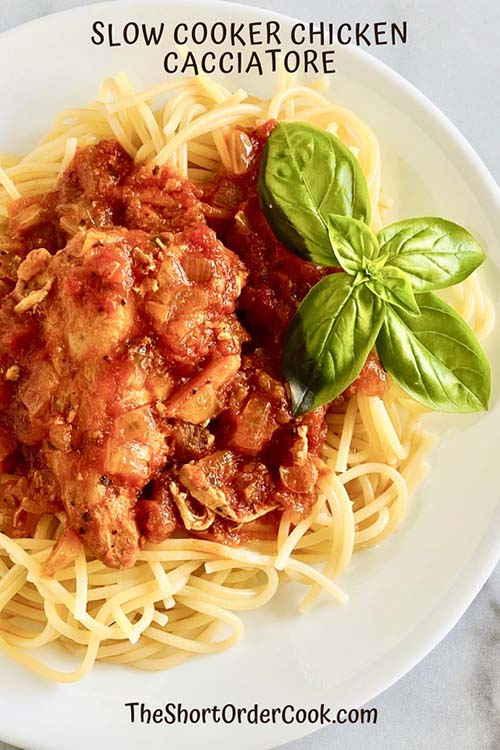 Chicken cacciatore is an easy slow cooker recipe that is hearty, tasty, and perfect for a crowd. The rich tomato sauce, tender chicken, and vegetables create a simple, flavorful chicken dish ideal for making ahead and transporting.
20. Buffalo Chicken Chili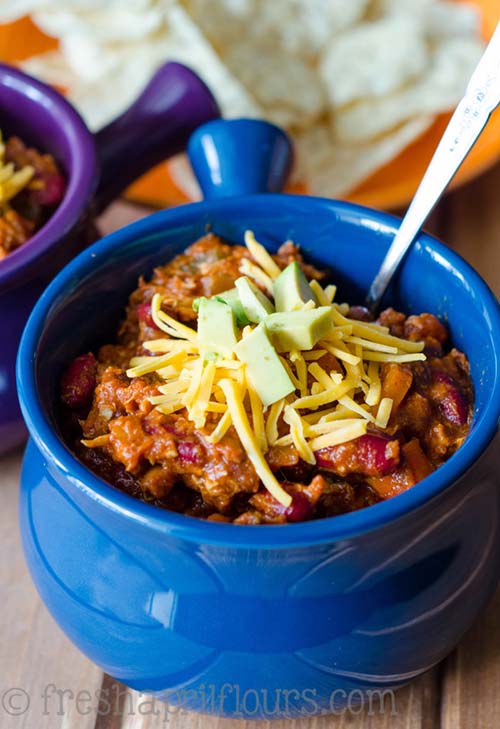 A hearty blend of Mexican flavors, tons of veggies, and shredded chicken kicked up a notch with a hefty dose of hot sauce. This can't-mess-it-up recipe is just right when you are providing someone a meal or need a quick potluck dish. Plus it freezes beautifully and makes great leftovers.
Southern Funeral Food Ideas
Nothing provides comfort like Southern food. There's a reason why the South is famous for potlucks; make one of these recipes and find out for yourself.
21. Turnip Green Cornbread Casserole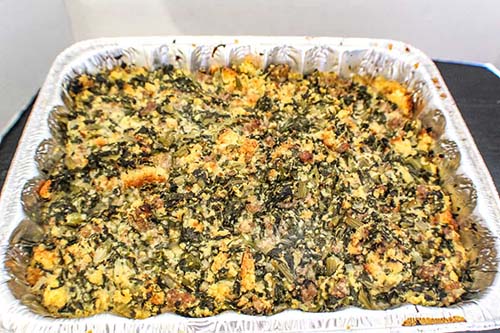 Turnip greens and cornbread go together like peas and carrots. (Or lipstick and leopard print, unicorns and glitter, Tom Hanks and a volleyball… you get the idea. )
Make this quick Southern casserole for any occasion – it's a staple at funerals and any other potluck reception in the South. Pairs well with ham, BBQ, fried chicken, or pork shoulder (see next).
22. Slow Cooker Pork Shoulder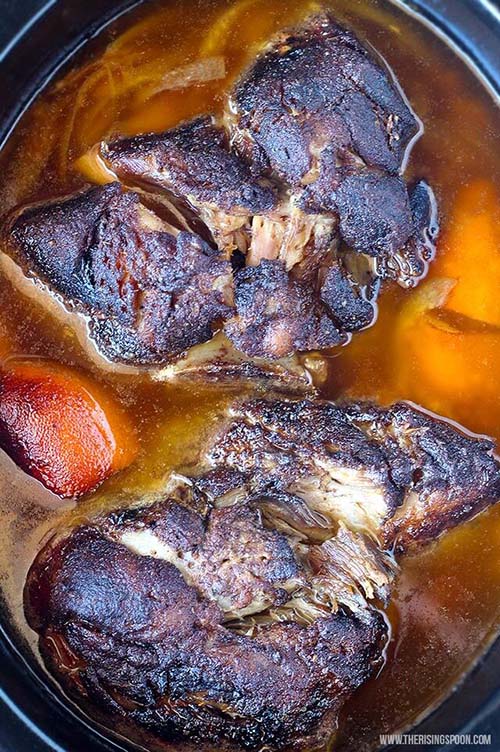 This slow cooker pork shoulder is quick to prep with simple ingredients. This southern staple yields loads of fall-apart-tender meat that is perfect for a variety of funeral foods like a taco bar or pulled pork sandwiches.
23. Decadent Candied Sweet Potato Casserole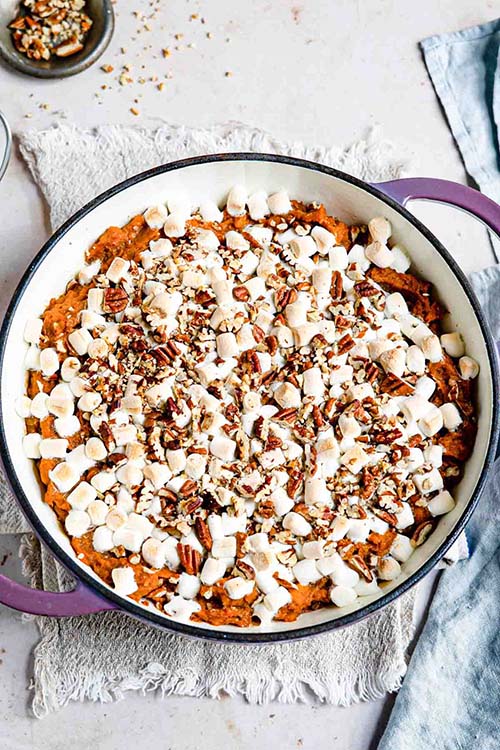 This Sweet Potato Casserole is an easy side dish that packs a decadent marshmallow is versatile, delicious and kid-approved. It is a great make-ahead dish that is easy to transport and works great when served at potlucks.
24. Cheesy Chili Cornbread Casserole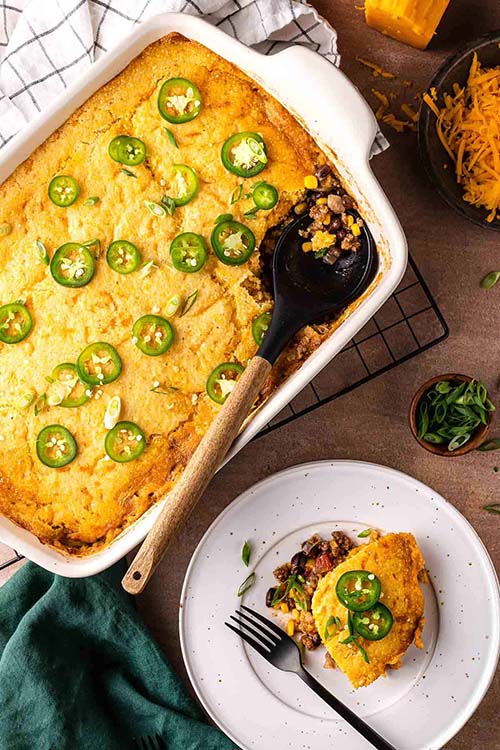 This hearty, cheesy casserole starts with a chili cheese layer, then a layer of melty cheese, then a layer of cheesy cornbread! This is a comforting and filling casserole that freezes well.
25. Cornbread Salad
Cornbread Salad filled with veggies, bacon, cheese and dressing makes a filling and tasty side dish. Serve with tortilla chips for a creatively Southern appetizer dip!
Funeral Casseroles
Casseroles are a staple at funeral receptions. You throw a variety of ingredients together in one dish, then bake. Easy-peasy.
26. Easy Tater Tot Casserole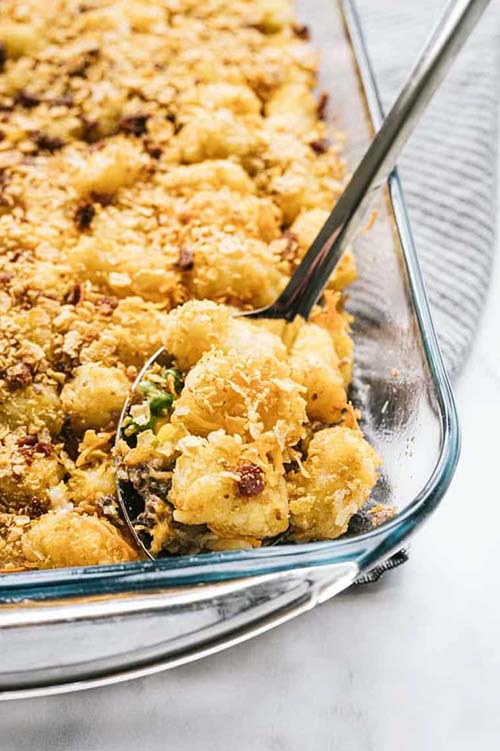 This lightened-up version of tater tot casserole is super easy to make, affordable and bursting with family-loved flavors. It is freezer friendly too. For meal trains, you can make ahead and chill until needed.
27. Mexican Chicken and Sweet Potato Casserole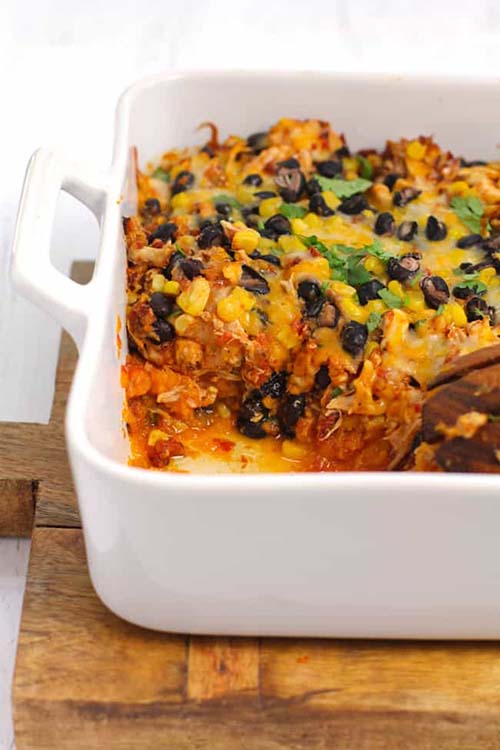 This funeral casserole is both hearty and healthy, and the Mexican flair makes it something different from your regular casserole. Bake this one for your friend in need and they'll appreciate your effort!
28. Layered Shepherd's Pie Casserole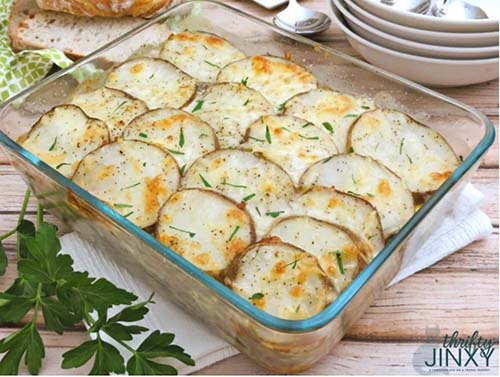 For a tasty and creative twist on the everyman classic shepherd's pie, this casserole combines ground beef, potatoes and veggies into layers that bake into amazing flavor. Pure comfort in the form of funeral home food.
29. Tuna Noodle Casserole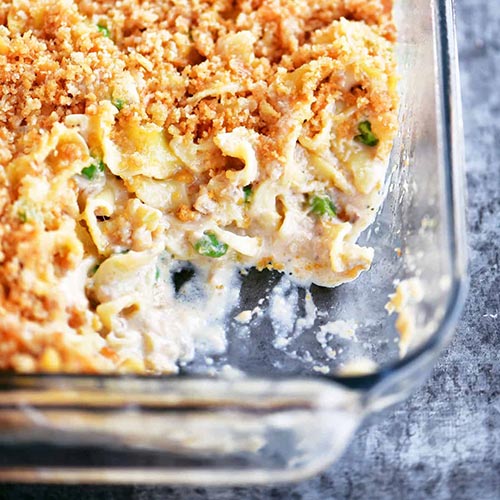 Tuna Noodle Casserole is total comfort food from the creamy sauce coated noodles to the buttery Ritz crackers on top. It's perfect for any gathering, whether celebrating a life or delivering to a grieving family in need.
30. Grandma's Chicken Broccoli Casserole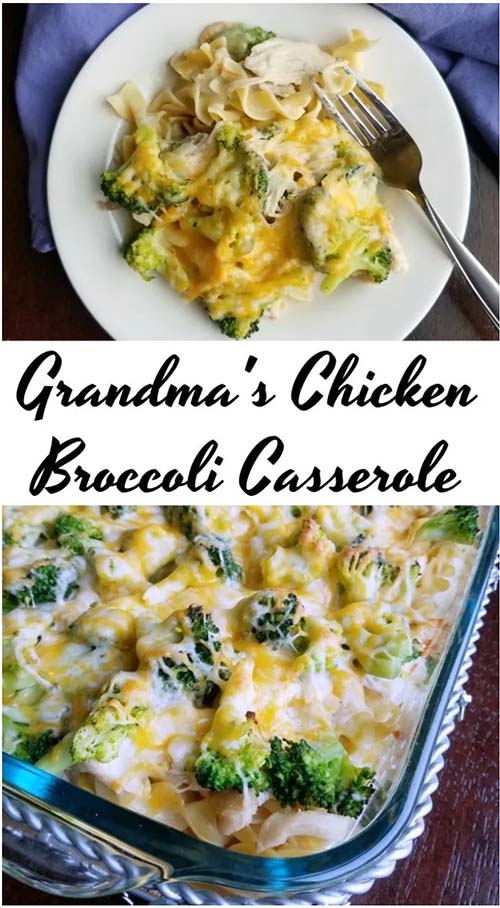 Grandma's Chicken Broccoli Casserole can be assembled ahead of time and baked later, making it perfect for the busy days leading up to or even after a funeral. This simple funeral food dish is a comforting mix of pasta, chicken, cheese and broccoli that is always a hit. Bonus: it can be made with leftover chicken or turkey, making it even easier!
31. Easy Cheesy Scalloped Potatoes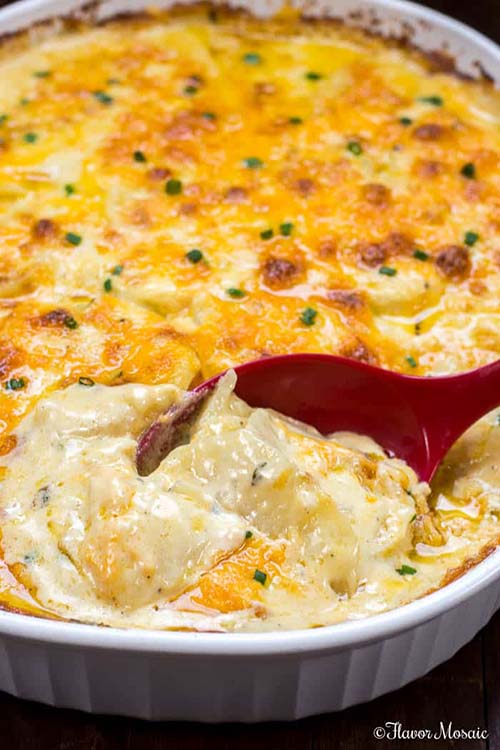 Easy Cheesy Scalloped Potatoes, or Potatoes Au Gratin if you prefer, are the ultimate comfort food when you need comforting! With sliced potatoes in a cheesy, garlicky cream sauce, it is a dish that everyone will love.
32. Walking Taco Casserole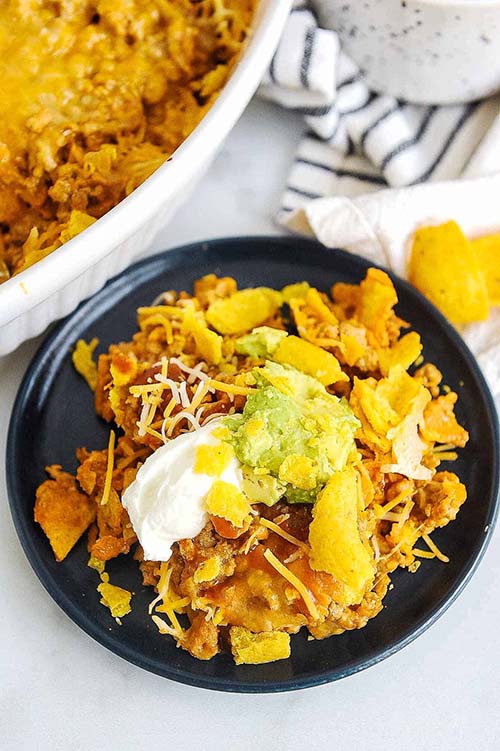 Walking Taco Casserole is an easy dish to throw together in no time! This lightened-up version is perfect to serve as food for a funeral reception, using ground turkey with all of the taco flavors everyone loves.
33. Chicken Almondine Casserole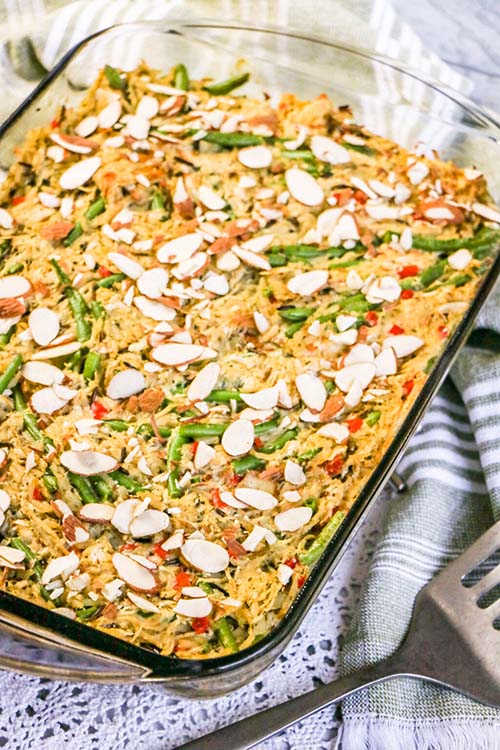 Chicken, green beans, and slivered almonds all combine in a creamy base to make a delicious Chicken Almondine Casserole. It's an easy recipe that even the most beginner-level cook can conquer like a pro.
34. Easy Mexican Chicken Casserole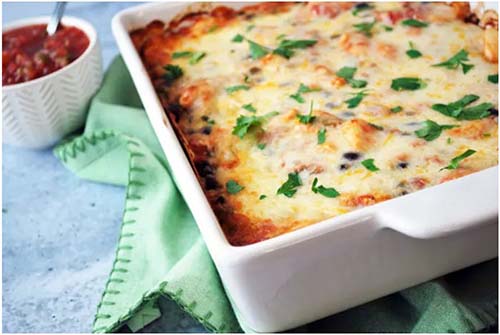 This Easy Mexican Chicken Casserole is made with boneless chicken breasts and black beans. If you're looking for a crowd-pleasing recipe that is a cinch to throw together, this one-dish dinner is a sure hit.
Funeral Sandwiches
These sammies are designed for transportation, so you won't have to worry about whether or not they'll hold through the service. Watching them disappear as guests come back for seconds, you'll know you made the right choice.
35. Classic Funeral Sandwiches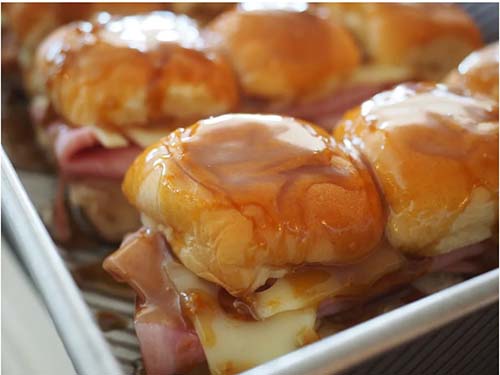 The traditional funeral sandwich recipe. They got the name because you'll always find them at memorial services in the South, the Midwest, and elsewhere. Easy to make, and even easier to eat, it's an inexpensive and soul-satisfying way to feed a large gathering.
36. Baked Turkey and Cheese Sliders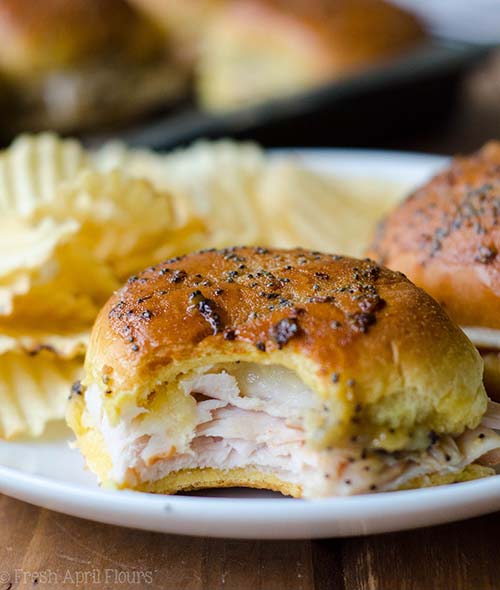 A simple variation on the traditional funeral sandwich recipe, these turkey and cheese sliders are baked in a honey mustard glaze that results in incredible flavor. Can be doubled for a crowd and makes a great option for self-serve potlucks or receptions.
37. Nashville Hot Chicken Funeral Sandwiches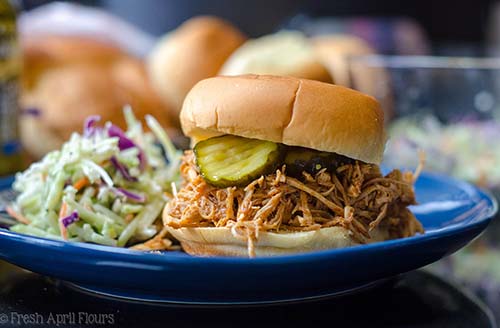 Easy slow cooker shredded chicken inspired by Nashville's iconic "hot chicken," this mouth-watering sliders recipe is transcendent when served as funeral sandwiches.
38. Pepperoni Pizza Bread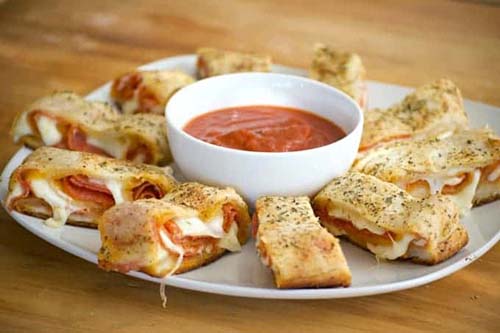 This Pepperoni Bread is a super easy and delicious finger-food variation on pizza that is sure to be a hit with everyone. (It's not quite a sandwich, but no one will judge you because they'll be too busy grabbing seconds.) Just make sure to bring plenty for the potluck!
39. Slow Cooker Pulled Pork Sandwiches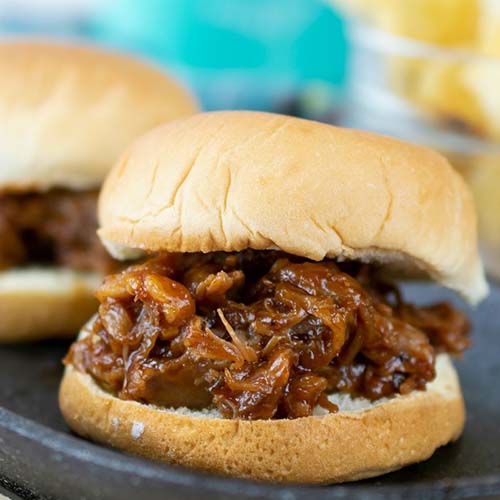 If you have a hungry, post-celebration-of-life crowd on your hands, you're going to need an easy meal that will feed the masses! This slow cooker pulled pork sandwich recipe is a cinch and an absolute winner.
Funeral Salads
Looking for funeral luncheon ideas? These salads don't have wilting lettuce or anything else to let you down. Explore some creative salad ideas perfect for funeral potlucks and visitations.
40. German Cucumber Dill Salad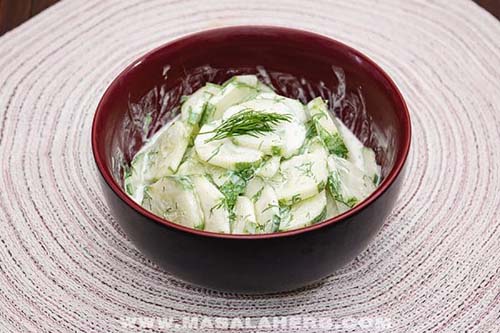 A creamy cucumber salad enhanced with fresh dill herb. Refreshing flavors in a simple side dish salad that travels well.
41. Best Italian Pasta Salad Recipe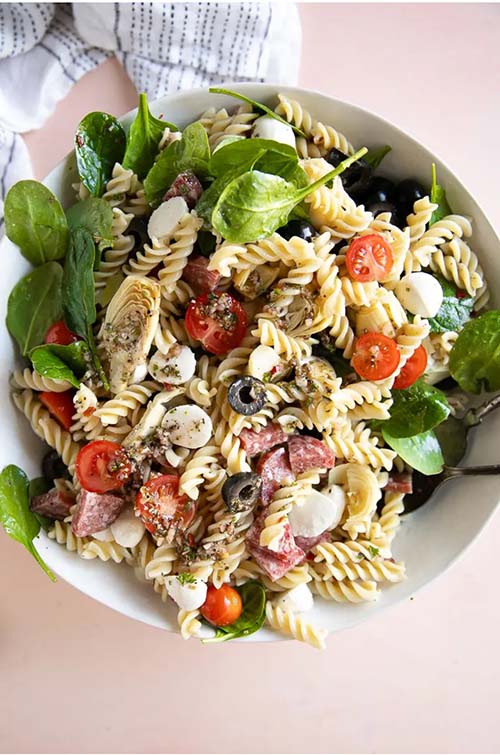 This classic Italian Pasta Salad is made with fresh and colorful vegetables, sliced salami, mozzarella cheese, tender cooked pasta, and a refreshing homemade Italian dressing.
Flavorful, easy to prepare, easily transportable, and completely irresistible, this is the best pasta salad recipe and perfect for potlucks, meal trains, picnics, as a side dish, or as a simple summer dinner.
42. Thai Quinoa Salad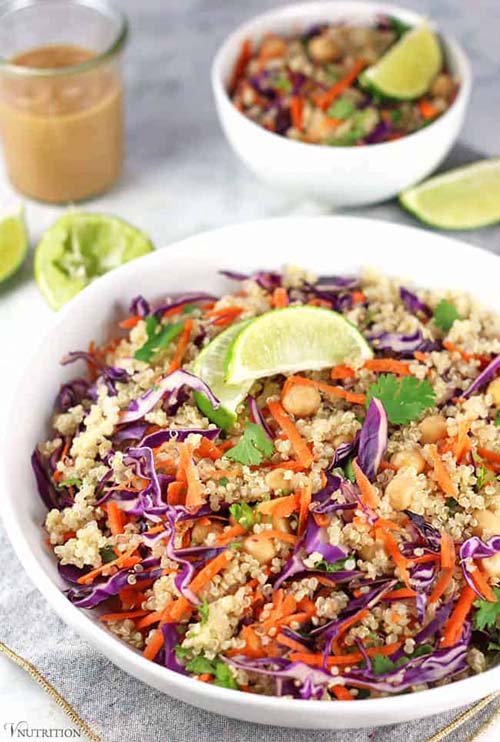 This Thai Quinoa Salad recipe is easy to make and delicious. It's healthy yet comforting and a great option for gatherings because it is portable, doesn't need to be heated, and allergy-friendly (gluten-free, diary-free, vegan).
For all those reasons and more, it's one of our favorite funeral reception food ideas.
Related: Best Comfort Foods for Grief (Easy Recipes)
Vegetarian & Vegan Funeral Food Recipes
You may be wondering what food to bring to a memorial service when you (or someone you know) have dietary restrictions.
Fear not! Here we've curated some of the most delicious vegan and vegetarian recipes that the whole group will appreciate.
Just be sure to bring a sign or label so those who are on a particular diet know your dish is for them!
43. Cheesy Vegan Cauliflower Casserole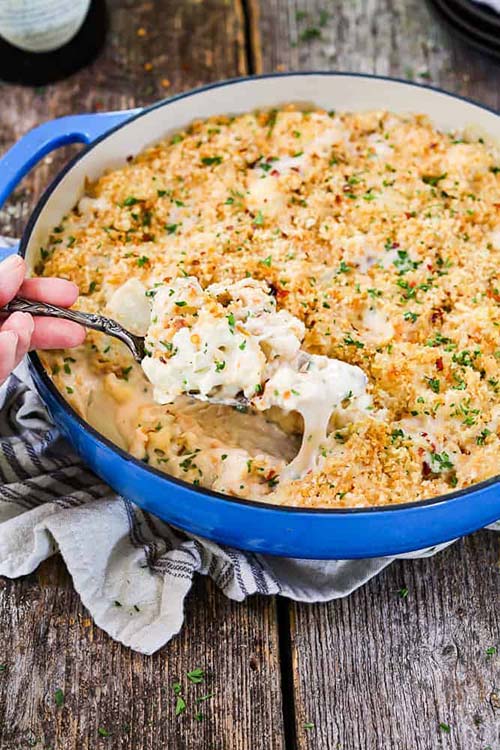 This vegan cauliflower casserole is cheesy and full of buttery breadcrumbs. It's loaded with vegetables and so easy to make!
44. Three Bean Chili (Naturally Vegan!)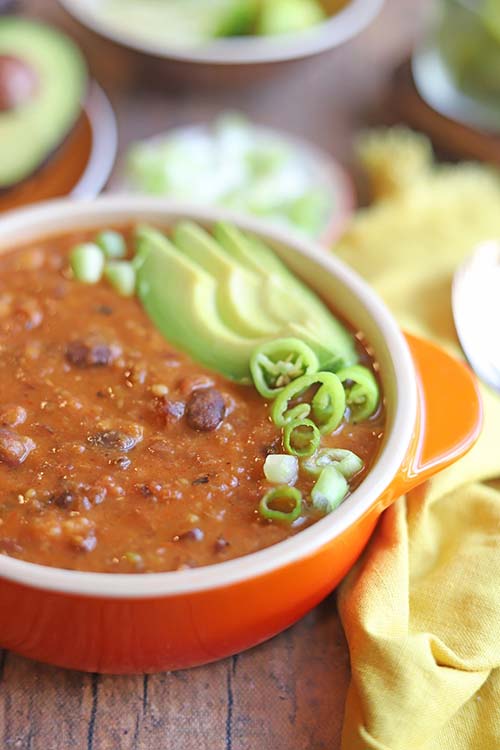 Three bean chili is inexpensive and pantry-friendly. It's great for feeding a group, especially because it's both vegan & gluten-free. For meal trains, it keeps well in the refrigerator, or it can be frozen for future dinners.
45. Vegan Pot Pies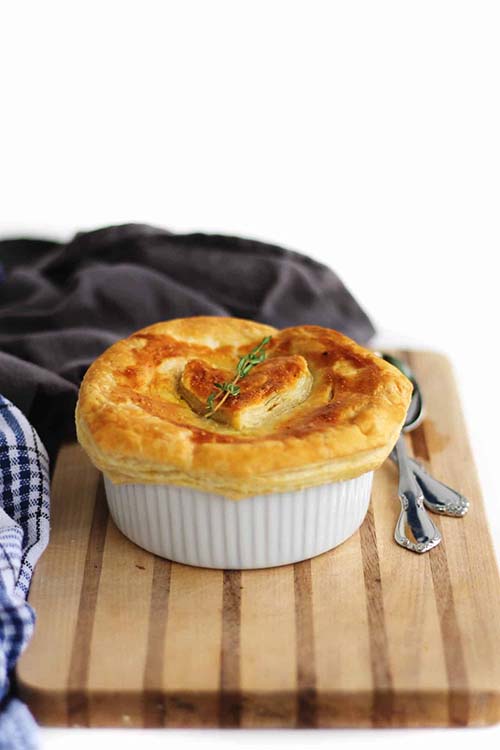 These comforting vegan pot pies are perfect for memorial potluck reception. Individual sized veggie pot pies are super easy to make with a store bought pastry crust.
46. Cheesy Italian Zucchini Bake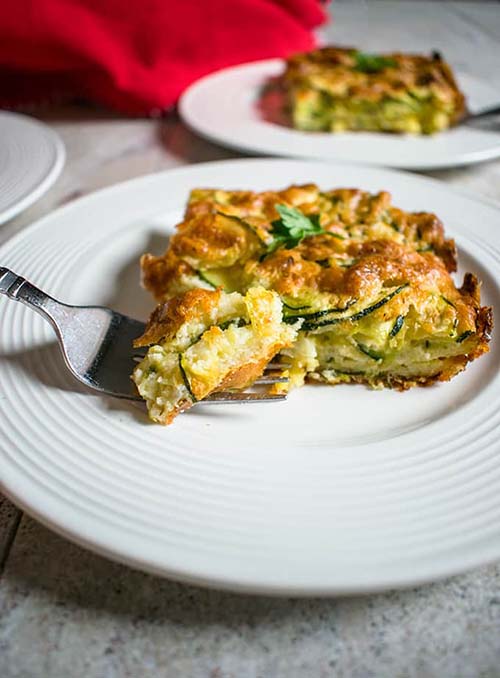 This Italian Zucchini Bake is always a hit! It's made without a baking mix and features two kinds of Italian cheeses to deliver big flavor! Slice it in small squares for an appetizer or large ones for a side dish or vegetarian entrée.
47. Vegan Pasta Salad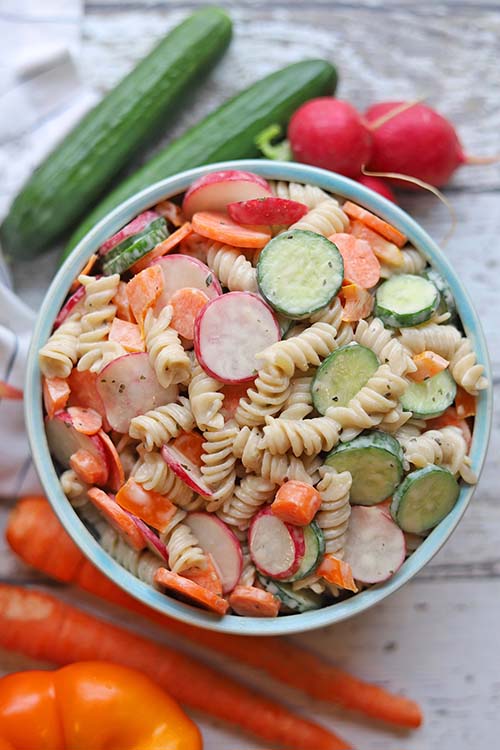 This vegetable-packed pasta salad is loaded with radishes, carrots, and cucumbers. It's nice to have a fresh option in the midst of all the rich casseroles. It also goes well with a variety of dishes, so it's perfect for the funeral potluck.
48. Easy Vegetarian Breakfast Casserole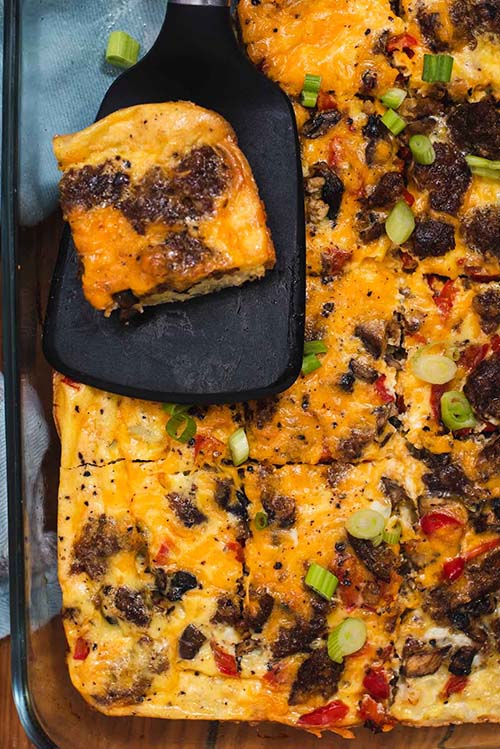 This vegetarian breakfast casserole is a flavorful and balanced way to start the day. It's easy to customize to meet your preferences and freezes well.
49. Vegan Green Bean Casserole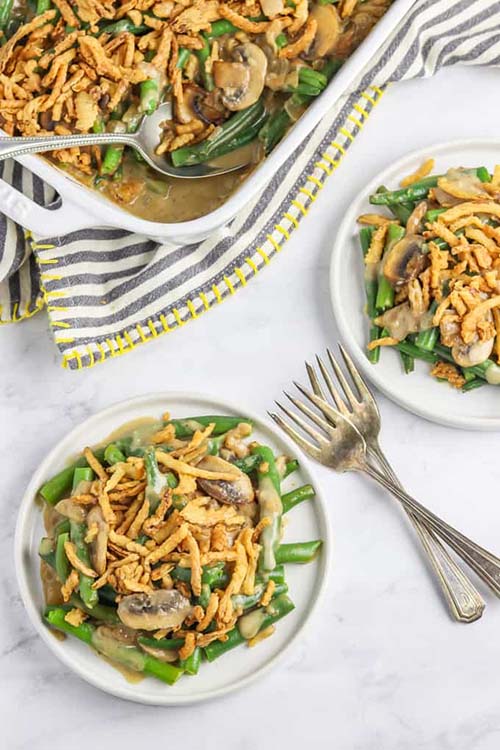 This green bean casserole has a delicious mushrooms sauce and is topped with crispy fried onions before baking. It's easy to make, vegan (with gluten-free option), and perfect for potlucks!
Gluten Free Funeral Food Recipes
All the best funeral dinner ideas, sans gluten.
50. Gluten Free Stuffed Green Pepper Casserole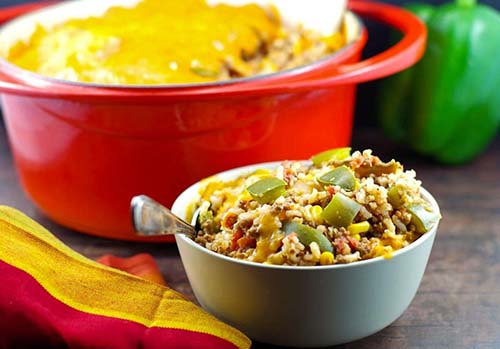 This gluten-free Stuffed Green Pepper Casserole has all the yumminess of classic stuffed green peppers, but it's in the form of a casserole, and without the stuffing! Simple to make with instant rice and lean ground beef… then smothered in rich, melted cheese.
51. Keto Instant Pot Buffalo Chicken Soup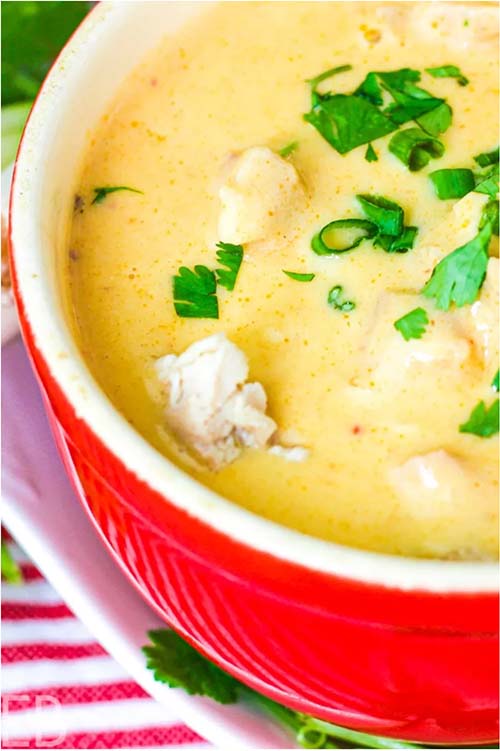 Instant Pot Buffalo Chicken Soup is that delicious recipe everyone loves while still being Keto, Primal, Low Carb, and completely gluten-free. Easy to cook for friends or family, great for a buffet or drop-off meal, this dump-and-cook recipe is big on flavor, with simple healthy ingredients.
52. Crispy Whole 30 Keto Carnitas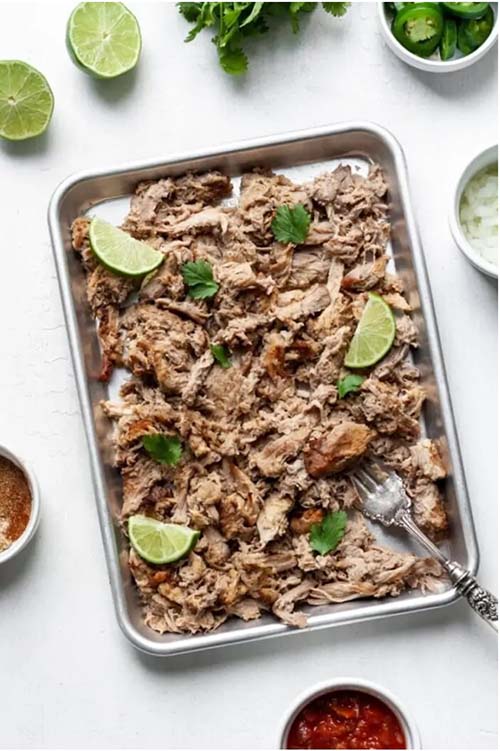 These easy Carnitas are the perfect potluck recipe! Great for everything from tacos to salads and burritos. These Carnitas are naturally gluten free and dairy free. They're also Keto and Paleo, satisfying everyone's needs!
53. Gluten Free Funeral Potatoes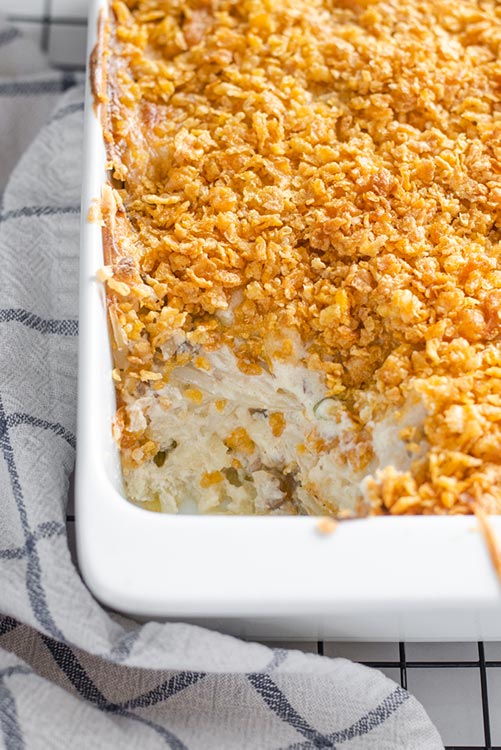 Just because you're going gluten-free doesn't mean you can't still enjoy funeral potatoes! This classic casserole features the perfect ingredients to make going gluten-free easy anyways, so you don't lose much in the process.
54. Brown Rice Salad with Feta & Cranberries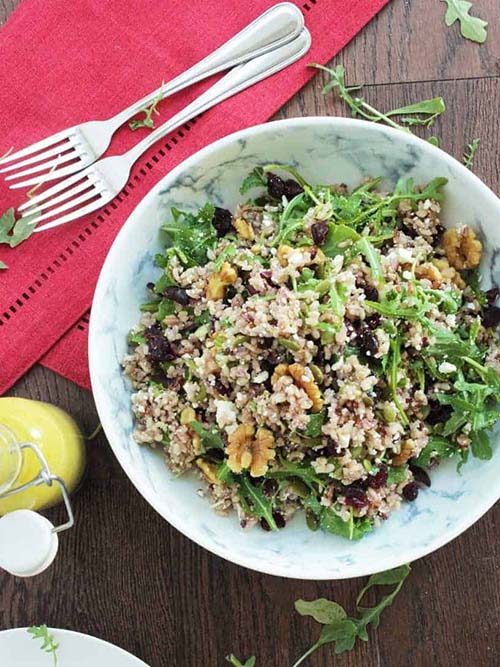 Here's a healthy recipe that is sure to feed (and please!) a crowd, even while being gluten-free and vegetarian. As a cold salad, it's ideal to make ahead and bring to the funeral.
55. Cheesy Crustless Chicken Pot Pie Casserole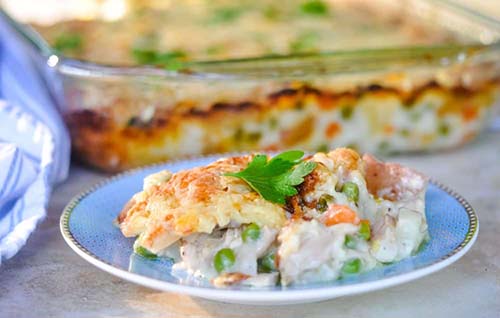 This cheesy no-crust chicken pot pie casserole is a fast favorite with everyone who tries it. Tender potatoes inside and a cheesy topping make it extra special. Plus, it's gluten-free!
Finger Food for Funeral Reception
For a simple approach to the funeral reception menu, go with finger foods. This could include:
Standard finger-food trays:

Veggies
Fruit
Meat & cheese
Cookies

Mini sandwiches or sliders
Hummus, served with

Crackers
Veggies
Pita bread

Specialty cheeses and dips
Pinwheels
Pigs in a blanket
Stuffed mushrooms
Stuffed peppers
Pastries
Chips & salsa
Bruschetta
Shrimp cocktail
Antipasto
Meatballs
Funeral Desserts
Cakes & Cupcakes

Chocolate
Lemon
Red Velvet
Pound
Angel
Strawberry

Fudge
Brownies
Bagels
Macaroons
Cookies

M&Ms
No-Bake
Peanut Butter
Pecan
Chocolate/White Chocolate Chip
Snickerdoodles
Crinkle

Macarons
Monkey Bread
Peanut Bars
Muffins
Pecan Bars
Puff Pastries

Cream Cheese Danish
Blueberry Galette
Toaster Strudel
Cream Horns
Tarts
Croissants
Cinnamon Rolls

Pies

Pecan
Apple
Pumpkin
Lemon Meringue
Sugar Cream
Cheesecake
Rhubarb
Strawberry
Mississippi Mud Pie
Blackberry
Catering for a Funeral
Sometimes catering is the best option for the funeral reception, or for a wake, visitation, or other memorial service. Here are some tips to help you arrange the catering.
Contact the caterer as soon as you have chosen the date and time. This way you can reserve the restaurant of your choice and give them ample time to prepare.
Estimate attendance. Asking for RSVP is always helpful, but not everyone does. Estimate a little higher than those who have told you they are coming to ensure the caterers prepare the proper amount of funeral food.
Decide on the range of service. Do you want apps and drinks in a casual setting, a formal multi-course meal with wait staff, or line-up service with meat, veggies, roles, and sides?
Choose the menu. At this point, you can work with the restaurant or caterer to select the menu items. Remember your loved one's favorites, and serve something they would have appreciated in their honor.
Talk to the caterers about your family's traditions and values. If your loved one appreciated fine food with perfectly paired wine, or if they loved deep-fried party foods and imitating their favorite running back's touchdown dance – either way, tell the caterers about your loved one to best help them tailor their service to celebrating the life of your loved one.
Funeral Food Reception Etiquette
Here's what you need to know when planning a reception or bringing food for a memorial service.
When should the reception be?
Most often the reception is held immediately after the funeral or memorial service (learn about the difference here).
If a committal is to follow the funeral, the order would be 1) funeral service, 2) procession to the committal, 3) committal, 4) reception.
Sometimes, the reception is held later in the day, or the following day or week. This might be because the family wants a private committal service, so the funeral happens in the morning, the committal right after, then there are several hours to prepare for the reception. Ultimately, it's up to you and what works best with your arrangements.
Learn more about planning a funeral reception.
Who pays for food after a funeral?
The family of the decedent pays for the funeral food, whether catering or having other family and friends prepare the meal.
The exception is when the meal is a potluck. In this case, everyone who attends pitches in by bringing a dish at their own expense to contribute to the meal. This can be very helpful when, like most people, the family doesn't have an unlimited budget to pay for all the funeral expenses.
How do I bring food to a funeral reception?
The reception is after, but your food is prepped ahead of time. How does this work, practically?
For cold dishes, simply bring them in a cooler with an ice pack. Most cold dishes will be fine when sitting on the potluck table for an hour or so.
For hot dishes, aim to pull the dish out of the oven right as you're leaving. Cover with a towel, leave in a heat-insulated bag or cooler, or bring the dish in your slow cooker and pug in on the "warm" setting. Bring a power strip in case others had the same idea!
For all dishes, consider those disposable aluminum trays so you can simply leave when you need to. Otherwise, you'll need to remember to bring your dish home with you… and clean it out!
What funeral food is good to take to a grieving family?
Most of the recipes on this page are ideal for taking to a grieving family after the death of a loved one. All the recipes travel well, and many can be prepped and then frozen so the family can bake as needed.
For more tips on how to deliver a sympathy meal train, plus plenty of additional recipes, see our Sympathy Meal Guide.
What is the proper etiquette for guests at a funeral reception?
We're glad you asked! We've written a complete (yet brief) guide on what to expect, do, and say at a funeral reception.