Today we'll be looking at the best comfort foods for grief.
During times of grieving there are many meaningful ways to care for our close friend's or loved one's physical health, mental health, and overall well being.
But one of the very best ways? Food. 
Giving gifts of food is a beautiful way to show how much you care. After all, cooking a meal takes time, forethought, and money.
A warm, delicious casserole or stew can soothe the soul and give strength and comfort to the body, and that's exactly what your friend probably needs at the moment. Not to mention the last thing they would feel like doing during times like these is cook a laborious meal.
Providing them with a dish that can sustain them for a day or two is extraordinarily helpful.
There are several different ways that people can be affected by grief, but one of them is often loss of appetite. If you know that this is the case, it may be best to opt for lighter (but still nourishing) meals like soups, stews, rice dishes, or vegetable casseroles. 
The bereaved may need to be gently reminded that taking care of their health by eating regular meals is important, and offering them a home-cooked dish might be just the encouragement they need.
Our website is supported by our users. We sometimes earn a commission when you click through the affiliate links on our website. Learn more here.
Best Comfort Foods for Grief
We've scoured the web and found fifty-seven of the best, easiest, and most deliciously comforting dishes out there. 
We've included vegetarian, vegan, and gluten-free recipes as well, in case the one for whom you are preparing the meal has dietary restrictions. Scroll on and we're sure you'll find the perfect recipe to take them in their time of need.
Chicken Pot Pie with Biscuits
Chicken Pot Pie with Biscuits is a comforting and savory dish featuring a creamy chicken and vegetable filling, and is topped with buttery and flaky biscuits, creating a perfect balance of flavors and textures.
Funeral Potatoes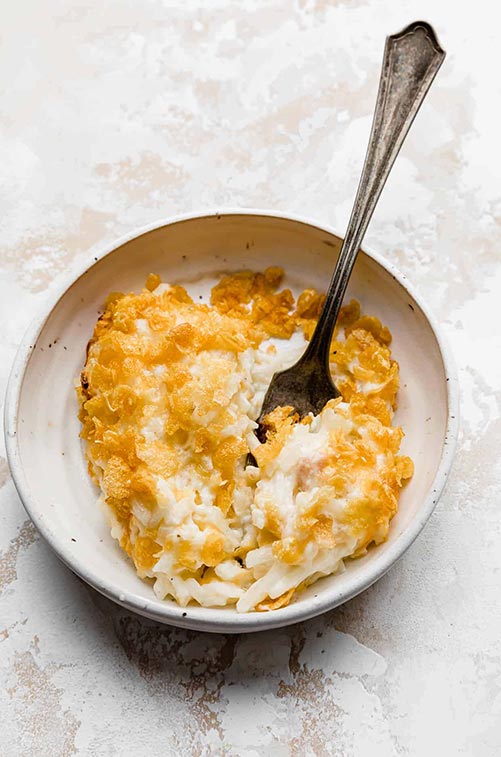 Funeral potatoes are the classic sympathy meal. We've curated the 10 absolute best recipes for this timeless dish.
One Pot Lasagna Soup
No time to make lasagna? One Pot Lasagna Soup is ready in under an hour by cooking the noodles directly in the broth! A different take on a traditional sympathy meal.
Baked Jalapeño Popper Mac and Cheese
This Baked Jalapeño Popper Mac and Cheese is super creamy and totally cheesy. Full of bacon, jalapeños, the most delicious cheese sauce, topped with buttery Panko crumbs, then baked in the oven until golden brown.
Pumpkin Chicken Curry
This warm and savory pumpkin chicken curry is the perfect home-cooked meal for a meal train, and it tastes even better after reheating! 
Shepherd's Pie (Naturally Gluten Free)
There's no better comfort food than Shepherd's Pie. Ground beef and veggies are topped with cheesy mashed potatoes for a delicious and hearty meal. It's naturally gluten-free, making it perfect for a grieving family with dietary restrictions.
Jambalaya
Jambalaya is a vibrant and hearty one-pot dish originating from Louisiana, blending the flavors of meats, fresh vegetables, and spices in a delightful symphony. Bursting with the essence of Creole and Cajun cuisine, this recipe promises a delectable feast of savory, spicy, and smoky notes in every bite.
Fried Spaghetti
This simple and delicious spaghetti is something grandma always made. Easily reheated, this is a great homemade meal to share with someone during tough times.
Chicken Cordon Bleu Pasta Bake
This chicken cordon bleu pasta bake is chock full of all the best comfort foods including moist chicken, savory ham, and pasta, all mixed in with gooey cheese. We'd equate this to, like, getting warm hugs from your food.
Sweet Potato Casserole with Black Beans, Kale, and Quinoa (Vegan)
This comforting and delicious vegan sweet potato casserole with black beans, kale, quinoa and roasted garlic sauce is easy to assemble and perfect for meal prep. Because it is vegan, it's also great for those with special diet restrictions.
Chuck Roast
Hearty, delicious, and made in one pot, this Chuck Roast is a great meal to share with a family in need. It's easy to make, easy to transport, and always tasty.
Baked Mac & Cheese
This southern baked mac and cheese is the perfect comfort food. The creamy, cheesy texture is amazing!
Lasagna
Lasagna is classic Italian comfort food for grief. This recipe doesn't require ricotta cheese, and is the perfect make-ahead option for sympathy meal delivery. It's easy to reheat and serve for delicious and comforting family dinners. 
Cheeseburger Macaroni
A homemade version of the classic cheeseburger macaroni that's soothing, hearty and wholesome. It comes together in one pot and I just know the entire family will love it!
Minnesota Tater Tot Hotdish
Discover the heartwarming solace of the upper Midwest with this Tater Tot Hotdish recipe. Elevating the traditional dish, we swap out canned soup for a homemade thickener, blending together flavors of flour, milk, mushrooms, onions, and a medley of other ingredients for a quick and tasty family dinner that's all prepared in a single cast iron pan.
Chicken Enchilada Soup
This easy soup uses a pre-cooked rotisserie chicken and offers a great way to fill you up while being easy to freeze. It will be a welcome — and flavorful — meal for a large family during a difficult time.
Tuna Noodle Casserole
Tuna Noodle Casserole is a quick and easy meal made from scratch with no canned soup! The creamy sauce is made with Greek yogurt, milk, and seasonings that is mixed with egg noodles, tuna, mushrooms, and peas, then topped with crispy panko breadcrumbs and parmesan cheese to create a warm and comforting meal.
Cream Chicken Stew with Sage & Chive Dumplings
What's more comforting than chicken and dumplings? This creamy chicken stew with vegetables comes with the most delicious sage and chive dumplings. This delicious variation breathes new life into a classic recipe.
Mashed Potatoes, Chicken, & Gravy
This chicken and gravy over mashed potatoes is the ultimate soul food. It's full of flavor, easy to make, and reheats well so it can be eaten throughout the week!
Tortellini Pasta Salad
Indulge in a delightful fusion of flavors with a refreshing Tortellini Pasta Salad. This vibrant dish combines spring greens, sun-dried tomatoes, feta cheese, pesto sauce, olives, and more! It's a delightful blend of a traditional green salad and a pasta salad, offering a revitalizing and satisfying twist to the classic recipe.
Crispy Pan Fried Gnocchi
This crispy pan fried gnocchi is a simple and quick recipe to make that is a delicious comfort food. Crispy gnocchi coated in a light sauce made with garlic, herbs, butter and parmesan.
Cauliflower Cheese Mushroom Bake
Cauliflower cheese mushroom bake is an easy to make 30-minute vegetarian family dish. It's a lovely comfort dish for busy weeknights and a good idea for sympathy meals.
Cantonese Congee with Rice & Scallops
The author of this recipe says that for Asians, congee is the ultimate comfort food and is a nourishing bowl that will bring back lots of warm and cozy memories of their childhood and family.
Puff Pastry Chicken Pot Pie
Nothing says comfort like this chicken pot pie casserole with a puff pastry crust on top. The vegetables and chicken turn out tender in a delicious gravy, and the crispy crust adds a nice texture.
Tex Mex Lasagna
Seasoned beef, lively chili sauce, corn tortillas and Mexican cheese layered in a Tex Mex twist on the traditional Italian dish.
Chicken Bacon Ranch Potato Bake
This chicken bacon ranch potato bake is a heartwarming casserole that feeds many. It's made with diced potatoes and chicken, mixed with a homemade ranch dressing, then topped with melted cheese, bacon, and chives. It can be made ahead and popped in the oven later. If you're looking for hearty meals, this is definitely one of many great options.
Butter Bean Curry
Butter Bean Curry is a go-to recipe for friends or family members in their time of need. It's super creamy, bursting with flavors, and easy to make. It can be brought together in 20 minutes for a comforting sympathy meal with a serious snuggle-factor.
Almond Milk Crepes (Dairy Free)
From the Whole Food Soul Food Kitchen, these almond milk crepes make the most delicious breakfast, lunch, or even dinner! With only three ingredients, they are easy to make and versatile when it comes to fillings.
Philly Cheesesteak Casserole (Keto-Friendly)
This low-carb Philly cheesesteak casserole is packed with shaved beef steak, green peppers, onions, mushrooms, and a creamy provolone cheese sauce, making it a hearty, filling, and healthy meal for bereaved families with specific dietary needs.
Instant Pot Butternut Squash Soup
Indulge in a comforting bowl of Instant Pot Butternut Squash Soup. This creamy and healthy soup is full of health benefits (like antioxidants and amino acids), and captures the essence of fall with its rich flavors. Effortlessly prepared in the Instant Pot, you can customize it as a vegetarian or vegan dish.
Enjoy this quick, 30-minute meal that combines the sweetness of squash and Granny Smith apples with tangy garlic, creating a smooth and satisfying dish. Gluten-free and perfect when paired with toasted, crusty bread.
Mac & Cheese with Cream Cheese
This mac and cheese dish incorporates cream cheese to create a rich and creamy texture making it one of our favorite comforting recipes.
Green Bean Tater Tot Casserole
The green bean tater tot casserole combines the crispy goodness of tater tots with the freshness of green beans, giving you a great way to give the gift of food to a good friend in their time of loss.
Apple Crisp (Oat-Free)
Indulge in a favorite comfort food with this Apple Crisp recipe. It's a simple yet incredibly satisfying recipe, with a delicious filling that bursts with the natural sweetness of apples and is topped with a buttery rich almond crust.
Creamy Chicken and Stuffing Casserole
Creamy Chicken and Stuffing Casserole provides a taste of classic comfort food. An easy dinner recipe with chicken breasts in a creamy chicken mushroom with stuffing sprinkled over the top of the chicken casserole.
Southern Pineapple Casserole
Pineapple Casserole is sweet and salty, and has a gooey and crunchy filling with a cobbler-like topping. It's a southern favorite straight from grandma's recipe box.
Knoephla Soup
Dive into the comforting richness of Knoephla Soup, a German inspired classic straight from the heart of grandma's kitchen. It's filled with hearty dumplings, cream, butter, and a medley of vegetables, making it a delicious, filling, and nourishing meal.
Vegetarian Mexican Lasagna
This cheesy vegetarian Mexican lasagna is simple to throw together and results in a super-satisfying, family-friendly meal delivery idea for the bereaved family. Featuring refried beans, cheese, and sautéed veggies in layers of tortillas and enchilada sauce, it's a tasty way to contribute to the healing process.
Grandma Coco's Monkey Bread
Grandma Coco's Monkey Bread is so soft and buttery, baked to perfection in a bundt pan. As you pull apart the sections and taste each delicious bite, you will experience that nostalgic feeling like you are back at grandma's house.
Super Easy Crockpot Potato Soup
This Crockpot Potato Soup Recipe is just the thing for a slow cooker meal that travels well.
You can throw it together in a few minutes, put it in disposable containers, and deliver it to a grieving friend for a hearty, creamy and delicious meal. It will be her new favorite soup!
Swiss Chicken Casserole
A classic Swiss Chicken Casserole is a hearty, comforting way to show someone you care. This warm and cozy casserole is loaded with juicy chicken, gooey Swiss cheese, creamy sauce, and a flavorful herb stuffing topping.
Cauliflower Mac & Cheese with Bacon and Jalapeños
Every family is bound to love this loaded cauliflower mac and cheese recipe. It's packed with tasty bacon and cheese, and you could even add in rotisserie chicken for more protein. The jalapeños give it an extra kick, and no one would ever know that it's keto-friendly to boot.
Baked Spinach Mushroom Quesadillas
It is a known fact that Quesadillas always bring happiness. These cheese and mushrooms quesadillas are made in a sheet pan and they will hit the spot with just one bite. 
Make-Ahead Baked Lasagna Bowls
Lasagna is always a favorite meal, and it's perfect for people who are in mourning. These bowls can be assembled in disposable tins to go straight into the freezer for an easy meal later, when things aren't quite so overwhelming. They can then be pulled out and go straight into the oven. Write out instructions on the lid to make this dish extra user-friendly.
Chicken Salad
If you're debating what to bring to a family in mourning, consider a 2-cup zip-loc with this flavorful chicken salad. You can bring along a selection of Bibb lettuce leaves, crackers, or croissants, along with some fresh fruit as a side. It's one of our favorite no-cook meal options.
Tater Tot Chili Casserole
Hearty chili topped with cheese and crispy tater tots makes this Tater Tot Chili Casserole the perfect cozy, comfort food, and a wonderful way to show them you care!
Creamy Tomato Bisque
Enjoy the velvety goodness of Tomato Bisque, a creamy tomato-based soup that's quick and easy to make with your pantry staples. It's a delightful variation of classic tomato soup, and of course pairs perfectly with grilled cheese. 
This French-style bisque strikes a fitting balance with its rich flavors from tomatoes and cream. Customize it with your preferred dairy or vegan options.
Brie & Fig Grilled Cheese Sandwiches
This Brie and Fig Grilled Cheese Sandwich recipe exudes comfort and a refined sense of simplicity. Ideal as a special delivery during times of grief.
Loaded Mashed Potato Casserole
Creamy mashed potatoes loaded with savory pieces of crumbled bacon, cheese, and chives. Baked until the cheese is melted and bubbly.
Related: 55+ Best Easy Comforting Funeral Food Recipes
Balsamic Short Ribs Recipe
This Balsamic Short Ribs Recipe is so tender and melt in your mouth. The short ribs are cooked in the slow cooker in balsamic vinegar to infuse the flavor into them. These short ribs work great over gnocchi, paired with Brussels sprouts, or even shredded for tacos or rice bowls.
French Onion Chicken Bake
French onion chicken bake is a more sophisticated casserole dish that brings the classic flavors of French onion soup to it. It's even topped with homemade croutons.
Cook and combine all the ingredients ahead of time, top with foil, and refrigerate until ready to bake in the oven for later for your grieving loved ones.
Chicken & Rice Soup
Canja de Galinha is an easy and super comforting chicken soup with rice that you can whip up in just 30 minutes. It is prepared in one pot, nutritious, and — of course — delicious.
Grandpa Henderson's Beef Stew
The coziest bowl of beef stew is waiting for you with this family favorite. It tastes even better the next day and freezes well.
Beef Pasta Hamburger Helper
This family dinner is the ultimate comforting meal. Timeless homemade food cooked in one pot, here's a hamburger helper recipe that tastes far better than the boxed version.
Five Ingredient Stuffed Shells (Vegan)
An easy 5-ingredient stuffed shells recipe makes for a quick and simple vegan comfort food for grief. Everyone will enjoy this easy and flavorful vegan pasta dinner featuring spinach and ricotta.
Mozzarella Mac and Cheese (Gluten Free)
This mozzarella mac and cheese recipe is so creamy, filling, and heartwarming! Mozzarella, parmesan, and basil are used for a twist on a classic, which you can make gluten-free (or not) simply by the choice of pasta you use.
Slow Cooker Bolognese
This Slow Cooker Bolognese will make meal time so much easier because your crock pot will do all the work. A rustic, rich, herb-filled tomato sauce serves as the base, and the meat is melt-in-your-mouth tender.
Creamy Vegetable Soup with Noodles
Here's a comforting vegetarian soup perfect for warming the heart during a difficult time of emotional stress. Loaded with vegetables, this hearty soup gets ready in just 35 minutes, encourages healthy eating (as opposed to more common, fatty foods), and tastes delicious.
Chicken Parmesan Bacon Pasta
Tender pasta topped with a creamy chicken, bacon, and Parmesan cheese sauce makes a soul-soothing comfort dinner that's easy to make and so tasty.
Stuffed Pepper Casserole
Quick to make, easy to bake and mouthwatering to eat, this Stuffed Pepper Casserole recipe is your ticket to a nourishing, tasty meal that's easy to deliver. Made with ground turkey breast, zesty bell peppers, crushed tomatoes and brown rice then topped with sharp cheddar cheese, this hearty dish is a winner any night of the week.
Now that you've found the perfect recipe, learn how to make and deliver a sympathy meal with that extra touch of grace and care for your grieving friend.
Related: 101 Condolence Messages to Express Your Sympathy & Support