There can be no greater pain than the loss of a child. No parent should have to go through it, yet it happens every day. Someone, somewhere is saying a final goodbye to their child
Just a few words of advice from a funeral director, please don't say, "I know how you feel."  Because you don't. Even if you have been in the same situation, we all handle grief differently. Simply offer your love, support, compassion and a listening ear…
If you are in the situation of needing to give comfort to a parent, please continue to read on.
We have compiled this list of 60 comforting sympathy messages for the loss of a child that are appropriate for a time such as this.
Short Sympathy Messages for Loss of a Child
1. I am so very sorry for the loss of your sweet son, Joshua.
2. Mere words cannot express my sympathy at this time.
3. We will always remember Joshua. 
4. He/she will be missed by all who knew him/her.
5. You are not alone in your mourning of Joshua.
6. We are holding you close in our thoughts.
7. Your little one touched so many lives.
8. Our love for him/her will never fade.
9. I am always here for you.
10. I'm sorry.
Sympathy Messages for the Loss of an Infant
11. Your sweet baby gave us endless joy.
12. I am so sorry to hear of the loss of your baby girl/boy.
13. We are deeply saddened by your terrible loss.
14. There is no deeper pain imaginable. I'm so sorry.
15. Always know, he/she was loved before he/she was ever born.
16. Though his/her life was short, he/she was deeply loved.
17. I know how much you loved your sweet baby. I am sorry.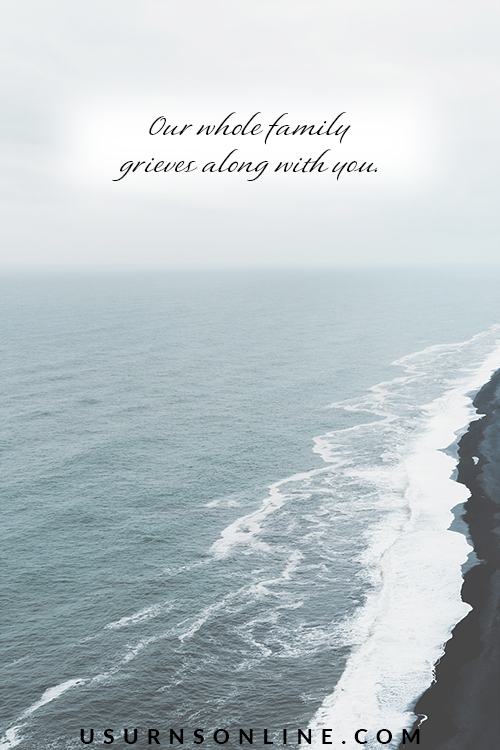 18. Our whole family grieves along with you.
19. Please know that we care for you and your family.
20. I will be over this week to help you and your family.
Sympathy Messages for the Loss of a Daughter
21. Her smile was unforgettable.
22. Worth more than diamonds, emeralds, or pearls, your daughter was a true jewel.
23. She was a beautiful, remarkable, and loveable little girl.
24. Our hearts broke when we heard about the loss of your precious daughter.
25. She was a beautiful child.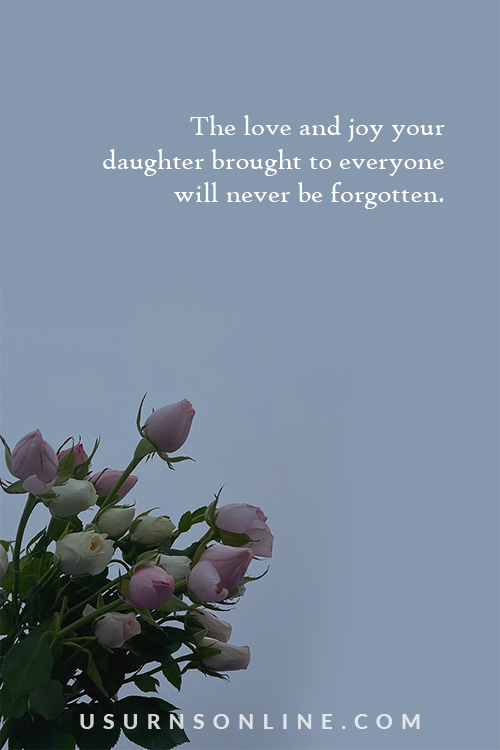 26. The love and joy your daughter brought to everyone will never be forgotten.
27. She had such a joyful spirit. We will always remember her.
28. I am praying for you to find strength during this challenge.
29. Her love and kindness has touched so many people.
30. We are sending our thoughts and prayers for the terrible loss you are suffering.
Related: Memorial Gifts for Loss of Daughter
Sympathy Messages for the Loss of a Son
31. He will forever be held closely in our hearts.
32. A son is the greatest gift of all. We are so sorry for your loss.
33. I am at a loss for words. It's hard to believe he's not here.
34. May God's love envelope you during this time.
35. Always remember, you have friends who love you and are here for you.
36. Your son brought so much joy in the time he was here.
37. My heart breaks for the loss of your beloved son.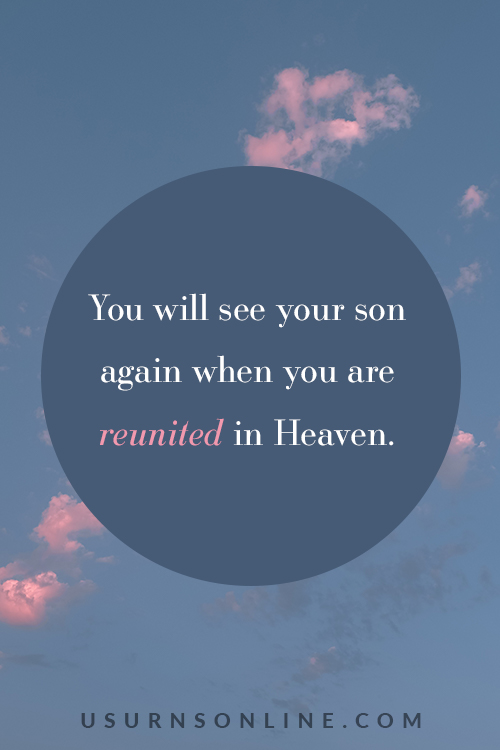 38. You will see your son again when you are reunited in heaven.
39. My family is holding you in our hearts and surrounding you with our love.
40. Sharing in your heartache and sorrow.
Related: Memorial Gifts for Loss of Son
Words of Sympathy for the Loss of a Grown Daughter
41. Our heartfelt condolences on the loss of your beloved daughter.
42. Sharing your grief over your loss.
43. Although I didn't know her well, I know how much you adored her.
44. I pray your happy memories will help you through this difficult time.
45. Our deepest sympathy at the loss of your daughter.
46. Even though I can't imagine what you are going through, I am still here for you.
47. Your daughter was a true inspiration to everyone around her.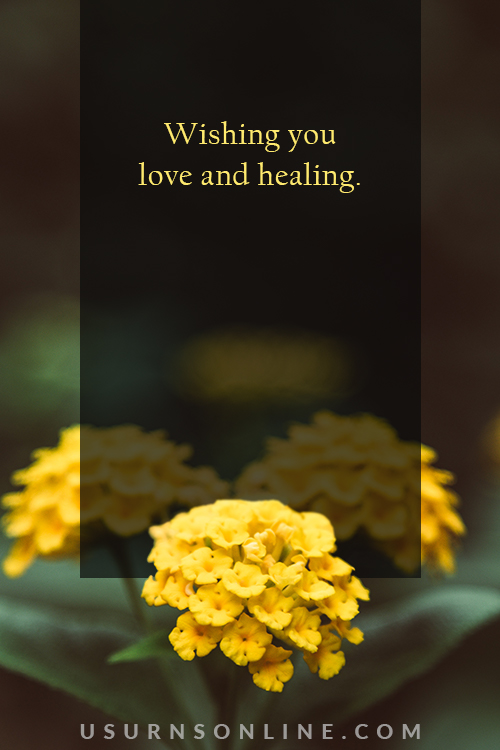 48. Wishing you love and healing.
49. The world will always be a better place because of her.
50. My heart is hurting for you.
Words of Sympathy for the Loss of a Grown Son
51. I will never forget the love your son had for you.
52. His life was an example for all of us.
53. Though he is gone, we will never forget him.
54. It was an honor to know your son.
55. We are thinking of you and your family as you grieve the loss of your son.
56. I am so sorry you are going through this.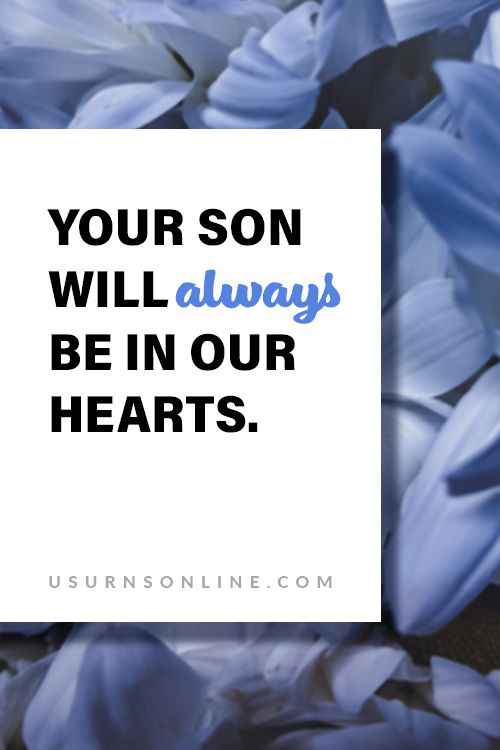 57. Your son will always be in our hearts.
58. May the Father give you peace and comfort during your trials.
59. Your son will be greatly missed by all.
60. We have covered you and your family in our prayers.
If you prefer scripture, you can find some beautiful verses to help comfort someone during their bereavement.
Here are a few extra ideas to help you during this time.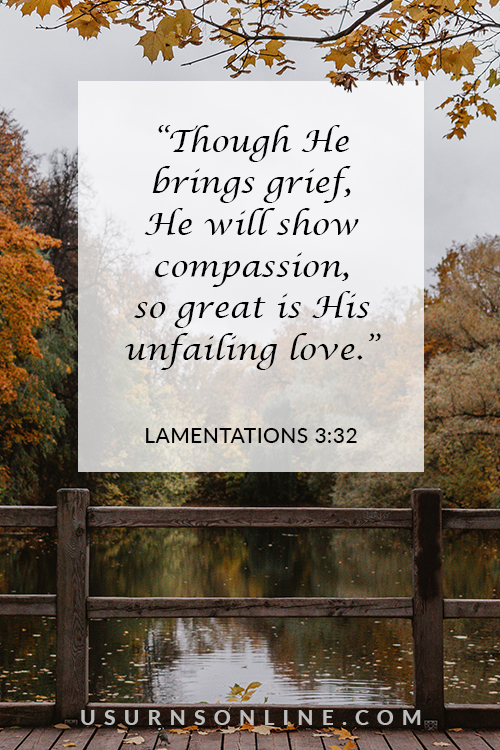 "Though He brings grief, He will show compassion, so great is His unfailing love." Lamentations 3:32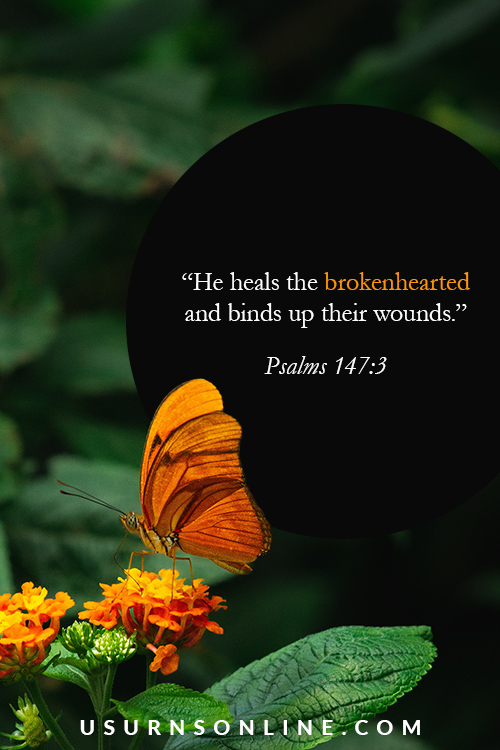 "He heals the brokenhearted and binds up their wounds." Psalm 147:3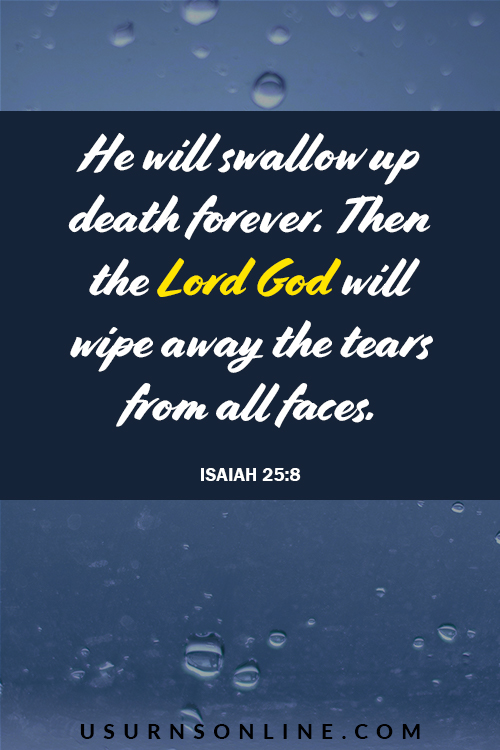 "He will swallow up death forever. Then the Lord God will wipe away the tears from all faces." Isaiah 25:8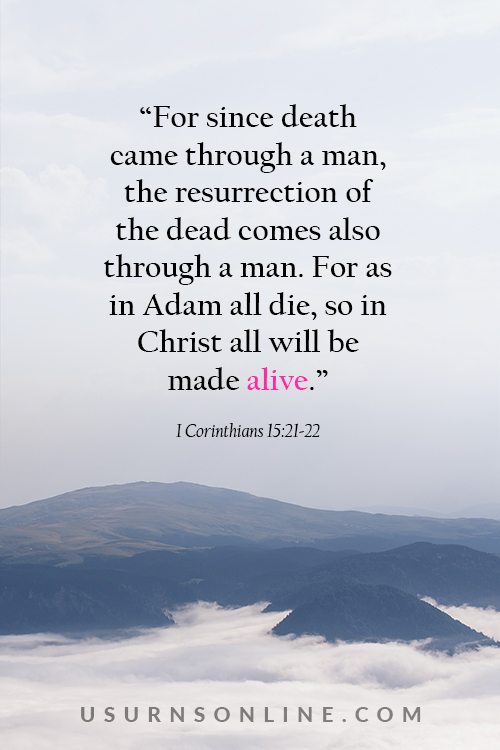 "For since death came through a man, the resurrection of the dead comes also through a man. For as in Adam all die, so in Christ all will be made alive." I Corinthians 15:21-22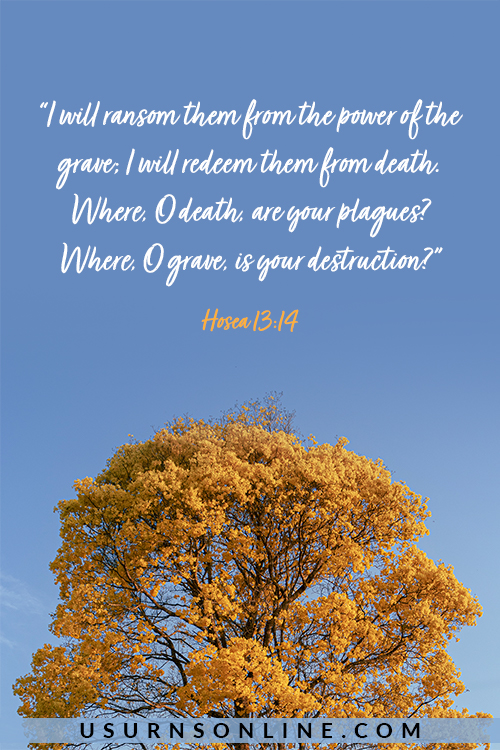 "I will ransom them from the power of the grave; I will redeem them from death. Where, O death, are your plagues? Where, O grave, is your destruction?" Hosea 13:14  
My hope is that you were able to find something to help you give encouragement to anyone who is suffering through the loss of a child.
Read Next: Sympathy Prayers for loss of a Loved One