First-Ever Solidified Remains Container Revealed by Aril
Parting Stone solidified remains are quickly becoming an expectation of families across the United States. This company's April 2023 appearance on ABC's Shark Tank is partly driving this success. Parting Stone reports that over 5,000 families have chosen to receive stones over ashes in the last three years. The company's founder Justin Crowe shared that this volume began to reveal trends in what families have done with Parting Stone's new form of remains.
"We began to read dozens of letters from families describing how they were searching for beautiful containers to store the stones in," says Crowe. "We realized inventing a new form of cremains created an entirely new merchandise market. Traditional cremation containers hide and conceal the unsightly ashes, but families that chose solidified remains seek ways to display, hold, and share them."
Aril Memorial LLC is a cremation merchandise company launched in 2012 to provide products that focus on design simplicity and reverence for materials. Their products feature wood as both subject and palette, with particular attention to texture and natural hues. Aril, previously Memento Memorials, gained recognition in 2017 after launching the Meta Cremation Urn, the company's flagship product.
"Modern life surrounds us with objects of planned obsolescence, poor craftsmanship, and inconsiderate use of materials," explains Aril founder Chris Harvan. "Shouldn't our rest and remembrance be honored with durability, a loving touch, and quality?"
With the unique design challenge of containing AND displaying remains rather than hiding them, Harvan worked through dozens of concepts and prototypes to arrive at a design he calls "Stay."
"When kept in the home, our products visually stand out among other decor, but what makes our work special is the generosity of materials and attention to texture," says Harvan about Aril's aesthetic. "This creates a space for a loved one's remains that is austere and calm. With the Stay, the growth rings of the wood create a liminal space, a transition, between the living and those they are honoring. Accessible, yet protected."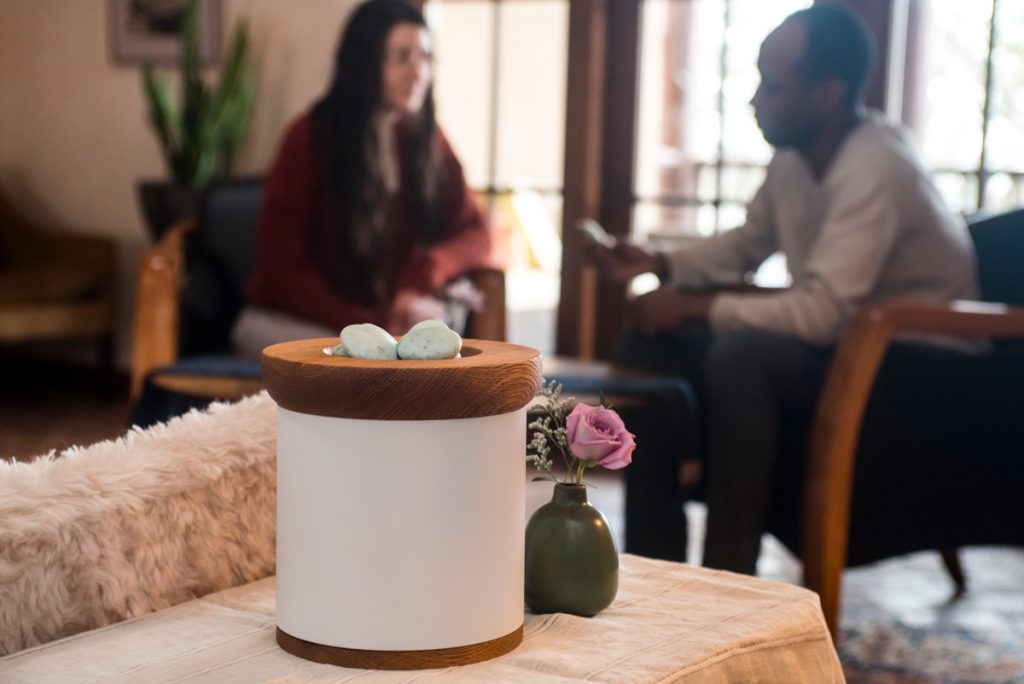 At the top of the Stay solidified remains container is a hollow in the red oak intended to display a handful of the family's favorite stones. The interplay between the natural wool and variation within each stone creates harmony and integrates into daily life with a Zen feel. The powder-coated metal vessel interior can hold the majority of a loved one's Parting Stones. (a "full amount" set of solidified remains is typically 60-80 stones).
Out of consideration for the planet and the health of the craftspeople making Stay, the wood is protected with a non-toxic, vegan wax that is hand applied and buffed. Aril relies solely on recycled and recyclable packing and shipping materials for all its product lines.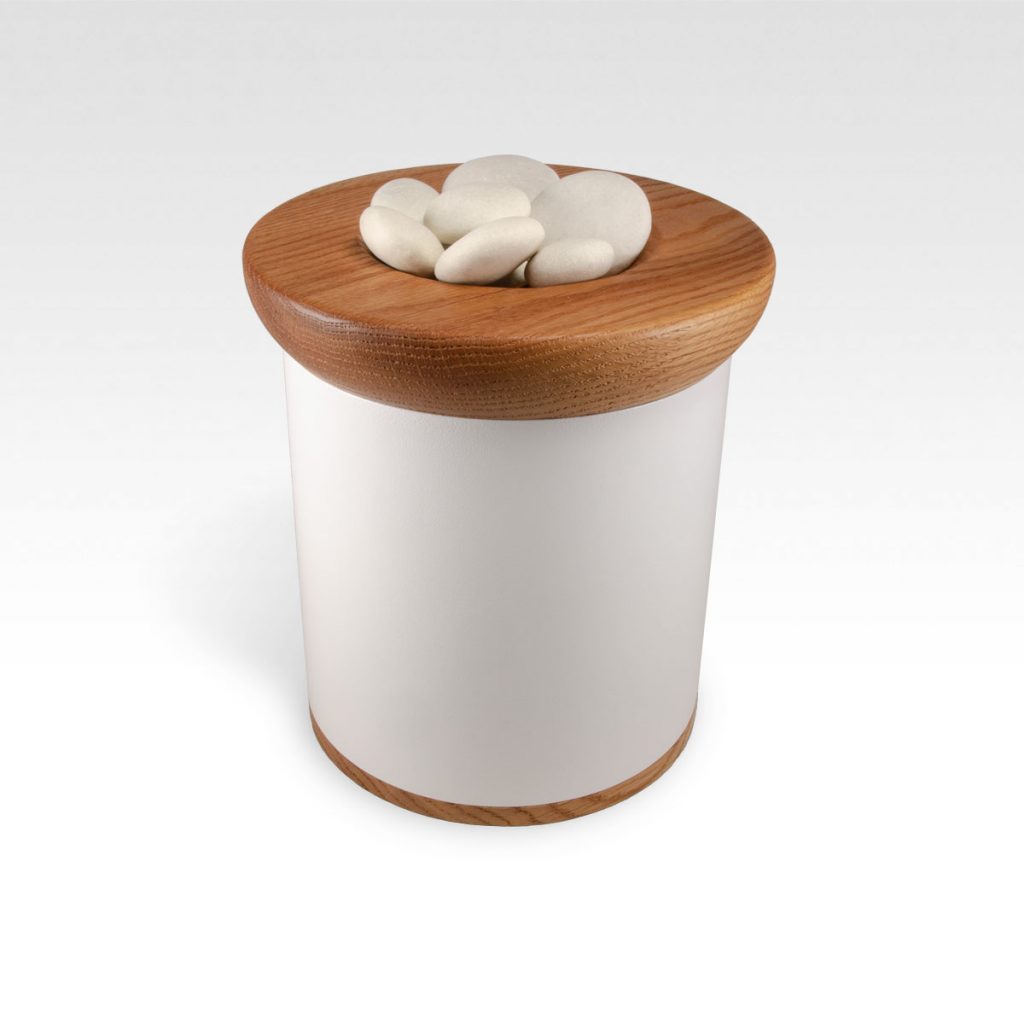 "Every person's stones come out different hues, textures, and colors," explains Crowe. "Now there is a beautiful way to highlight the uniqueness of our loved ones in daily life while keeping them close enough to hold."
"We are excited to have the Stay container available for all families and funeral homes we serve. This is a perfect opportunity to bring more value to the cremation experience."
Aril produces the Stay in limited runs. To order a first-run Stay available from Aril exclusively.
Already have an Aril wholesale account? Order immediately here.