Funeral Service and Grief Work- How to Support Bereaved Families as a Funeral Professional
Funeral professionals are often the first point of contact for families experiencing grief. A huge part of any job in a funeral home is dealing with difficult emotions first hand. However, funeral service work and grief work are two different things. Often, in-depth courses about the inner-workings of grief, different types of grief, and how to support others in times of grief are not included in mortuary science curriculum and education programs. Even though funeral professionals are working with grievers very closely, their background, experience, and education may not have equipped them with all of the tools needed to best support the families they serve, and themselves. Taking a little time to learn more about how funeral service and grief work align, where these professions overlap, and how to support grieving families best, will benefit each and every funeral professional. 
Grief Work and Deathcare Work: What's the difference?
In the Essential Deathcare Workers Briefing Book, deathcare work is defined in the following way: "Deathcare workers perform labor that has emotional, moral, social, and public health value. Their jobs involve 'ritually putting the dead body in its place, managing the relations between the living and the dead, and providing explanations for the existence of death.' Deathcare work helps to honor the dignity of those who have died and to help their families." This often places funeral service professionals and deathcare workers in the role of first contact with families who have experienced a loss and positions the profession as the first step on the journey of understanding a loss and entering grief. However, there are many differences and nuances between deathcare work and grief work. 
While both the funeral service and grief work counseling require licensing, certifications, and specified training, each profession has a different focus and a different path to licensure state-by-state. Counseling requires at least a four year bachelor's degree, and often a masters degree and years of post-grad clinicals, before applying for licensure in your state. Grief counseling specifically requires obtaining the Certified Grief Counseling designation through the American Institute of Health Care Professionals (AIHCP) with 100 additional hours of continuing education. Becoming a funeral director usually requires an Associate Degree in funeral science, mortuary science, funeral services or the like, followed by apprenticeship in a funeral home, passing state licensing exams, and earning CE credits annually. 
Highlighting these differences in vocation, education, and training, an article on grief support and the role of funeral service by Vicki Lensing, in the Journal of Loss and Trauma, explains that "Grief support in funeral service is another name for what funeral homes call aftercare. This includes a wide range of services from referrals to local grief counselors to facilitating bereavement support groups […] Grief counseling is a term that funeral service struggles with because of what it implies. Counselors in most states are trained and often licensed professionals. Some funeral homes have licensed counselors on staff, most do not."  However, it often falls to funeral service professionals to be the first people to respond to grieving families. Death planning in a funeral home typically happens very soon after a death while the experience of grief is new for a family. This is usually when death workers and funeral professionals meet and work with that grieving family, which positions the profession in an important place in the grief journey, even though formal grief counseling isn't typically what funeral professionals are trained in.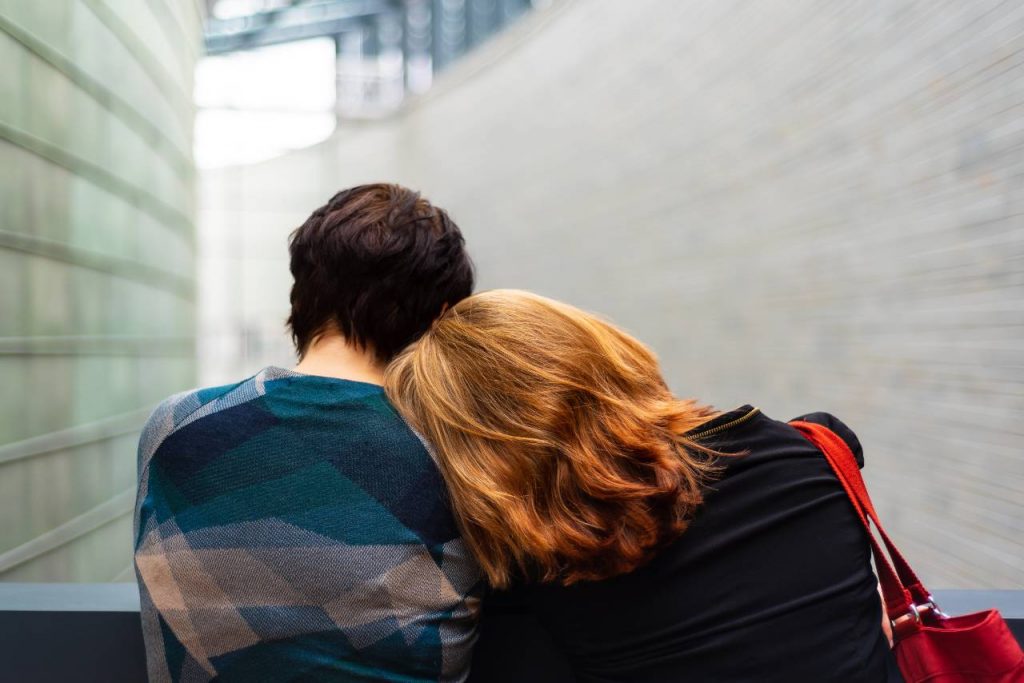 Many funeral professionals agree that the funeral profession would benefit from more exposure to grief work and grief counseling training in mortuary school. Tracy Lee, is a certified grief counselor, licensed funeral director and published author who writes about the need for more grief counseling in funeral service education programs. In her article, The Growing Threat of Complicated Grief, she explains, "The problem exists in that funeral education has not caught up with the needs of the profession. Funeral practitioners are receiving credentials while being ill-equipped to understand and provide for the psychological, emotional, spiritual, and physiological needs of their clients[…] The funeral profession must expand educational requirements if they expect to provide for the expanding needs of their clients. Funeral professionals need academic instruction in grief and complicated grief, recovery psychology. Without adopting these fine arts into the educational requirements of funeral professionals, survivors will continue to suffer increasingly complicated recoveries."
Educating Yourself and Your Staff on the Basics of Grief
As funeral service professionals we want to be equipped with the right tools for supporting grieving families. Without the knowledge of how to respond to people in times of grief, we run the risk of allowing things like complicated grief or disenfranchised grief to occur. 
Disenfranchised grief is defined by Dr. Ken Doka in his book, "Disenfranchised Grief, New Directions, Challenges, and Strategies for Practice," and as occurring when, "Someone has experienced a loss, but the grief experienced has been disenfranchised – that is, the survivors are not accorded a 'right to grieve.' That right to grieve may not be accorded for many reasons, such as the ways a person grieves, the nature of the loss, or the nature of the relationship. So, although the person experiences grief, that grief is not openly acknowledged, socially validated, or publicly observed." 
Dr. Sara Murphy is a Certified Thanatologist (Association for Death Education and Counseling),  faculty member at the University of Rhode Island, and suicidologist with fifteen years of scholarly, pedagogical, and professional experience in the field, who specializes in disenfranchised grief. On a recent episode of the Deathcare Decoded podcast about disenfranchised grief, Dr. Murphy revealed how funeral professionals play an important role in helping families avoid disenfranchised grief. She explains that, 
"There is a lot of opportunity for funeral directors because, while they are not grief counselors (though they should always have a list of grief counselors ready to supply a family) […] the very first professional that a grieving person is going to sit down with is a funeral director. So that implicitly gives funeral directors a lot of responsibility in making sure that their language, their nonverbal communication and their support for that grieving person doesn't start them on a baseline of disenfranchisement. When I'm working with funeral directors, I remind them that not only do they have an opportunity not to disenfranchise someone's grief, but perhaps to model ways to help them alleviate disenfranchised grief moving forward. And a lot of that comes down to communication. 
People can and often do disenfranchise their own grief. But generally speaking, that happens after they have seen it happen to them by other people, and they then internalize that perspective. And whether that disenfranchisement is coming from reasons of the relationship or the perceived relationship with the deceased, or the means by which they died, or cultural systems of privilege and inequality doesn't matter… if they are taking in [verbal or non-verbal] messaging that says 'your grief doesn't matter' or 'your grief should look like one thing and it's looking like another so there's something wrong with it', or 'we're going to try to police your grief in some way,' then they might start [disenfranchising] themselves."
To learn more from this conversation with Dr. Murphy about how to support grieving families as a funeral director, click below and download the free ebook, "Avoiding Disenfranchised Grief: Helpful Tips for Funeral Professionals Working with Grieving Families." 
Behaviors that are helpful for supporting grieving families
In outlining some of the ways that funeral directors can easily learn to better support families in times of grief, Dr. Murphy explains that non-verbal communication like eye contact, mirroring, and simply allowing time for crying or sitting in feelings quietly without time constraints can be extremely powerful for bereaved families. She explains, 
"There is a lot of power psychologically in being able to just sit and have your pain borne witness to. I think that for professionals who work with grieving people and are signaling a discomfort with human emotion, it's a space to check yourself and say, 'What is it about this that's making me uncomfortable?' Often funeral professionals might rush in with Kleenex to try to fill that silent space, or move the bereaved along, or shut down the tears. And that isn't going to be helpful. It might be the first time that person's been able to cry. So just to sit with them in silence and let them be is a really important, supportive tool."
Along with the power of supportive non-verbal communication for the bereaved, there are some important verbal communication skills that can help grievers feel safe to express their experiences. Avoiding euphemisms and "at least" statements like "at least she isn't in pain anymore" or "at least you got to say goodbye" will go a long way towards making the bereaved feel seen and heard as an individual. Additionally, making sure that the griever is centered in the conversation is important. Dr. Murphy reveals that, 
"I tell anyone who wants to support someone who is newly bereaved to make sure, first and foremost, that the bereaved person is at the center of the conversation, that they're an agent and not a subject. And what that might look like in an office setting is making sure that you are asking questions more than you're making declarative statements. It's making sure that you are validating everything that person has to say in terms of emotion, even if they seem all over the place." 
Regardless of how much training in grief counseling was included in your mortuary school education, continuing to develop communication skills which create an emotional safe-space for death planning families will benefit every funeral professional. It's important to know the important places in which funeral service and grief work overlap. Taking the time to learn a few simple communication strategies can help funeral professionals make families feel supported and held in their time of grief. This will improve the death planning experience, and set families up to move through the grief journey empowered.  
To learn more helpful strategies for supporting grieving families as a funeral director, download the free ebook, "Avoiding Disenfranchised Grief: Helpful Tips for Funeral Professionals Working with Grieving Families."