Funeral Service Foundation Raises Record Donations During 2023 NFDA International Convention and Expo 
Brookfield, Wis.- The Funeral Service Foundation announced that it raised record funds at two of its key events held during the NFDA's International Convention and Expo in Las Vegas, Nevada. Held annually, the Foundation's Golf Classic and Donor Reception help raise funds for scholarships, programs and resources that strengthen funeral service.  
Funeral Service Foundation's Annual Golf Classic  
This year's Foundation Golf Classic was held September 10 at Top Golf Las Vegas and hosted more than 150 attendees. Thanks to Major Co-Benefactors, Dodge and CFS/Tribute Technology; Presenting Sponsor Service Corporation International; and more than 60 other key sponsors, the event raised more than $170,000 for the Foundation's programs and resources. 
"We are so grateful for the continued support of all of our sponsors, participants and volunteers who continue to make this event such a success," said John Heald, Chair of the Fund Development Committee of the Funeral Service Foundation. "Not only are the funds raised truly impactful and essential to supporting funeral service, but it's a terrific chance to connect and have some fun with friends all across the profession." 
The Foundation thanks all 2023 Funeral Service Foundation Golf Classic Sponsors: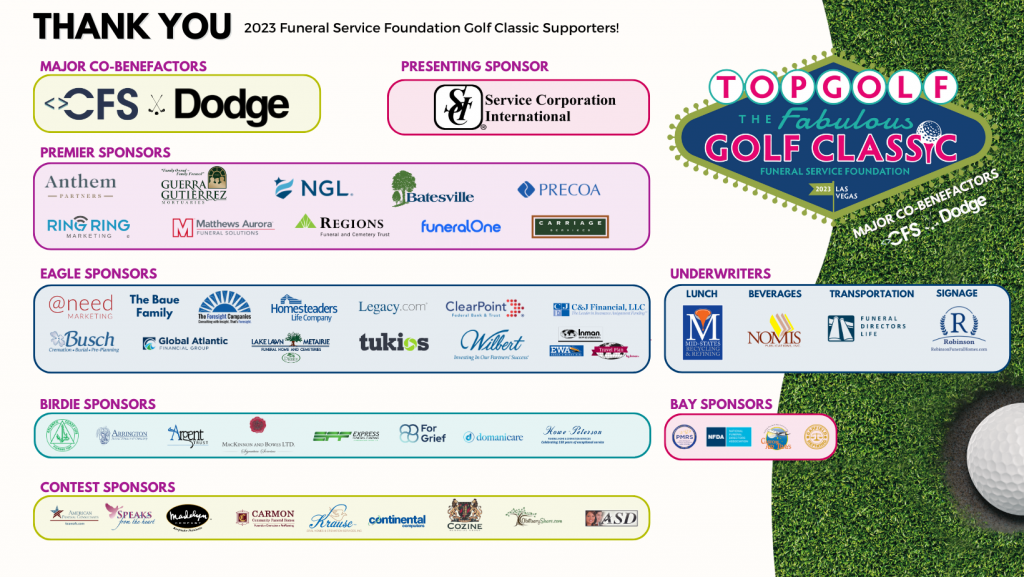 Funeral Service Foundation's Annual Donor Reception  
On the evening of September 11, more than 250 of the Foundation's donors, along with current and past trustees and volunteers, attended the invitation-only Donor Reception, which was underwritten by Global Atlantic Financial Group for the tenth straight year. Hosted by Lisa Baue, the Foundation's Immediate Past Chair, more than 20 major donors were recognized including Funeral Directors Life, Pinnacle Funeral Service, Tribute Technology, the Memorial Classic Golf Tournament, Park Lawn Corporation, Service Corporation International, and Foundation Board Chair Mark Krause, who all supported the Foundation this past year with gifts and pledges of $100,000 or more. Victoriaville & Co. also pledged support of $50,000 this year.  
The evening culminated with the Foundation's presentation of its Distinguished Service Award, given posthumously this year to Todd Van Beck, who served as a funeral director, a member of the Foundation's Board of Trustees and Program Director at Cincinnati College of Mortuary Science. Former Foundation Chair Allan Cole led the audience in a reading of Todd's favorite poem, "The Undertaker," followed by heartfelt memories shared by Todd's son, Thomas Van Beck. The Foundation extends it thanks to Tukios and The Messenger Co. in helping to memorialize Todd during the evening. 
Former Foundation Chair Bob Arrington then hosted the Foundation's paddle raise for the Todd Van Beck Memorial Scholarship Fund with pledges and payment reaching over $95,000 to date. The hope is to permanently endow the scholarship upon reaching a minimum goal of $100,000. This academic scholarship will be presented to students in accredited mortuary science degree programs.  
Fundraising for this special scholarship continues; to make a donation to the Todd Van Beck Memorial Scholarship please visit:  https://www.funeralservicefoundation.org/donate-now-tvb. 
"The generous support from all of our donors recognized at the reception is a reflection of their belief and commitment to our beloved funeral profession and the Foundation," said Mark Krause, Chair. "Additionally, the funds raised that night and since then, to establish and endow the Todd Van Beck Memorial Scholarship, is a testament to Todd's impact in our profession and the impact that funeral service has and will have for the communities we serve."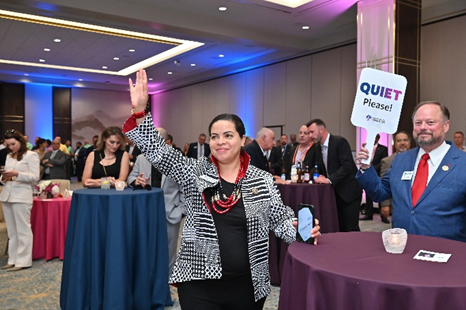 LINKS:
About the Funeral Service Foundation – FuneralServiceFoundation.org
Since 1945, the Funeral Service Foundation has served as the philanthropic voice of the funeral profession and has identified as the charitable arm of the National Funeral Directors Association since 1997. Donors and volunteer leaders profession-wide support the Foundation in its mission to lift up grieving communities by investing in people and programs that strengthen funeral service.