Guitars in Heaven & FaceTime Felons | 4M #84
Welcome to the eighty-fourth edition of Morticians' Monday Morning Mashup, 4M #84, where we'll serve up bite-sized, easily-digestible nuggets of the deathcare news you need to crush conversations in the week ahead. Bon appetit!
This newsletter is powered by MemoryShare, a funeral livestreaming platform that you can set up in 30 seconds or less.
No NOR in Maryland — yet
A bill that would have added Maryland to the growing list of states legalizing natural organic reduction has died in the state's Senate after passing the House. Additionally, a separate bill that would have required state regulators to begin studying the environmental and health impacts of NOR and other alternative funeral practices also died in the Senate last week. However, the city delegate who introduced the second bill told news outlets she's not giving up and will reintroduce the bill at the next session.
It's no joke
"A plumber, an auditor, and two mortuary assistants walk into a morgue … ." Well, it doesn't sound as good as the ones about a motley crew walking into a bar, but then again, this isn't a joke. A plumber, an auditor, and two mortuary assistants have been arrested in Nigeria for stealing a corpse from a hospital morgue. The children of the deceased had asked the morgue to hold their 86-year-old father until the funeral could be arranged; when they visited three weeks after his death, the body was nowhere to be found. Although the suspects were arrested, no details have been offered as to why they abducted the body — or where it is currently located.
What's next? A toaster oven/cremation urn?
Back in 2020, we shared a "novel" concept with you: a bookcase that converts to a casket. Not to be outdone in the furniture-turned-casket category, an Icelandic designer has recently introduced a bed that can be converted into a cremation container. The piece, which is "somewhat awkwardly" dubbed "A Lifetime," looks like a (rather uncomfortable) daybed, but when disassembled, flipped upside down, and put back together, converts into a sleek wooden box. 
A new all-time low
A California news outlet has alerted folks in the La Mesa area to a terrible scam they're calling "a new all-time low." According to CBS 8, a scammer "spoofed" the number of a local funeral home to demand more than $4,000 from a young mother who had recently lost her husband. The vulnerable, grieving widow was stunned by the call, which appeared to come from the same number she'd used when in contact with the funeral home that handled her husband's services. Thankfully, recognized the call as a scam before providing any personal or payment details to the scammer over the phone. 
FaceTime fail
A man who broke into a Louisiana funeral home to FaceTime his friends from the embalming room has been arrested and charged with unauthorized entry to a place of business. The 21-year-old is accused of entering the funeral home between 11 am and noon while the business was closed, accessing the embalming room, and showing a friend several bodies via FaceTime. While details shared with the press don't specifically state that the man was affiliated with the funeral home, one story does say he was not an "official worker" and "was not supposed to gain entry to the embalming room without consent."
Who says you can't take it with you?!
Chances are you've seen folks place some odd things in the casket with their loved ones — and believe it or not, the friends of family members of rock stars don't disappoint when it comes to burying the deceased with mementos. According to Ultimate-Guitar.com, Bob Marley was buried with a guitar, a Bible, a soccer ball, and a cannabis stalk, while Chuck Berry's coffin was altered to accommodate one of his Gibson guitars in the lid. Lynyrd Skynyrd's Ronnie Van Zandt was reportedly buried with his favorite fishing pole, and Elvis Presley went to the grave with a diamond "TCB" ring and a bracelet made by his then-nine-year-old daughter Lisa Marie. When guitarist Dimebag Darrell was murdered in 2004, Eddie Van Halen famously provided his iconic black and yellow Bumblebee guitar from the cover of Van Halen's album Van Halen II to be deposited in Darrell's casket, along with several bottles of Crown Royal whiskey. 
The secret's out
It's more than likely there is no course on search engine optimization (SEO) in mortuary school. But that's ok, because the cool kids at MemoryShare know all about it — and they know how to improve yours … while at the same time making streaming services super simple for your staff. Get ready for a little mortuary math here (also probably not a class):
SEO + superior streaming services + super simplicity + safety and security = 
The MemoryShare not-so-secret sauce for success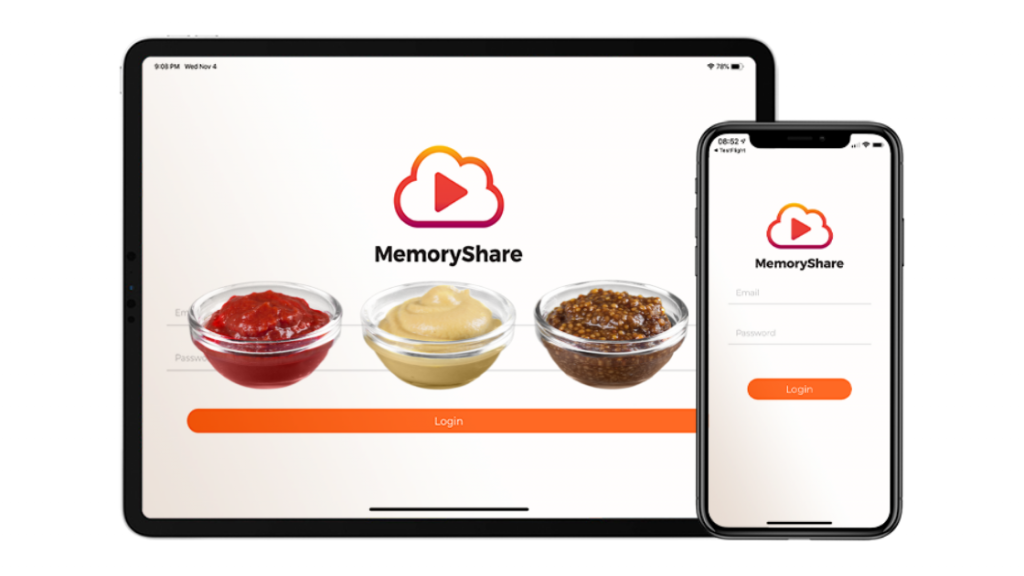 MemoryShare's exclusive app makes streaming super easy; you can record your full service with the touch of a button. By sharing these streams with your community, you showcase your excellent service and create name recognition with the viewers. Aaaannnd that's not all, folks. Because MemoryShare videos are embedded on your own website (and not on the site of a separate streaming provider) your site gets more views, which results in street cred with the search engines. 
Two things funeral homes need in 2023 are visibility and increased call volume. MemoryShare provides both of these things as well as a team of REAL people you can talk to if you ever run into trouble. So what are you waiting for? Learn more about  MemoryShare today!