How Funeral Homes Can Use Apple's Nerd Goggles | FFFW 140
DISCLAIMER: None of the F's in FFFW stand for "facts." Enjoy the satire.
---
Homesteaders Makes it Rain?
What's better than a 25 bps increase in growth on your preneed block? A 30 bps increase! Homesteaders is excited to announce one of the industry's highest growth rate increases – an average of 30 bps on all new business, beginning March 15. Learn more.
---
Three Ways Funeral Pros Can Use "Apple Vision Pro"
Apple just announced it's wearable headgear tech called "Apple Vision Pro." It's an iPhone that straps to your face. No, we have no clue what the long term effects of this are – but who cares? I've thought of three ways you can begin integrating these into your funeral work flow.
1) To confuse the elderly. Grandma just started understanding emojis. Now, you can really get her fired up by asking her to start using alien-tech space goggles to help the preplanning process. She'll love it.
2) Look at new wallpaper. Using the augmented reality, you can finally see what your building would look like if you replaced the 80s wallpaper with something newer- at least something from the 90s. Revolutionary.
3) Disconnect from the reality of grief around you. That's right. You have a heavy job. But, instead of wrestling with that and maybe finding the deeper truths of life- you can just space out. Play some immersive Mario Kart or something. Who needs to think about the harsh reality of life when you can create your own reality? Encourage the families you serve to do the same. I promise, this whole "fake world" thing is really healthy for created humans like ourselves. ---
A Thought.
"Casket" rhymes with "basket." And a casket is kinda just a basket for your body.
"Urn" also rhymes with the word "churn," but it doesn't have a cool connection like casket and basket.
---
The 3 G's (Goofs, Good News, and GIFy Goodness)
Goof of the day: Epic man pulls the greatest prank of all time with an urn.
Good News: Magician Performs Tricks for Shelter Dogs So Their Enthusiastic Reactions get Them Adopted–Watch
GIFy Goodness: Otter Stuff
---
A Different Type of Conference
Over the past two years, 1500+ funeral professionals have participated in the most value-packed virtual (un)conference the funeral profession offers.
We get straight to the point because we know you're busy with things to do and no time to waste. On June 20th and June 21st, we are bringing you curated conversations designed to benefit YOU.
We have an array of other compelling topics lined up that will provide you with invaluable insights, practical tips, and actionable strategies to enhance your funeral home and cemetery operations.
Reserve your spot at the Funeral (Un)Conference today and get ready to revolutionize your approach to funeral services.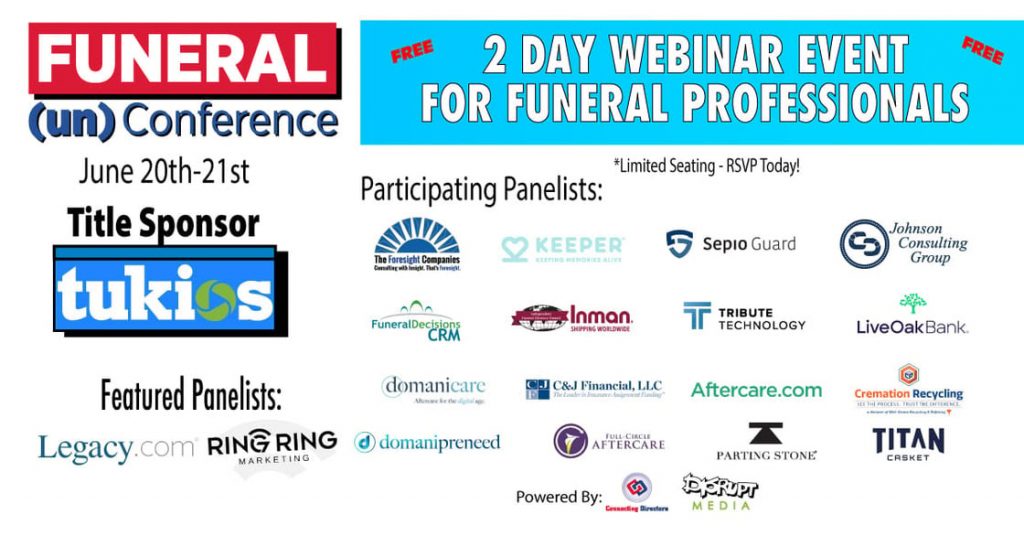 You Otter Be Proud
1) Sahal Laher Joins Batesville as SVP and Chief Technology and Digital Officer
2) Piedmont Expands Into Cemetery Maintenance
3) Women in Funeral Industry are Finding their Calling