Today we're going to show you the 35 most beautiful, purple cremation urns.
The color purple has always carried special significance throughout history. Purple has long been seen as a sign of wealth, royalty, mystery, and majesty; but darker shades of purple are also associated with loss, mourning and sadness. Some cultures even reserve this color solely for mourning the loss of a spouse, and it is seen as irreverent to wear it outside of such solemn and meaningful occasions.
Even with all attributed meanings aside, purple is still recognized and praised for its beauty and deep value, and is loved by people everywhere. Whether you or your loved one adored this majestic hue or you just want to give them a final resting place worthy of royalty, these cremation urns combine elegance and the finest quality craftsmanship with beautiful and varying purple hues and finishes. 
Many of the urns below are also available in other sizes and/or colors, in case you are looking for options apart from the standard memorial urn. A variety of materials and price points are also represented here to provide you with as much variety as possible.
Thirty-five Most Beautiful Purple Cremation Urns
Hand Turned Purple Poplar Wood Urn
This stunning urn is a beautiful example of art meeting craftsmanship. Each urn is composed of hand selected poplar blocks, then hand turned and dyed by the artist to give it its exceptional finish.
The rounded silhouette of this urn is both graceful and regal, creating a poised resting place for your loved one. There is an additional option of a Walnut pedestal with a custom engraved plate, as well.
Hand Blown Glass Keepsake Urn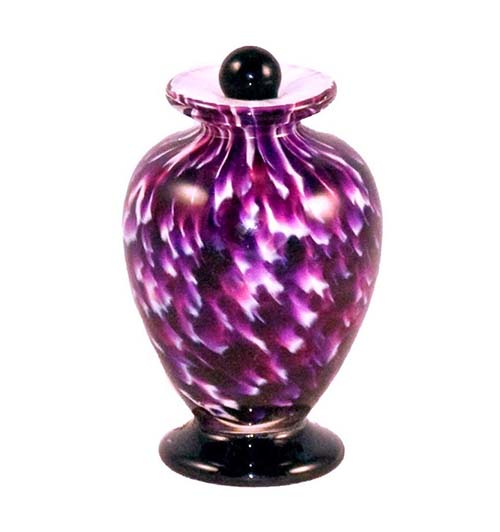 A stunning example of hand-blown glass artistry. Crafted with care in the US, each keepsake urn seems to glow with its beautiful colors and elegant lines.
Vivid shades of pinks, purples, and white bring to mind a flower in bloom, and each piece has a consistent, yet unique pattern created by the glass blowing process. A small urn, meant for a lesser quantity of ashes.
Peaceful Flower Petal Water Urn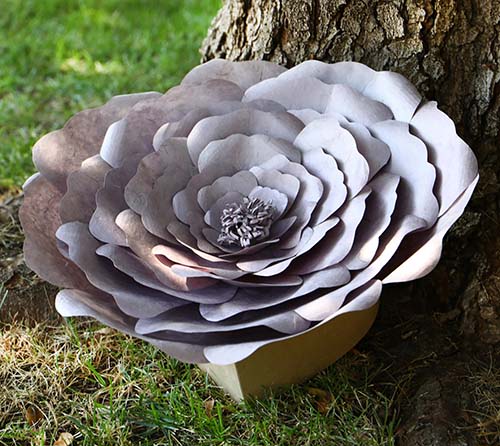 Such a beautiful and delicate way to scatter ashes on the water. This peaceful flower urn is water soluble and biodegradable, and will gently slip below the water's surface after a few minutes afloat.
The bag which contains the ashes is water soluble as well, so the ashes will be dispersed within moments. Release it on the ocean, river, lakes — wherever was most meaningful to them.
Beechwood with Burl and Amethyst Inlay Urn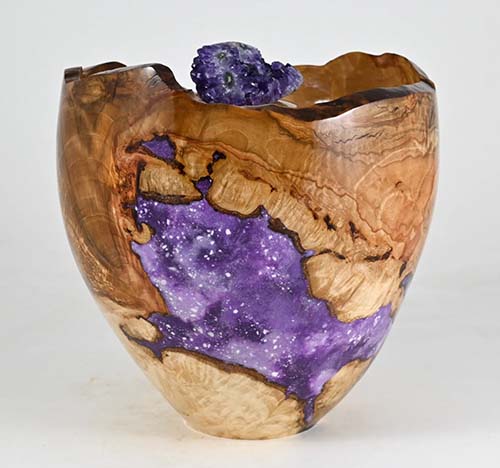 This stunning, handcrafted urn is truly unique — each piece is custom made and one of a kind. Made from locally sourced burl and beechwood and inlaid with purple minerals, this hand turned urn is a work of art.
If you or your loved one enjoyed the beauty of nature and natural elements, this urn would be an excellent choice. Topped with a beautiful, uncut piece of amethyst for an extra special finish.
Abstract Purple Cremation Urn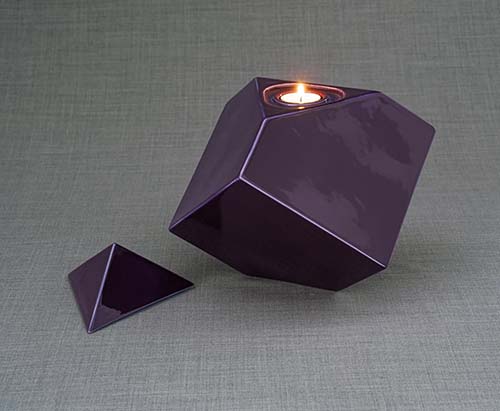 A perfect choice for if your loved one was a modern, minimalist individual. Simple, elegant design makes this piece stand out from the rest, while still being versatile enough to blend beautifully with your home decor.
Wonderfully handcrafted as both urn and art piece, this large piece is finished in a deep, violet purple glaze and has a place for a memorial candle to be lit during times of remembrance. 
Purple Oak Wood Urn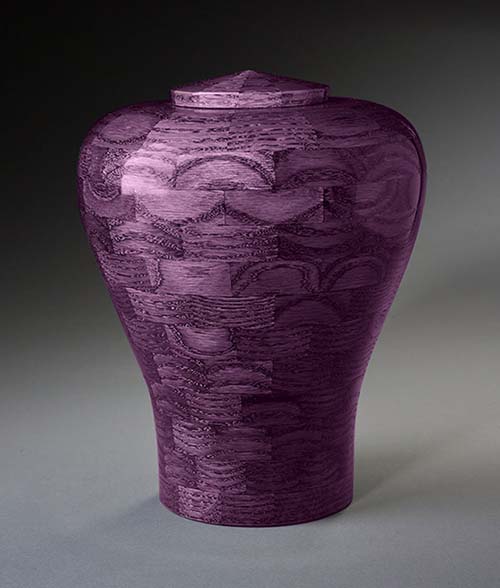 Crafted in the USA from specially selected, individual oak wood blocks, this incredibly made piece of memorial art is unique by nature. The artisans hand turn each urn, to create a one-of-a-kind resting place for those dearest to you.
The beautiful purple dye is also specially created to bring out the beauty of the oakwood grain, and is meant to resemble the beauty of purple lily flowers.
Purple Urn with Pewter Butterflies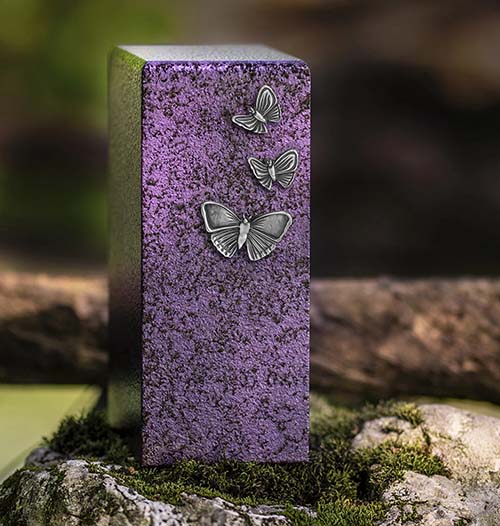 A stunning and modern shape, beautiful and rich color, and handcrafted detail come together to form this wonderful memorial urn.
Crafted from sturdy yet lightweight aluminum, this piece is a wonderful choice if you are looking for something simple that makes an elegant statement. The pewter butterflies add that special something that sets it apart from the rest.
Classic Merlot Cultured Marble Urn
Absolutely stunning, merlot colored cultured marble creates a timeless and lasting resting place for your loved one(s). The merlot color is so rich and vibrant, a perfect choice for anyone who loved purple.
This beautiful urn is also available as a large companion urn, suitable for two individuals, either divided or co-mingled. Laser-engrave these urns for an even more special finish. 
Intricate Silver and Purple Cremation Urn
Handmade and designed with care and beautiful craftsmanship, this intricate purple and silver urn is so elegant and classy. The deep purple hue is reminiscent of royalty and is highlighted by the stunning silver engraving that wraps around the top and base. Made from sturdy yet lightweight aluminum, each urn is fitted with a secure, threaded lid.
Wings of Hope Butterfly Urn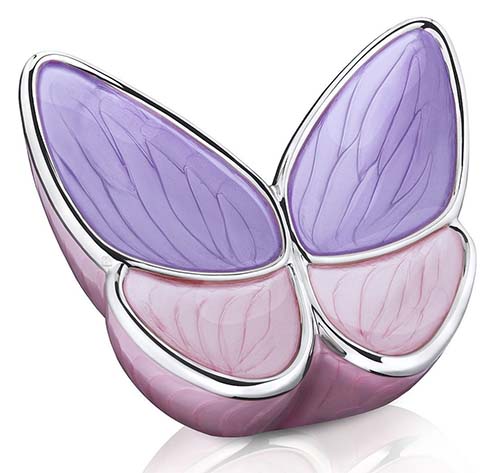 Long seen as a symbol of rebirth and new life, this beautiful butterfly urn signifies just that. Lovingly crafted in soft pinks and purples, the peaceful aura of this urn creates a delicate yet lasting resting place for you or your loved one.
Completed by hand with a pearlescent finish, this aluminum urn is also available as a keepsake urn or memorial jewelry.
Related: Beautiful Butterfly Urns
Handmade Purple Iris Ceramic Urn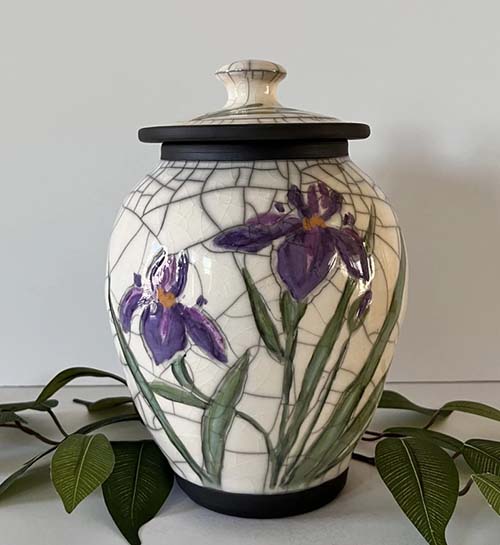 This gorgeous, hand-thrown ceramic urn is decorated with beautiful purple irises and hand painted and glazed. An incredible piece of craftsmanship, each piece is made using the Raku firing process — an ancient and time honored pottery method — to create beautiful and unique finishes.
The irises which adorn each piece represent faith and hope, and are said to connect the heaven and earth realms.
Dyed Poplar and English Boxwood Urn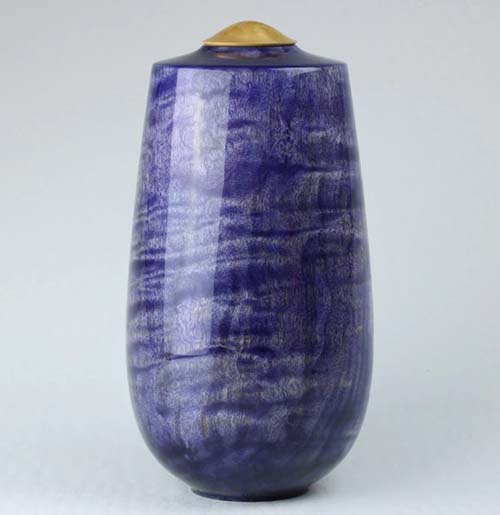 A beautiful memorial urn crafted from a unique wood called "quilted poplar." Each urn is dyed a stunning, deep violet to enhance the natural grain of the wood, then treated with several layers of lacquer to bring it to a polished and lasting finish.
Topped with a wonderful English Boxwood threaded lid for the secured storage of your loved one's ashes.  
Related: Beautiful Wooden Cremation Urns
Ceramic Guardian Angel Purple Cremation Urn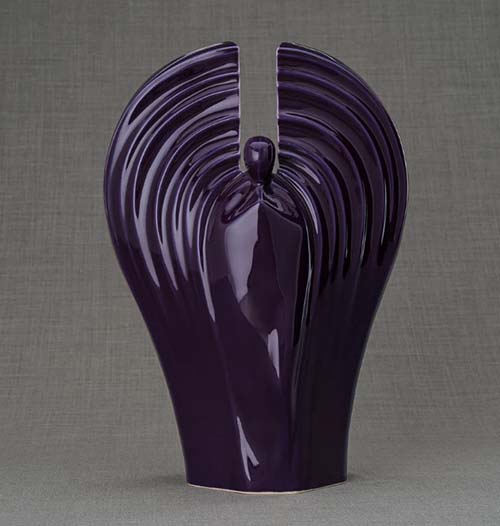 This incredible art urn takes the form of a beautiful guardian angel, always keeping vigil over your loved one's final resting place. The gentle guardian represents divine peace, purity and humility and the beautiful, deep purple glaze brings a feeling of calm and serenity. This large urn is suitable for any interior space, columbarium or garden.
Grecian Amethyst Cultured Marble Urn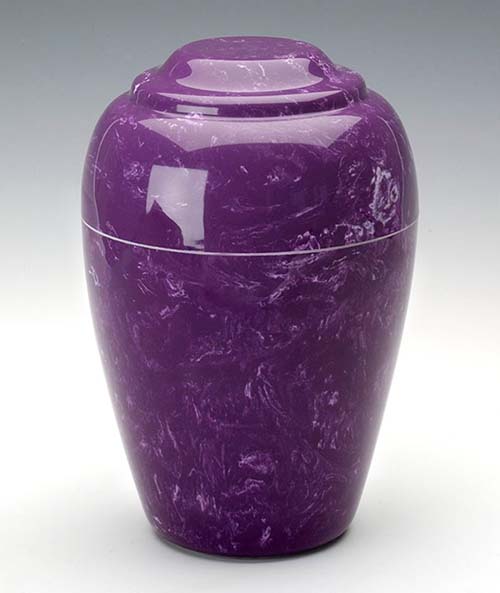 A resting place worthy of a Grecian king or queen. This amethyst, cultured marble urn is so incredibly beautiful and timeless. Crafted with the utmost care and precision in the USA, these stunning vessels are an excellent choice for their superior craftsmanship and quality finish.
Engrave this urn with up to four lines of your personalized inscription to give it an extra special touch.
Teardrop Heart of Love Urn
A beautiful and unique resting place for the one you love. This modern, teardrop urn stands out from the rest with its one-of-a kind shape and layered, petal-like textured surface. The soft violet finish is accented by the sweet red heart that rests in the center.
An urn as lovely and unique as they were, it is the only suitable option when it comes to our loved ones.
Hummingbird and Iris Purple Urn
Did they love the beauty of nature? Hummingbirds and flowers? This beautiful urn would be an excellent choice then.
The peaceful image of a hummingbird and iris flowers are delicately hand painted to create a masterpiece on each vessel. Irises have long been seen as symbols of peace and hope, while hummingbirds are seen as a sign that a loved one's spirit is near. The rich purple hues only add to the meaningful symbolisms of this lovely traditional urn.  
Angel Wing Purple Cremation Urn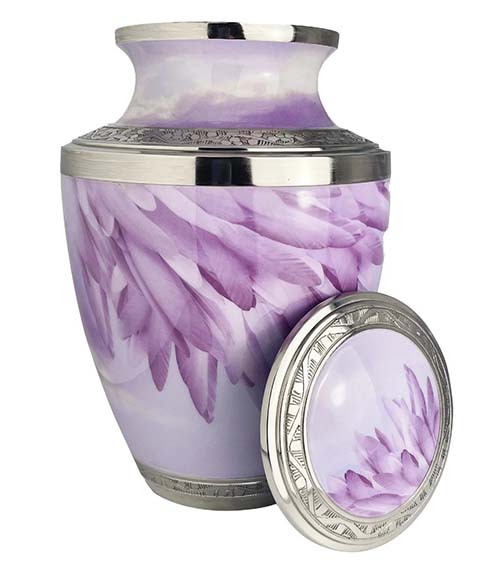 Serene and peaceful, this soft lilac urn is the epitome of a gentle resting place. Beautiful angel wings wrap themselves lovingly around the urn's traditional shape, while the intricate silver accents add a touch of elegance.
While the finish is certainly delicate, the urn itself is made from sturdy aluminum and hand finished. This urn can also be engraved with you or your loved one's name directly on the vessel or on a nameplate.
Small Cube Amethyst Cultured Marble Urn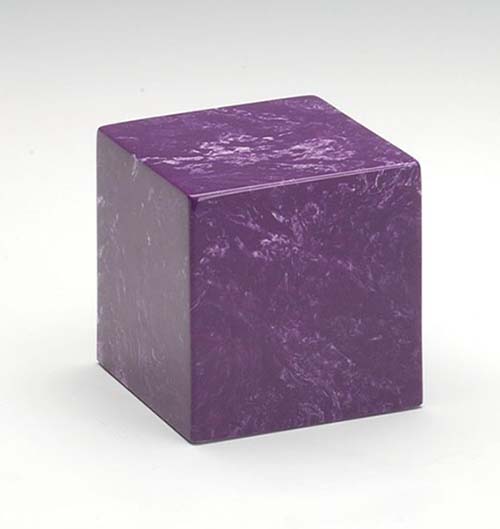 This gorgeous, cultured marble urn is perfect for a keepsake or scattering urn. Small and dainty in size, but they still make a statement. You can have these beautiful little urns laser engraved, too, to add a special message or name and dates.
Just four inches square, you could easily keep this urn with you in your home or office, or give multiples of them to members of the family as keepsakes.
Purple Pillow Water Urn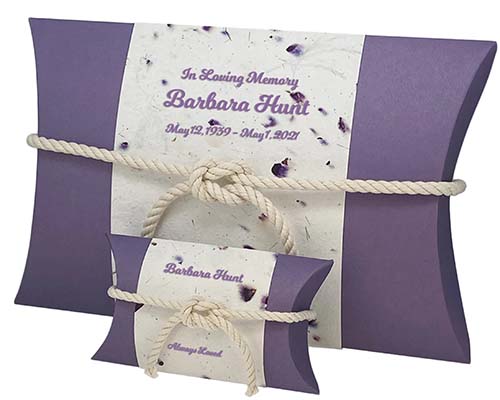 These purple pillow water urns are an excellent choice for water scattering.
Completely biodegradable and water-soluble materials make these urns environmentally friendly, while still being sturdy enough to toss from a ship if you so desire. After minutes afloat, these graceful pillow urns will slip below the surface where your loved one's ashes will disperse from the water-soluble bag contained inside. 
Cracked Glass Mosaic Metal Urn
Both a loving memorial and a beautiful work of art. These stunning metal finish and glass mosaic urns are handcrafted, so each piece is unique. Primarily made from purple and lilac glass, the colors of the cracked glass gently shift into blues and greens to create the stunning mosaic surface.
Available with either silver or gold metal finishes, and in both large and extra- large sizes.
Solid Cherry Wood Urn with Purple Heartwood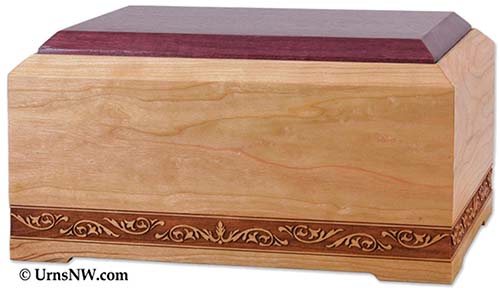 Purple heartwood is prized for its beautiful, naturally occurring purple hues and its rarity. Lovely, New Orleans cherry wood is delicately crafted to form an elegant base that supports the stunning purple heartwood lid. The laser engraved details are simple, but pretty and reverent.
Crafted in the USA of superior workmanship, this pretty urn can also be laser engraved with a personal inscription.
Purple Galaxy Mosaic Glass Urn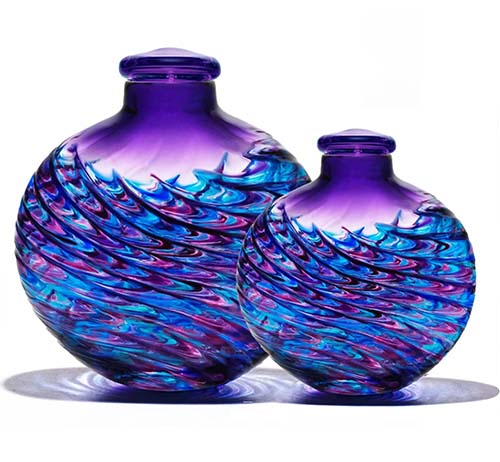 A wonderful piece lovingly crafted to provide a peaceful, meaningful resting place for your loved one. Did they love the stars and the beauty of the night sky? Were the realms beyond our galaxy something they always longed for?
Whether this is the case or whether you simply love the stunning purple and blue glasswork, this lovely glass urn is an excellent choice.
Rosewood Purple Cross Urn
A wonderful example of a hand carved urn, these beautiful, rosewood memorial urn boxes have a rustic charm to them.
The craftsmanship is exquisite and detailed, and each piece is hand painted with either silver and violet or gold and violet accents. This box style urn opens from the bottom panel and is secured with screws
Hand Painted Sugar Plum Urn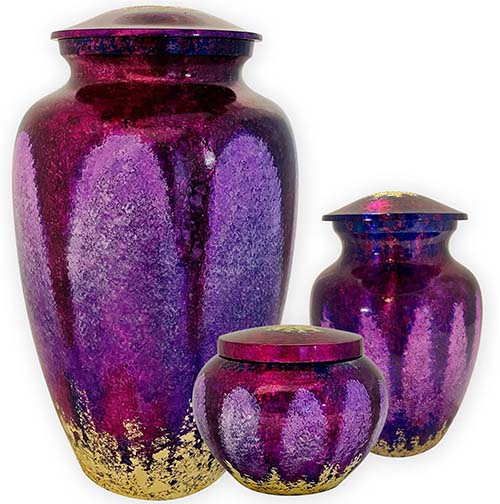 Amazing craftsmanship, detail, and stunning glaze colors all meet in this "sugarplum" urn. Handcrafted with care, these urns are available in three different sizes and shapes including a "keepsake" size for other family members to keep.
Each piece is individually painted, so the slight variations in surface pattern make each vessel beautifully unique. A wonderful choice for a traditional style urn.
Purple Kaleidoscope Tie-Dye Urn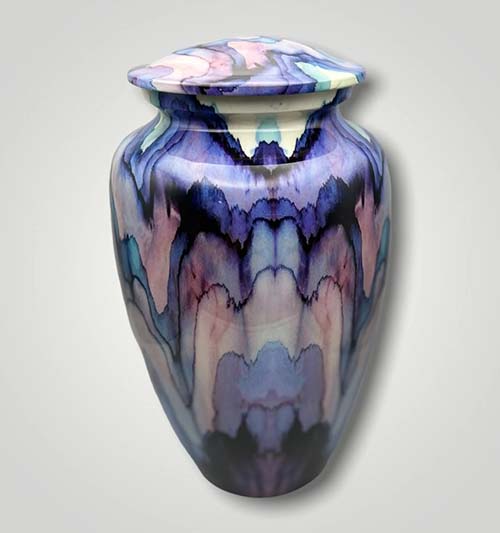 This full-sized memorial urn is so beautiful. Deep, varying hues of purple mix with soft wisps of pink, blue and hints of green to create a true kaleidoscope of color. Bring to mind all of those wonderful memories each time you see its mellow finish and entrancing patterns.
Fitted with a tightly threaded lid so there's no need for it to be sealed. 
Amethyst Marbled Purple Heart Urn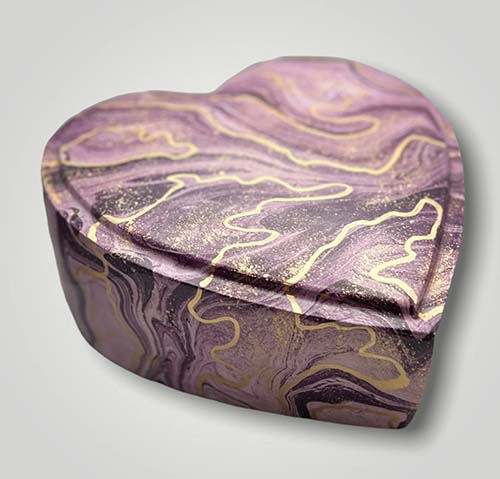 This amethyst, marbled heart urn is so unique and stunning. The hand painted finish is a mix of warm purple hues and elegant gold to resemble real marble, but without the extreme weight of real marble.
The urn is one, solid piece of well-crafted aluminum that has a threaded closure from underneath. Modern and yet still very elegant, this heart urn is a wonderful choice.
Jacaranda Memorial Tree Urn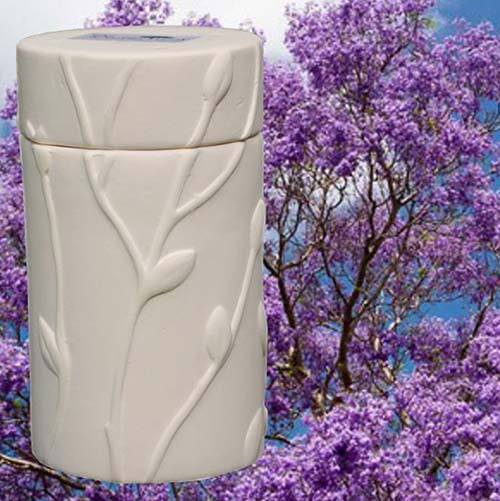 Return them to the nature that they loved so dearly. These beautiful memorial tree urns are so special, and create a lasting legacy of your loved one within nature.
This particular tree urn is the Jacaranda tree — a vibrant, glowing purple flowering tree. A large tree, the Jacaranda is adorned with lush, dark green leaves when it isn't in bloom and is most suited to growing zones 8 and 9. Rather than harm, your loved ones' ashes will nourish the young seeds as they take root and grow into a lasting reminder of the vibrant life of your loved one.
Hummingbird and Lilac Urn
Another stunning example of a purple hummingbird urn. Keep their memory and spirit close with this gorgeous, enameled brass urn. The soft lilacs follow the sides of the urn to frame the dainty hummingbird in flight.
Full of deep meaning and beauty, this piece is a wonderful choice for anyone, especially those whose spirit you want to keep with you.
Wings of an Angel Gold and Purple Cremation Urn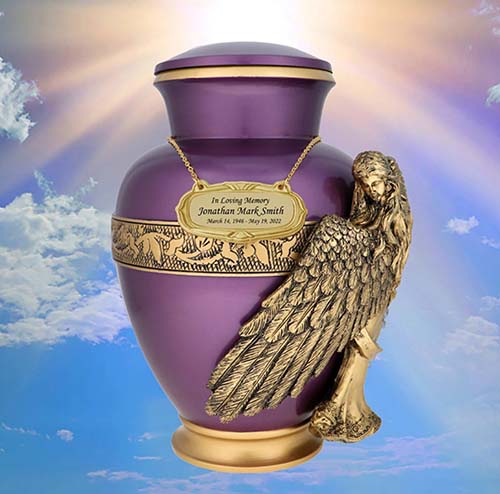 This elegant urn is wrapped in a peaceful angel's embrace. Beautifully designed by hand, the angel is also hand painted and detailed for the most exquisite finish possible. The warm purple finish is satin, and the gold accents complete the piece. This urn also includes a gold nameplate that can be engraved to your specifications.
Mother of Pearl Dove Inlay Purple Cremation Urn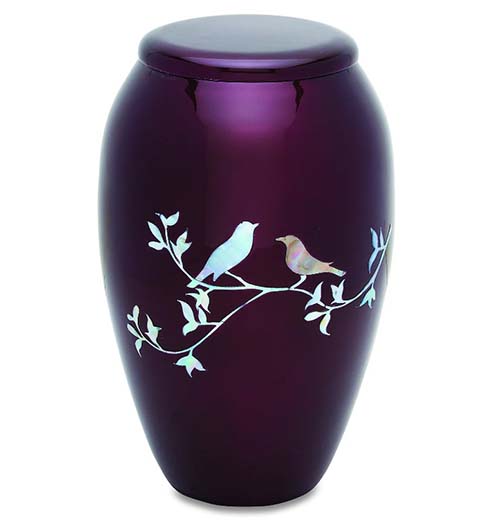 A beautiful pair of mother of pearl doves are inlaid into the vibrant purple glaze of this traditional memorial urn. Doves have long signified peace and freedom, especially in memorial settings, and this elegant pair delicately adorn this lovely urn.
Well-crafted aluminum with a secure threaded lid keeps your loved one's ashes safe and secure.
Merlot Olympus Marble Urn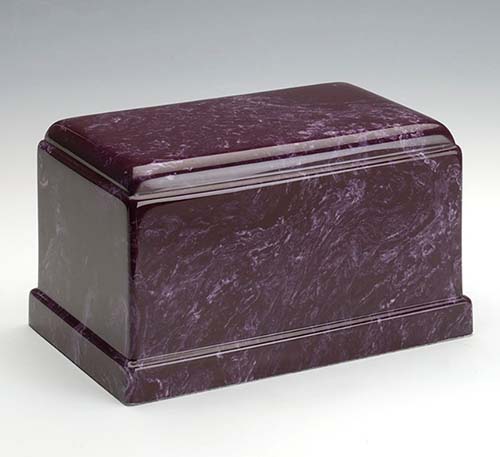 Graceful lines and a beautiful finish adorn this timeless urn. This piece looks worthy of royalty with its rich, deep merlot color and elegant, cultured marble composition.
Crafted with expertise and care in the USA, you won't find another piece quite like this. A perfect choice for your loved one's final home, you can have this urn laser engraved as well for a more personal touch.  
Related: Cultured Marble Urns
Lilac and Silver Rose Urn 
So sweet and soft. This lovely urn is beautifully adorned with a silver rose in full bloom surrounded by a field of warm lilac. Maybe they loved flowers, especially roses. Maybe they just loved anything pretty and delicate? This urn is an excellent choice whatever the case may be.
Made from durable cast brass, this piece will stand the test of time and keep your loved one's cremains safe for a lifetime.
Eternal Harmony Marbled Urn
The beautiful, violet-purple marbled finish of this traditional style urn is so timeless. A perfect final resting place for your loved one, each vessel is crafted and finished by hand to provide exceptional quality and durability.
Suitable for any niche, home, or vault; keep their cremains safe in this threaded close, aluminum urn.
Sparkling Cosmic Purple Cremation Urn
Give them their own little piece of the galaxy to rest in with these beautiful cosmic urns. As stunning as the night sky, the sparkling finish of these lovely urns is as unique as they were. Each urn is hand finished for superior quality and craftsmanship. Available in small, large and keepsake size options.
Read Next: 8 Things to Know About Cremation Urns