Reflections by Duey Formally Launched
Themed Lifestyle Murals Add Unique Personalization to Any Funeral Service
Kansas City, Missouri – Duane "Duey" Williams has announced the national release of his Reflections by Duey displays. These high-resolution backdrop murals are designed to be placed behind the casket or cremation urn in the funeral home during visitations and memorial services to help personalize the event. 
Duey is no stranger to funeral service, having graduated from the mortuary studies program at the University of Minnesota more than forty years ago.  After working as a licensed funeral director, he joined Batesville Casket.  Following a twenty-year sales career at Batesville, Duey purchased a trade show display business in 2000.  Reflections by Duey combines his passion for funeral service with his expertise in the display business.
"As human beings, we select the ideal venue for our weddings, birthdays, or other life celebrations; therefore, the final event of our loved one's life should echo who they were, what they treasured, and what they will leave behind as a remembrance," stated Duey.  "Creating the picture-perfect setting with a themed lifestyle mural creates a special touch to any funeral service – whether burial or cremation.  These murals also make a great personalization element to any funeral home's service packages."
Reflections by Duey offers 15 different backdrop designs, with themes that include sports, hobbies, patriotism, and other special interests.  Each picturesque mural is 8' x 10' and is completely portable for easy set-up and storage.  Funeral homes can easily add $75 – $100 per call through the use of these murals.  Given the affordable purchase price to own the displays, the murals can pay for themselves in a very short time!
Duey created his first display murals for funeral homes in the Midwest, shortly after he purchased his display business.  However, the demands of running the display company took precedence over the further development of the funeral murals.  At the urging of funeral directors, the timing appears right to now expand the Reflections by Duey program.
"Being able to customize the experience for families is what separates the truly innovative firms from all the rest," stated Brad Speaks, President and CEO of Speaks Chapels in Kansas City, MO.  "We have used these murals for approximately 20 years and feel that our families are very well-served by them.  With multiple scenes to choose from, we can find something that fits almost any family."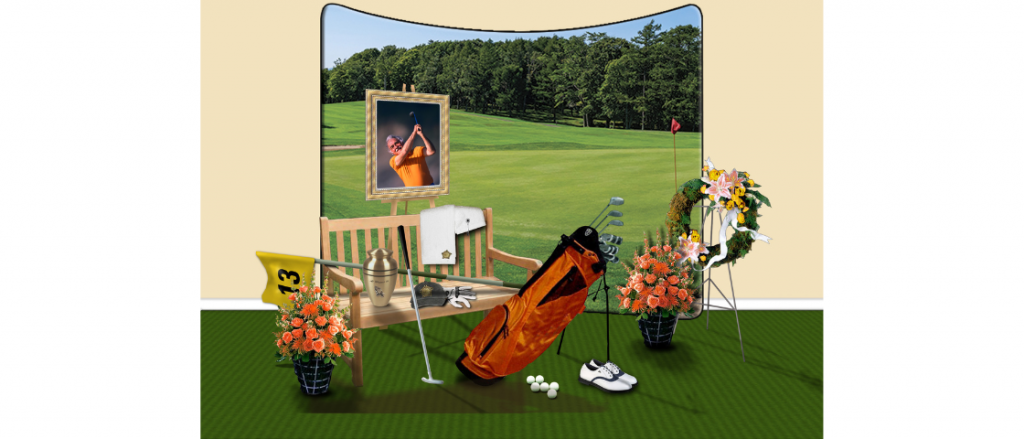 "My heart and soul have always had a soft spot for families and the funeral profession," added Duey.  "I look forward to renewing my many relationships in funeral service and helping funeral directors to grow their firms' revenue and family satisfaction through the use of Reflections by Duey murals to personalize funeral services."
Visit reflectionsbyduey.com for more information or call Duey at 913.707.2210.