Let's talk about Christmas memorial gifts and how to give them in a sensitive, caring way.
It's the holiday season, and someone close to you has lost a loved one. The natural tendency, for many of us, is to emit some generic phrases of condolence, then avoid the topic altogether. Don't do this.
Take the effort to learn a few things to avoid when someone has lost a loved one. Then, even if you mess up and stick your foot in your mouth, take the time to show them that you care by your words, actions, or gifts.
Our website is supported by our users. We sometimes earn a commission when you click through the affiliate links on our website. Learn more here.
Stuck on those generic condolence phrases? Here are the 10 best and worst things to say to someone who is grieving.
Christmas Memorial Gift Etiquette
A better way is to be direct, honest, and open. Tell them you're not sure what to say, or that you'd like to help but are not sure how. Bring them a meal. Text them to say you're thinking of them, praying for them, missing their loved one as well. Watch a movie together. Bring popcorn, or a favorite tea.
Related: 22 tips on caring for someone who is grieving.
You're probably reading this because you're looking for ideas for holiday memorial gifts. Our advice is this: don't tiptoe around the mistletoe this Christmas season.
Feel free to get your friend or family member a gift that shows you're thinking of them, thinking of their departed loved one, and would like to honor their memory. Include a note that says as much.
Of course you want to be wise about all this, and avoid going overboard. But it's perfectly fine to express your own personal grief (whether it is for the deceased, or for the pain your friend/family member is experiencing) in a thoughtful, conscientious way.
Most people tend to pull back from those who grieve, so your efforts will be appreciated. As the winter holidays approach, holiday memorial gift can be a comforting expression of your support and love.
Holiday Sympathy Gift Etiquette Tips
Include a note (here are tips on what to say in a sympathy gift card)
Use the decedent's name; this helps affirm that the mourner in their grief
Consider giving the gift in private or with only the closest family around; this helps preserve the recipient's dignity in case they are overcome with emotion
Don't expect a specific response; remember that each person responds differently to grief
Some people might under-react ("uh, oh, thanks, I guess") or overreact (break down crying and leave the room); expect either and just go with it
Avoid insensitive sympathy gifts that could induce guilt or imply that they should just "get over it"; these include gym memberships, exercise equipment, healthy eating cookbooks, various self-improvement books, anything involving dating (after the death of a spouse) or having/adopting children (after the death of a child); basically, use common sense
Remember that the gift is not about you but rather is for the grieving person, to honor their loved one
11 Thoughtful Christmas Memorial Gifts
Here are eleven of our favorite Christmas memorial gifts.
1. Christmas Memorial Lighted Lantern
This pretty Christmas memorial lantern is a wonderful way to keep your loved ones present during the holidays. Beautifully designed and handcrafted with care, the delightful little home Christmas scene is highlighted with two pictures of your dear ones.
You can customize a lot of the little details as well, to make it extra special.
2. Personalized Memorial Note Necklace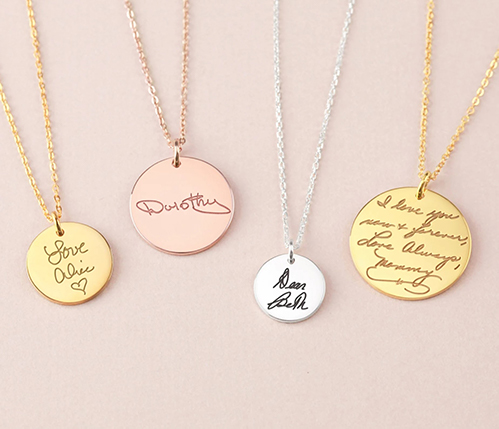 If you have a personal message of comfort to give to a grieving family member, or if the decedent had a beautiful signature or a treasured love note, turn it into a permanent keepsake with this custom made memorial necklace.
Take a photo of your loved one's handwriting, send it to the seller, and they will create from it a sterling silver necklace pendant that will warm the heart. One of our favorite Christmas memorial gifts.
3. Willow Tree Remembrance Gifts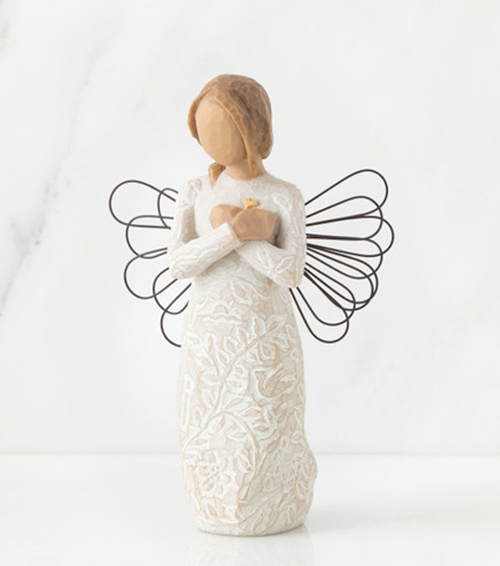 The Willow Tree Figurine Collection are a lovely set of figurative sculptures that "speak in quiet ways to heal, comfort, protect and inspire." Popular, elegant, and affordable, these figurines convey peace during troubled times.
A lovely carved figurine that represents a loved one will be a treasured Christmas memorial gift for a friend or family member this holiday season.
Related: The 10 Best Willow Tree Sympathy Gifts
4. Personalized Bird Feeder Memorial Gift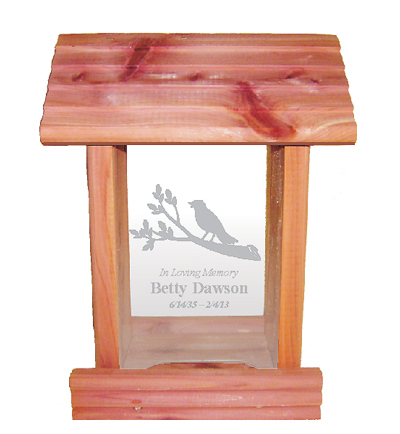 Cedar wood bird feeders make a uniquely appropriate and appreciated holiday memorial gift. Made in the USA from real cedar wood, each feeder comes with a personalized laser engraved acrylic panel that includes the individual's name and dates. The back panel can be customized as well.
Shown above we have the "Bird on a Branch" design, and we also have many more designs available including military emblems, various hobbies/interests, and a completely customizable version.
This is our very favorite memorial gift idea, not only because it is cool and customizable, but because it has an element of life to it. By feeding the birds, you draw nature close in, and in a small way you enter the cycle of life. It's also comforting to simply watch birds, and it will remind many people of how their loved one enjoyed bird watching.
5. Rocking Chair Christmas Memorial Display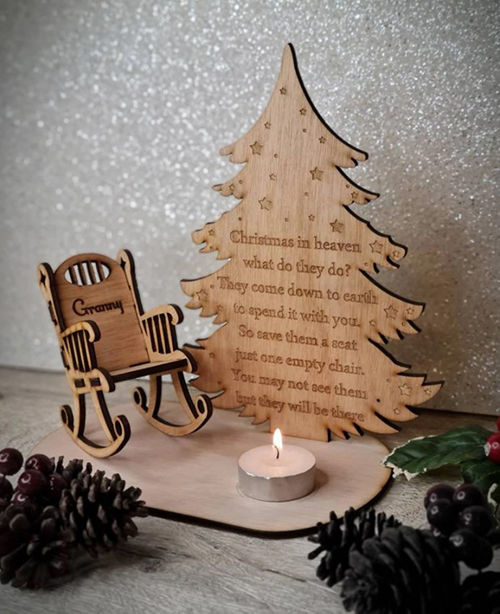 How sweet and special is this Christmas candle memorial? Beautifully crafted and customized, the little rocking chair can be engraved with up to three names or titles.
The pretty tree, too, is engraved with a lovely poem to remind us that our loved ones are never far from us during the holiday season.
6. In Loving Memory Christmas Ornament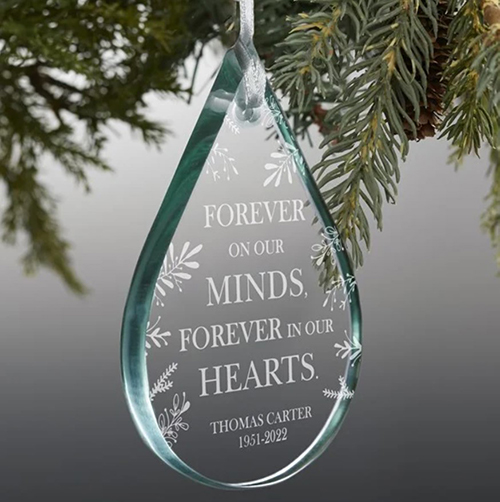 A personalized memorial Christmas tree ornament is a well-balanced gift idea. It's custom, yet affordable; unique, yet not weirdly so; it draws attention to the death of a loved one, yet won't stand out among a tree filled with decorations.
More: 35 Gorgeous & Heartwarming Christmas Memorial Ornaments
7. Christmas Memorial Candle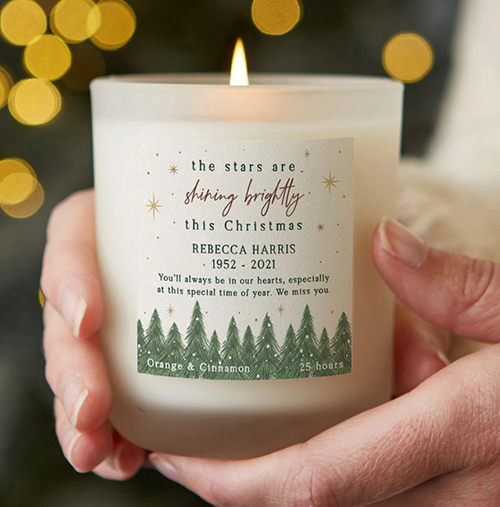 Candles and memorials go hand in hand, and this pretty candle is perfect for the holiday season. The beautiful winter scene illustrated on the frosted glass paired with the name of your loved one, makes for a perfect way to keep them close.
Choose from ten lovely scents — your favorite or maybe theirs — to bring them to mind each time you light it.
8. In Loving Memory Bottle Opener

A simple but thoughtful memorial gift idea, paying homage to the departed one's memory while providing a useful and heartwarming gift.
Ideal for friends and family who enjoy camaraderie over a shared bottle of wine. Includes personalization on one side; optionally, both sides can be engraved. Works perfectly as a stocking stuffer or to accompany a holiday wine gift or wine club membership.
9. Custom Memorial Keepsake Box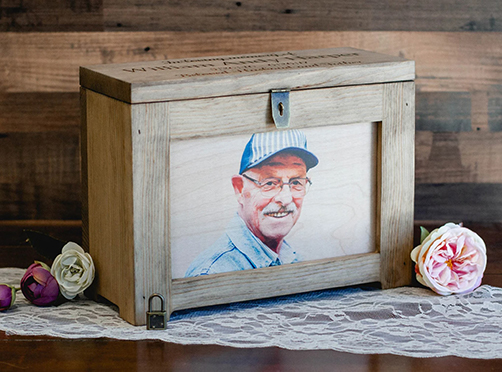 This beautiful custom urn will look lovely on the mantle or in the columbarium. Perfectly suited for keeping ashes or the keepsakes of your loved ones, these rustic, handcrafted pieces can be printed with the photo of your choice.
Choose from cherry wood, walnut, mahogany, cedar or pine and have it engraved with their name and a special sentiment.
10. Cremation Urn as a Holiday Memorial Gift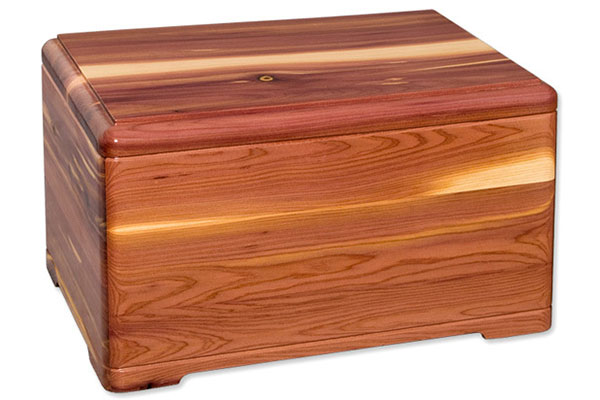 Funerals are very expensive. One simple way you can contribute is by using the holiday season as an excuse to purchase the cremation urn for the bereaved family.
Find out what type of memorial they would prefer, ask them about personalization (how they'd like an inscription to read), and tell them you'd like to order it for them or pay for it as a Christmas gift.
Unless you know 100% that they want a specific urn but can't afford it (or are waiting until "after the holidays" to order), it's probably not a good idea to get them an urn as a surprise gift. Dealing with cremation urns can be an emotional subject, so it's best to approach this idea openly and with the family's best interests in mind, even if that means changing up your own plans.
 11. Tealight Keepsake Urn Memorial Gift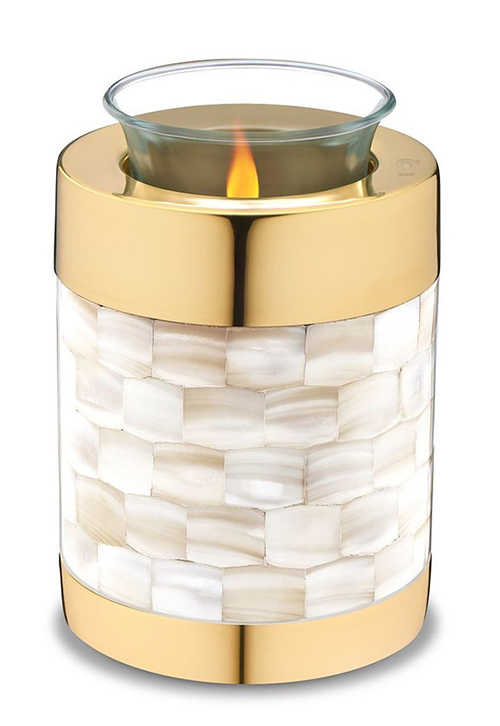 If giving the 'main' urn as a Christmas memorial gift doesn't work out, you can go a slightly different route with one of these tealight keepsake urns. As a working tealight, these beautiful memorials don't have to be used as a cremation urn at all but can shine out in memory of the loved one as a home decor piece.
But this gives the family the option of placing a small amount (a little over a cup) of remains into the tealight, and is especially useful when small portions of the ashes are shared among different individuals. For more designs, check out these here.
12. Personalized Wind Chimes Memorial Gift
A beautiful sonnet emerges from the ash wood and anodized tubes, creating a heartwarming melody in memory of a loved one each time the breeze passes by. The wind sail includes custom laser engraving of a memorial message.
13. Custom Made Bereavement Pillow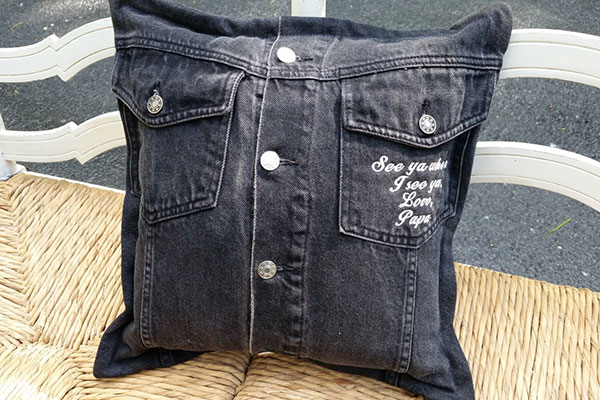 A completely one-of-a-kind memorial, this crafty Etsy vendor has created a very personal gift idea that repurposes a loved one's clothing into a comforting gift that you or someone you love can use every day at home:
Recently, a close friend's father passed away. I searched and searched for a sentimental, quality handmade gift to give her with no luck. That is when I decided to design a few.
This 14×14 pillow is a wonderful way to keep your loved one's memory alive. It is fabricated from a shirt that your special someone used to wear. It can be adorned with a heart embroidered with the verse: "This is a shirt that I used to wear. Whenever you hold it, know that I am there." You can have it made with or without the embroidered verse, depending on your preference.
14. Hummingbird Memorial Bell Chime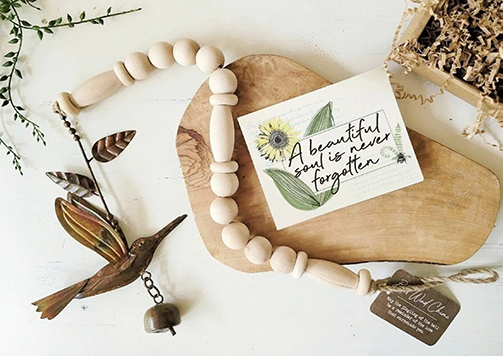 A beautiful reminder for anyone who has lost a loved one. These dainty hummingbird chimes are handcrafted with care and include a pretty watercolor card with a personalized message.
Hang them indoors in the window or even on the porch and listen to their sweet chime. You can also include a pretty necklace to be worn as remembrance jewelry.
Related: Hummingbird Memorial Gifts
15. Angels Are Always Near Memorial Feather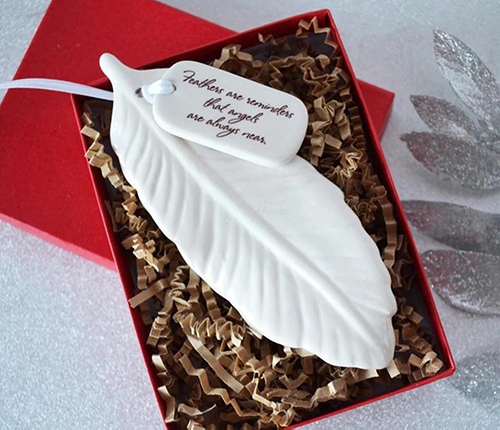 There's a belief that feathers mean an angel is nearby, and this pretty piece is a great reminder of that. This ceramic feather will make a beautiful ornament for your Christmas or holiday tree.
Handmade and beautifully packaged, this sweet feather will make a wonderful memorial gift for anyone.
Read Next: How to Celebrate Christmas in Heaven