There is an old folklore saying that, "When God sends a cardinal, it's a visitor from heaven." Because of this saying, some wonder if the appearance of a Red Cardinal in their yard could really mean something special. 
Depending on people's different cultures, backgrounds, or beliefs, they attribute different meanings to the appearance of these lovely birds. Some take it as a sign that their loved one is near in spirit, like a spiritual messenger of sorts. Others see them as symbols of hope in tough times. There is even a common belief that they bring good fortune. 
While there are many different interpretations of what their presence may mean, the fact that cardinals carry significant symbolic value is certain.
Let's take a look at the legacy of this quote and the memorial tributes it has inspired.
Red Cardinal Meaning
Cardinals are beautiful birds that represent devotion, monogamy, and loving relationships. In connection with departed loved ones, the presence of a cardinal signifies beauty in the midst of darkness, hope in the midst of sorrow, and renewal in the midst of winter.
Whether cardinal symbolism came from the folk proverb, or the proverb came from the traditional symbolism, many people are reminded of the presence of a departed loved one or family member when a Red Cardinal visits their yard.
This may also be the reason why the lovely Cardinal Cremation Urn with Wood Inlay Art has been one of our most popular memorial urns for years.
When God Sends a Cardinal Quotes
Here's a pithy, poetic version of this traditional quote:
"Cardinals appear when angels are near."
The quote below appears to have come from a poem and blog post by Victoria McGovern. Here's the context of the fuller version:
May you come to find comfort in and remember:
Cardinals appear when angels are near.
So go now, sit outside and drink your tea.
Keep a look out for the little red bird —
It is there, your loved one will be.
I've also seen the quote phrased in other ways:
When God sends a cardinal, it's a visitor from heaven.
Cardinals appear when loved ones are near.
When you keep seeing a certain type of bird, it is usually a heaven-sent messenger of love for you.
When a cardinal appears in your yard, it's a visitor from heaven.
Find more sympathy quotes about cardinals & departed loved ones here.
Christians & Cardinals
As a Christian, I have to be wary of trying to divine too much meaning from circumstances. God's Word is clearly revealed to us in the Scriptures, and the Bible is sufficient for all we need.
For example, why should we have to wonder about the meaning of beautiful red birds flitting by our windows when we have this great comfort directly from Jesus himself: "I have told you these things, so that in me you may have peace. In this world you will have trouble. But take heart! I have overcome the world." (John 16:33)
Still, God's glory and care is shown to us through the beauty of nature. God is in charge of every sparrow and every hair on our heads, so He certainly can ordain the movements of a cardinal.
So if the appearance of a cardinal in your yard reminds you of the gift God gave you, allowing you to recall the time you had with your loved one, by all means give thanks to Him for it!
When a Cardinal Appears Memorial Art
Let's take a look at some of the different ways the memorial quotes based on this popular belief have been utilized. Here are six of the most beautiful cardinal quote memorial plaques and art pieces we've found.
When God Sends a Cardinal Bird Feeder Sympathy Gift
This gorgeous Cedar wood bird feeder is the perfect sympathy gift for anyone who is a bird enthusiast, or simply loves the positive message of a cardinal sighting. We can use any version of the quote you prefer — "When cardinals appear, loved ones are near," and so on.
These bird feeders are built to last for a very long time (made in the USA), and feature a cardinal art image along with the quote on the front panel. Plus, it includes your loved one's name and dates personalized below an "In Loving Memory" inscription.
You can add even further personalization to the back panel if you would like. Available at Urns Northwest.
Cardinal Pair Tin Sign
This pretty tin sign features one of the most common variations of the cardinal quote. The beautiful Red Cardinal bird and its mate are front and center, and we love the elegant font they picked for the lettering. 
Wood Panel Wall Hanging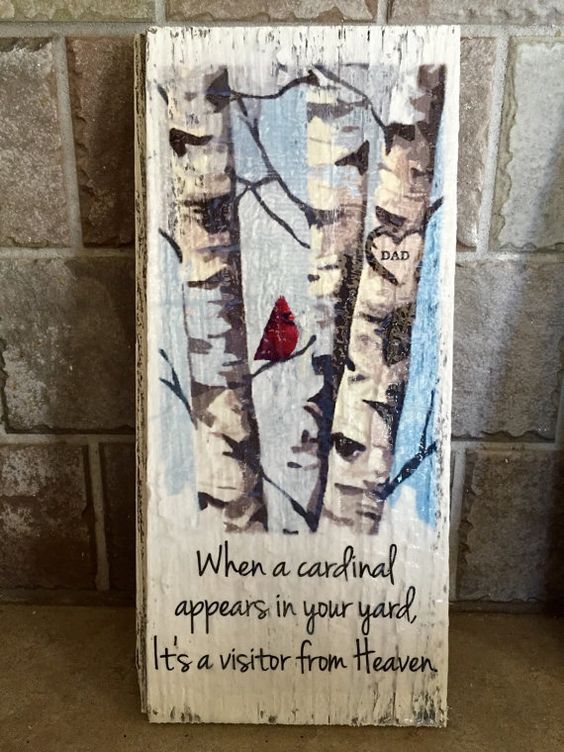 This is a lovely wooden wall hanging. I like this one because the cardinal's bright red color looks so pretty against the thicket of birch trees. Plus, you can have your loved one's initials carved into the tree!
Framed Watercolor Print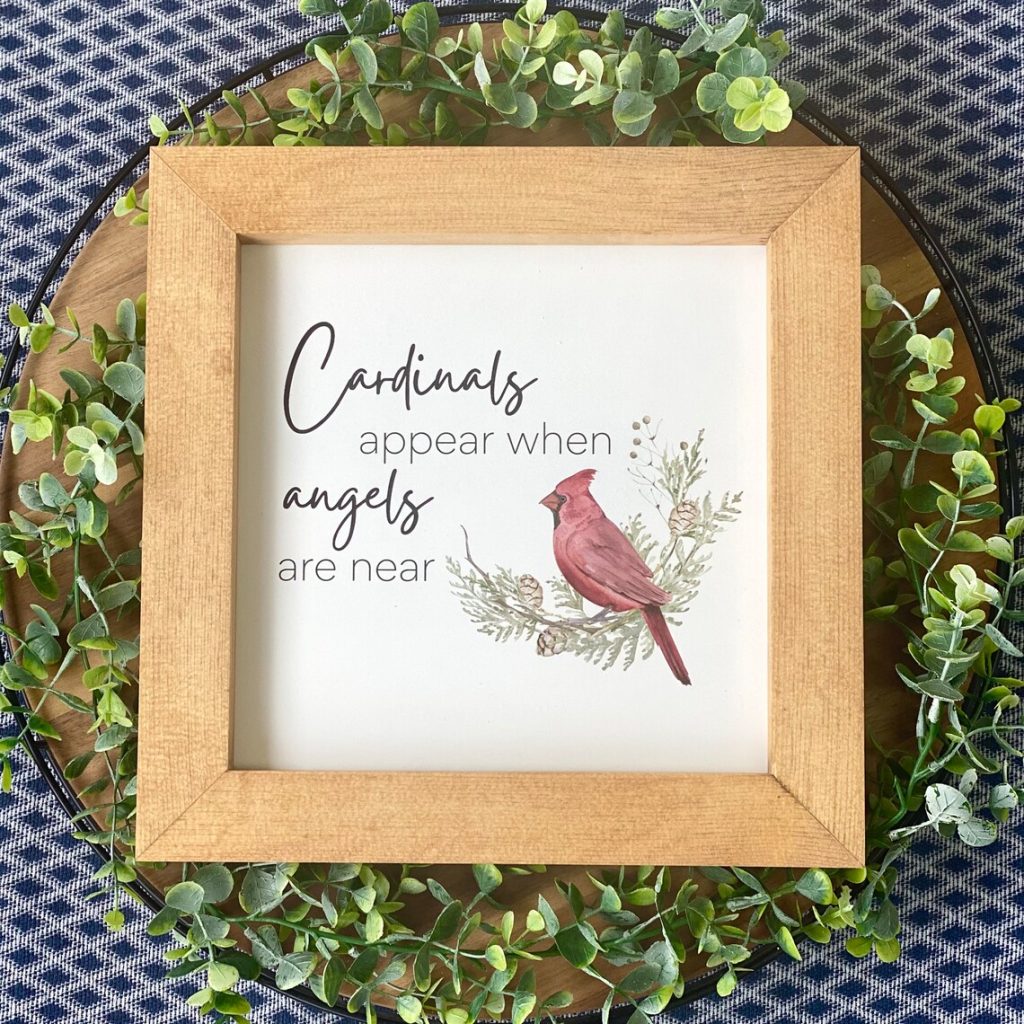 This lovely, hand crafted wall art piece is so elegant. The bright red cardinal has a watercolor feeling to it, and the hand lettering is so pretty. The frame is available in five different finishes, and the piece itself is available in three sizes.
Poem Scroll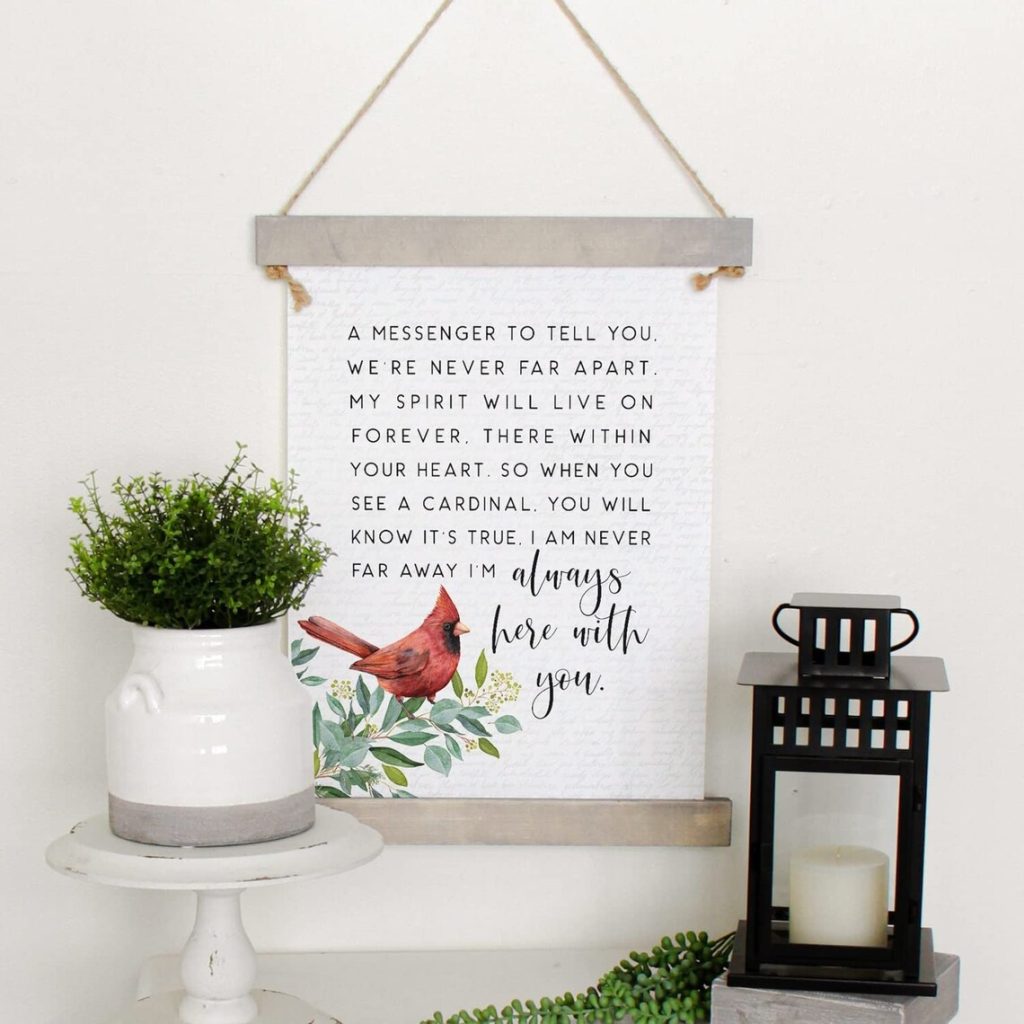 This canvas banner features a much longer message of comfort and will be a special reminder each time they see it, especially during difficult times. The next time a cardinal lands in their yard, they'll think of this inspiring passage and the meaning of the Red Cardinal.
Mod-Podge Wall Hanging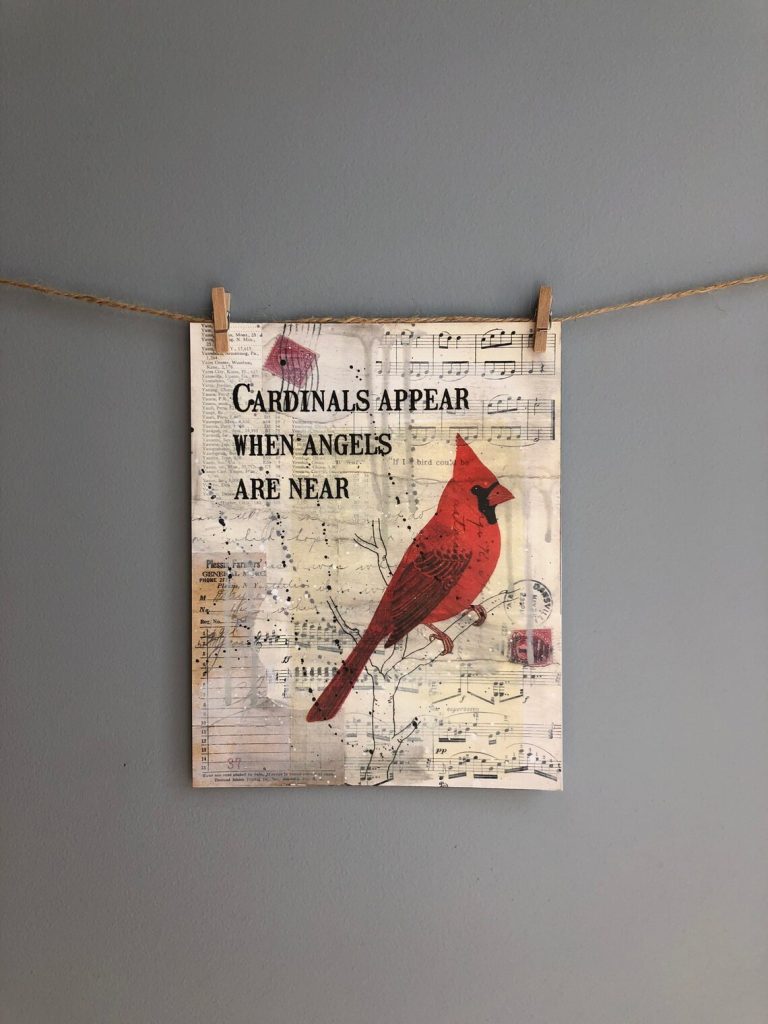 This mod-podge, craftsy style sign is so sweet! The vibrant red feathers of the cardinal stand out against the neutral beige of the background, and the cute twine hanger gives it a bit of a rustic feel. 
---
You can also get this quote engraved onto other products, such as a wooden plaque or a cedar wood bird feeder. Either of the two items below are 100% customizable at no additional charge.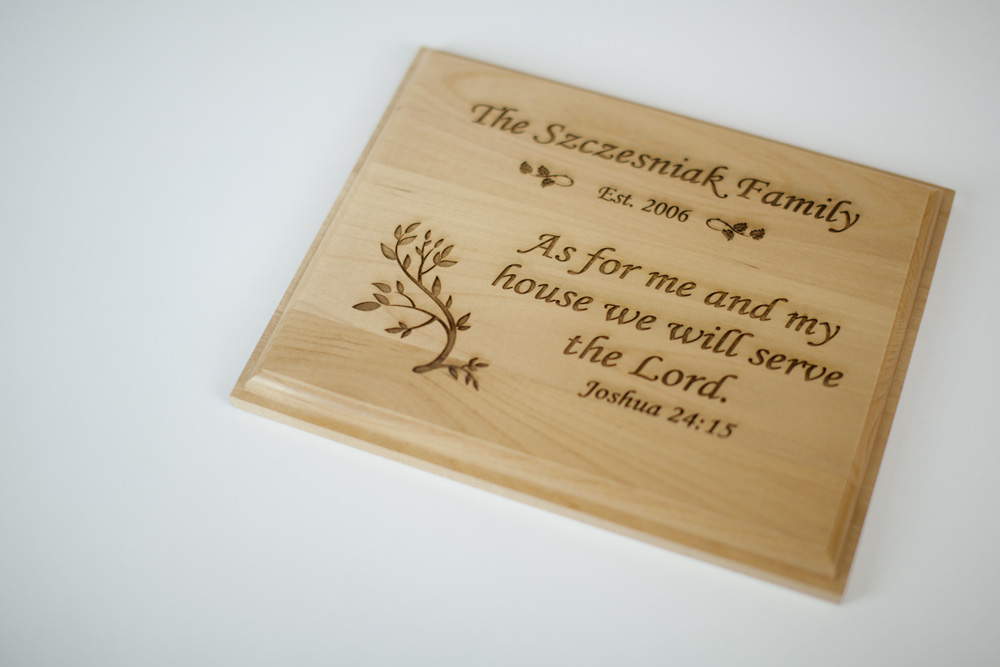 Browse custom engraved plaques here.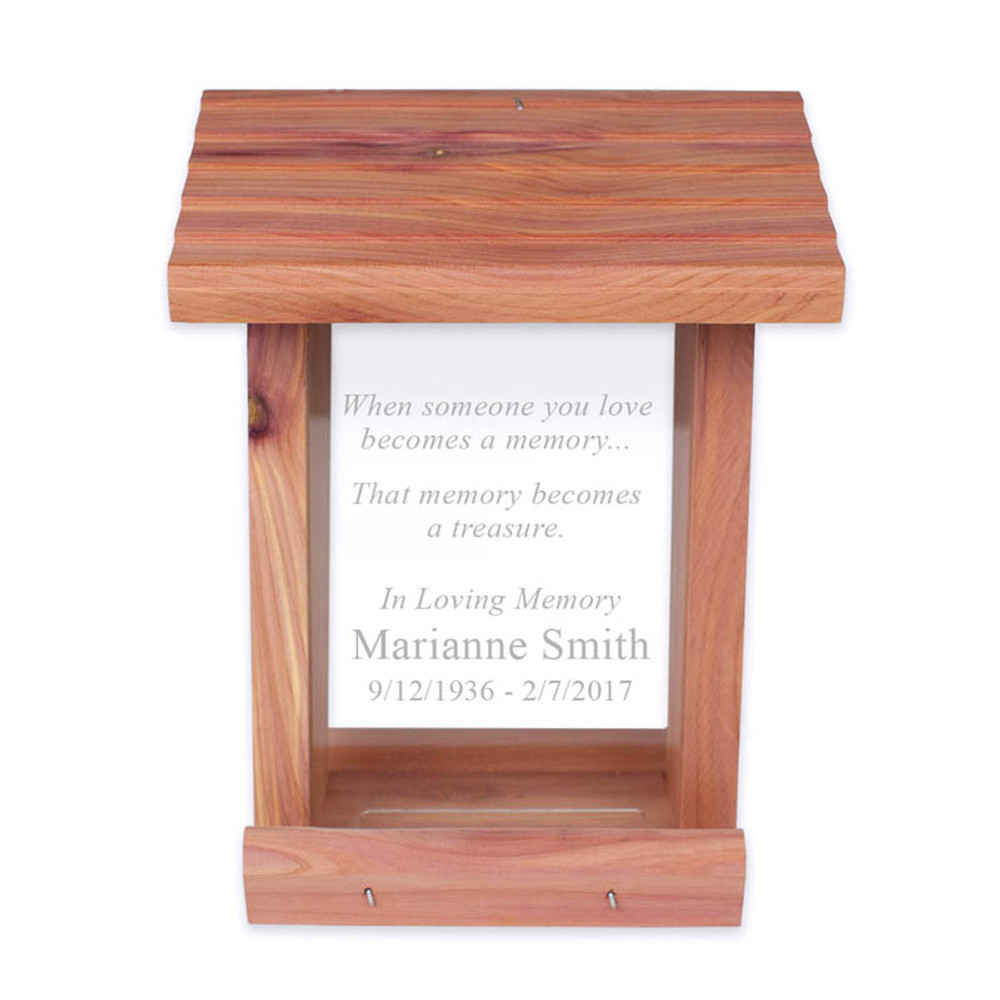 Personalize yours here.
When a Cardinal Appears Memorial Urns
As mentioned above, the Cardinal Cremation Urn with 3-Dimensional Inlay Art has proven to be a very popular design for families shopping for a cremation urn for their loved one.
Below, you'll see our two inlay wood art cremation urns that feature a cardinal. Either design can be engraved with their loved one's name and dates, and you'll also have room for a brief quote such as, "When a cardinal appears in your yard, it's a visitor from heaven," or "Cardinals appear when angels are near."
Cardinal Cremation Urn with 3-Dimensional Inlay Art
This urn is shown here with the outer box in Walnut and Oak wood, and can also be made in Maple or Mahogany woods. The inlay of the cardinal with its bright red feathers and distinctive crest sit on a raised panel so that it appears 3-dimensional. Beautifully crafted in the USA, and available here.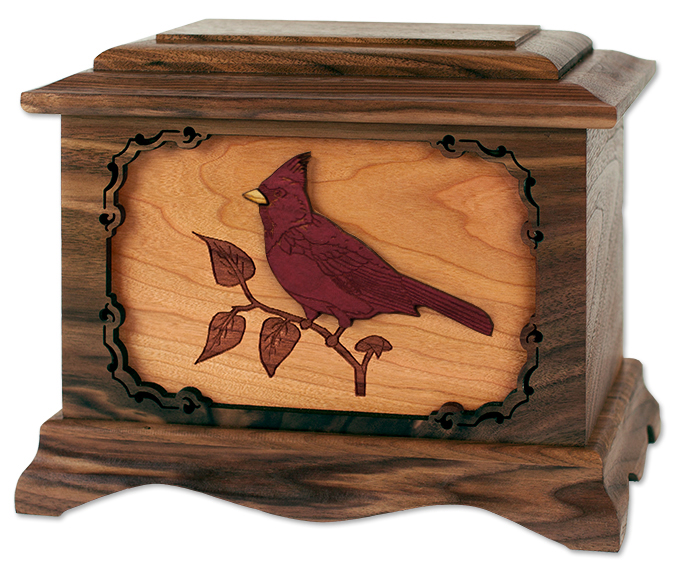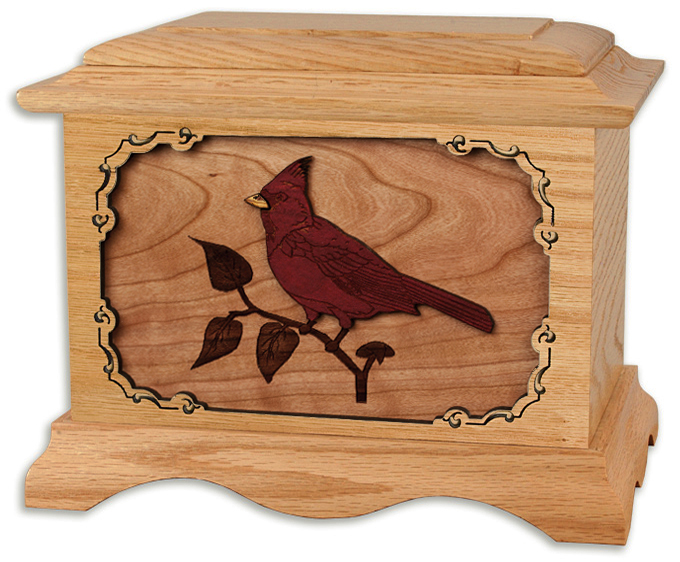 Wood Urn with Cardinal Inlay Art
This simple maple wood urn features a flat inlay (as opposed to the "3D" design, above) of a cardinal. Made in the USA from premium hardwoods, these urns are a beautiful memorial tribute to your loved one. Available here.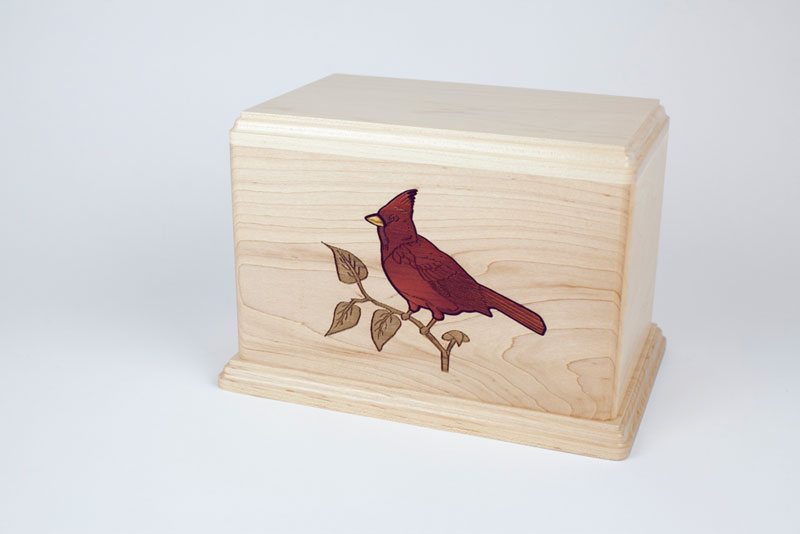 Each of these two wood cremation urns holds a standard 200 cubic inches (the equivalent of 200 lbs) of cremated remains. Brought to you by Urns Northwest.
Read next: Sympathy Quotes About Cardinals and Loved Ones